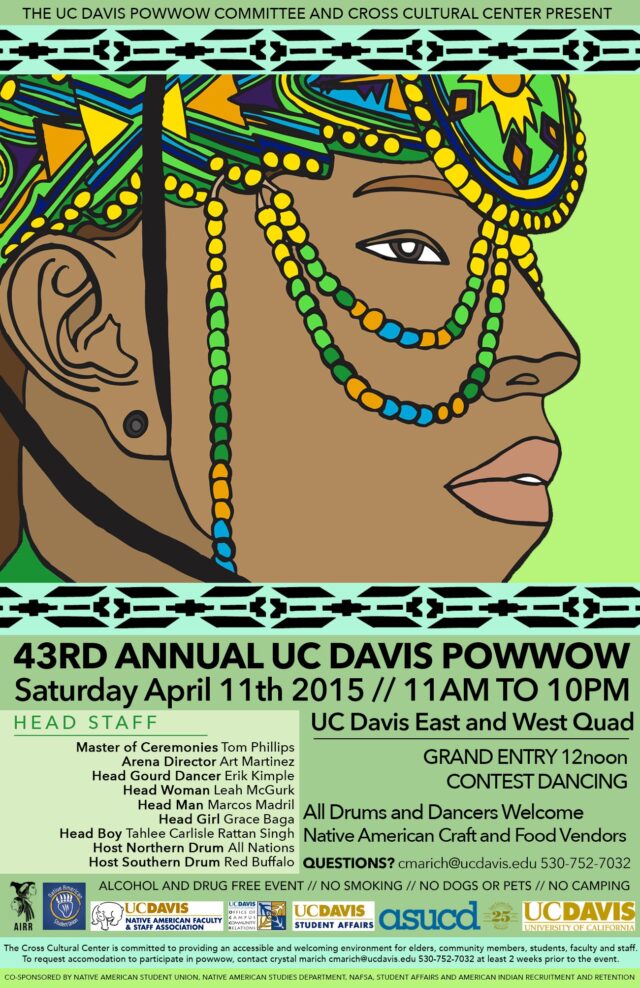 This Saturday, April 11, several students and staff members have collaborated to create a week-long cultural celebration and Powwow event in recognition of the Native American community in Davis. This year's Powwow is expected to be even larger than those of past years.
"We will be collaborating with Decision Day for our 43rd annual powwow," said Cross Cultural Center Program Coordinator crystal marich [sic]. "Usually we expect around 1,500 people to come for Powwow alone, but for Decision Day we expect around 5,000 to 6,000 additional people on campus, so it will impact our event and increase exposure."
From 1969 to 2005, the UC Davis Powwow was celebrated as a large three-day event, but was cancelled due to budget cuts in 2006 and 2007. The annual event resumed in 2008, but has only been a one-day event since then. This year's Powwow will host an indigenous arts market and guest performances starting on Friday.
"We will have 20 arts and crafts vendors selling weavings, textiles, rugs, hand drums, tiki lights, silk screen shirts and more on the West Quad," Marich said.
Friday's performances will display many contemporary and traditional fusion music and songs from around the world.
"On the East Quad, we will have a stage from noon to 5 p.m. that will feature various contemporary indigenous performances like San Jarocho, Okinawan native music and also performers like Frank Waln, a hip hop rapper," Marich said.
Historically, the Powwow consists of a series of collaborative tribal dances that follow a specific protocol. Over time, the events have been a vital factor in keeping Native American culture alive in areas outside traditional reservations.
"The dances are important because it allows people to really learn the history," Marich said. "Ultimately when our people go out and dance for a powwow, they are putting out prayers, good energy and positive thought. That is really what our culture teaches us."
From 1790 through the 1950s, the U.S. government passed legislation pertaining to Native American land and cultural assimilation. The self-determination and civil rights movement in the 1960s challenged these notions, and there was an increasing amount of Native Americans seeking for ways to reconnect to their culture and past. As a result, powwows gained popularity.
"In 1952, the American government passed the Urban Relocation Act," said Native American Studies (NAS) professor and department chair Steve Crum. "It pressured Native peoples to move to the city and with the intent to assimilate. However, many Native Americans chose to maintain ties with their native culture and resist assimilation by coming together in intertribal powwows."
According to Crum, the U.S. government began implementing policies encouraging ethnic and cultural minorities to seek higher education in the late 1960s. With the influx of minority students at universities, campus powwows became more prevalent as an opportunity for students of all backgrounds to learn and share traditions.
Many students, including third-year animal science and environmental horticulture double major Briana Rivas, participate in the powwow as a way to stay in touch with their culture.
"Getting involved in the Powwow allows me to reflect on where I came from and where my family came from," Rivas said.
Crum said the self-determination movement lead to a resurgence in cultural awareness and education about the Native American community, especially on the university level. With eight lower division and 24 upper division courses, UC Davis has the most NAS classes in the entire UC system.
"What really sparked my interest in the native community is NAS 5 [Introduction to Native American Literature],"  Rivas said. "I learned a lot from there. It impacted me and changed my perspective, and because of that I wanted to get more involved."
Many NAS professors, including Crum, aim to display the perseverance of Native Americans throughout history in their classes.
"We haven't forgotten our cultures and past,"  Crum said. "Our resilience and ability to carry out resurgence has made us look for any way to renew and continue our cultural traditions."
 Photo courtesy by Crystal Marich.