Asian Pacific Islander culture to be celebrated with night of music, dance, comedy.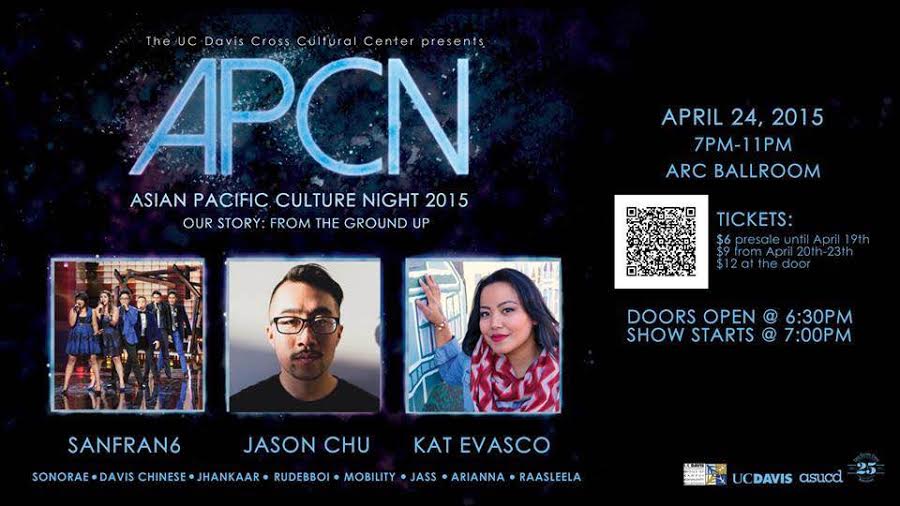 Asian Pacific Culture Night is the capstone event of Asian Pacific Culture Week and this year's culture night promises an exciting lineup featuring hip hop artists, cultural dance troupes and comedy. It will be held Fri., April 24, at the ARC Ballroom. The theme of this year's event is Our Story: From the Ground Up. To Donald Yu, a fourth-year economics major and one of the student coordinators of Asian Pacific Culture Week, the theme signifies an acknowledgement of the root and history of the Asian Pacific Islander (API) community.
"The theme also signifies using our culture as a foundation to stabilize our future and ambitions," Yu said. "[To me] being Asian American means incorporating my traditional culture from China and Taiwan and living my life in America without losing sight of who I am ethnically and where I grew up."
One of the headliners, Jason Chu, a Chinese American hip hop artist based in Los Angeles, believes that cultural events like Asian Pacific Culture Night are important because they allow historically marginalized voices to be heard. Growing up as an Asian American in Delaware, Chu says that there were few opportunities for him to interact with the API community so he makes a conscious effort to support his community whenever he can.
"I didn't have the opportunity to see a lot of brothers and sisters who were doing the same thing musically or performance wise," Chu says. "Any time I can give back and share my music in a venue that's different from your normal scenes is really important to me."
Gokulesh Killer, a fourth-year neurobiology, physiology, and behavior major and the captain of Jhankaar, a South Asian a cappella team, also believes that cultural events are crucial in the development of strong communities on campus.
"A lot of people are curious about the culture they come from and it's important for people to participate in these sort of events because it opens your eyes to new things and gives you a sense of home," Killer said. "There's a comfort when you're performing with a group of people you can relate to on a cultural level."
Killer, who describes his group's music as a mix between Bollywood music and western songs, believes that music is an important tool that can help bring different cultures together.
"Music and dance have a special place in most cultures, in that you can transcend language barriers," Killer said. "If you have a certain set of lyrics that are emotional, it doesn't matter what the words are but if the feeling is there, it comes across to any audience."
It is this transcendent exchange of culture that makes Asian Pacific Culture Night a unique event. The API community is made up of a vast group of cultures and this night allows people to experience the art of a culture that they rarely get to interact with.
"I've seen the lion dance team a couple times now and they continue to blow my mind," Killer said. "It's something I wouldn't have known about if I hadn't been to an intercultural event."
Chu agrees that one of his favorite aspects of Asian Pacific Culture Night is the chance to see what other members of his community have been up to.
"Culture night is literally almost the only time I get to see my Hmong friends, what their traditional culture looks like," Chu said. "And there's the Filipino a capella group, how they're killing it, and as a Chinese American, I may never know how big they are in their community unless we come together to celebrate."
And to Chu, coming together to celebrate is exactly what Asian Pacific Culture Night is all about.
"My hope is to present my story and the story of my friends and hope that people will resonate with it and look at the world with a little more hope or optimism for change," Chu said. "We need to celebrate us because if we don't nobody else will."
Courtesy graphic by Asian Pacific Culture Week.