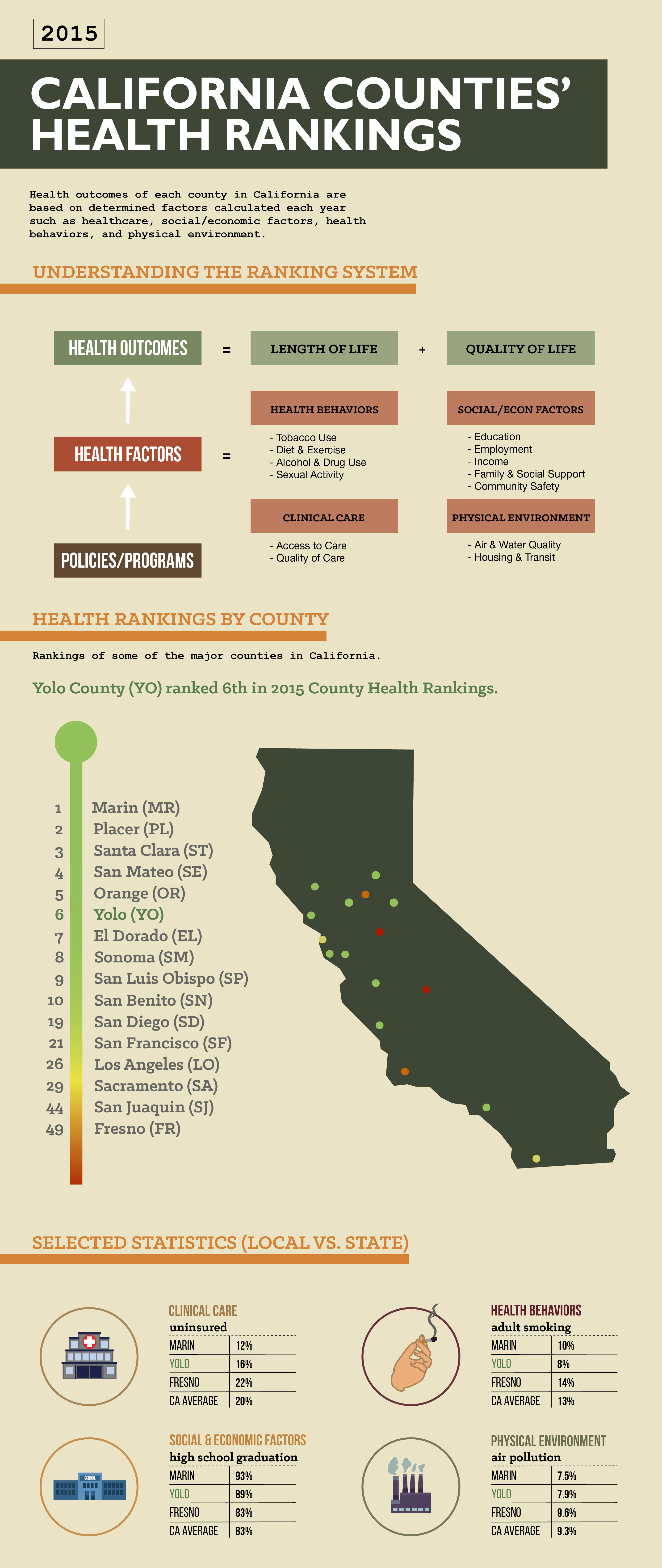 University of Wisconsin, Robert Wood Johnson Foundation releases 2015 county health rankings
The University of Wisconsin and Robert Wood Johnson Foundation released the 2015 County Health Rankings, listing Yolo County as one of the top 10 healthiest counties in California. The rankings, which were announced March 25, evaluate each state in America, including the District of Columbia, on different health factors. For the past five years, the rankings have evaluated counties as well, looking at different aspects that influence a healthy lifestyle.
"The county health ranking assigns ranks for county health based on two sets of measures: we rank on health outcomes, which include length and quality of life, and we also rank on health factors, which include many categories like health behaviors, clinical care, social and economic sectors, and physical environment," said Elizabeth Pollock, researcher with the University of Wisconsin Population Health Institute.
Pollock explains that different factors influence what makes a county healthy. For example, she said that counties with high college attendance, fewer preventable hospital stays and access to parks and gyms tend to be healthier. Conversely, counties with high teen birth rates and more children living in single family homes tend to be less healthy overall.
"In the past we have seen that some of the healthier counties tend to be in suburban areas because they might have better access to certain things like parks or safe communities or they might have higher income or education, but each community is really different in what contributes to their health," Pollock said.
Dr. Constance Caldwell, health officer for Yolo County, explains that the 2015 ranking shows an improvement in physical activity, number of preventable hospital stays, air pollution and number of people insured in Yolo County. She adds that there are socioeconomic factors to why Yolo County may score higher overall than nearby counties.
"If you have a much poorer community, you are going to have even more children in poverty. Physical environment…access to food…and how many people have severe problems with adequate housing is tied to that," Caldwell said.
Caldwell said that another influence on the overall health of Yolo County is the presence of UC Davis. According to Caldwell, the University impacts the health of Yolo County both positively and negatively.
"Because most of the professors and instructors live in the county, it actually means that the education level overall in our county is very high…University students are going to be well educated, they are going to have access to exercise opportunities, we have a very low pregnancy rates among UC students….They will impact the excessive drinking which is one of the factors [the ranking] looks at… and we are a little above state average for that," Caldwell said.
Paige Klugherz, a second-year design and studio art double major, said that the healthy and "outdoorsy" reputation of Davis was a large factor in her decision to attend school at UC Davis.
"One of the things that really influenced me in wanting to come here was the outdoor adventures program and knowing that everyone loves to be outdoors here. I think this is because of the fact that we are so close, on all sides, to such fun places to be active. We have Tahoe, Point Reyes, Big Sur—I mean we are less than two hours from something fun on every side of us," Klugherz said.
Of the 58 counties in California, the rankings evaluated 57, leaving out Alpine county, because it is too small with a mere 1,102 residents. Yolo County was ranked sixth overall for health outcomes (looking at length and quality of life) and ninth overall for health factors (including weight scores, socioeconomic factors, and physical environment). Marin County was ranked number one in both categories, followed by Placer County.
Pollock said that the rankings help counties understand how they can become healthier. In addition to data on health statistics, the rankings provide counties with guidelines for how they can become more healthy.
"One of the main goals of the rankings is build a culture of health," Pollock said, "Which means to create a society that gives every person, no matter where they are, the opportunity to be as healthy as they can be."
Graphic by Jennifer Wu.