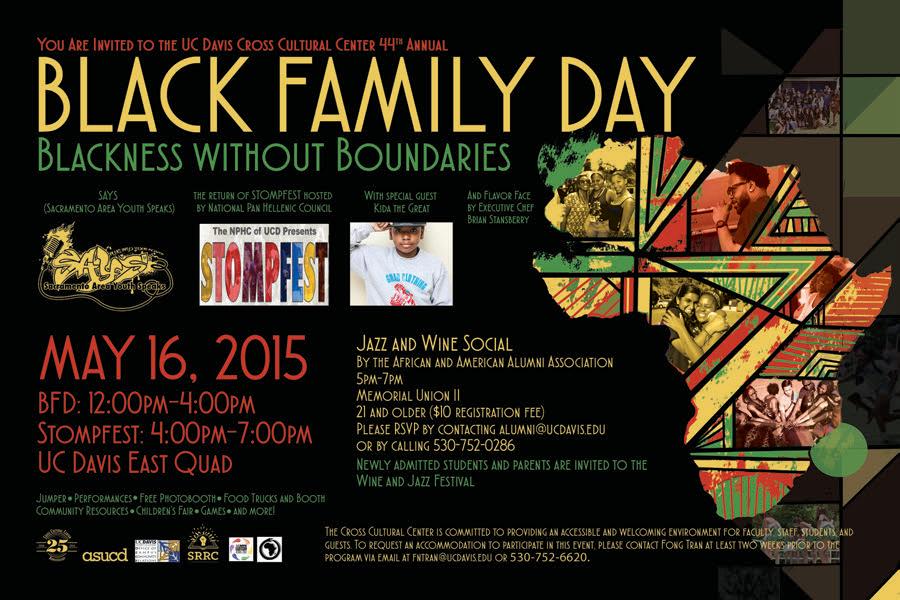 According to the 2010 U.S. census, the African American population makes up 12.6 percent of the nation's citizens. However, black people make up only 3.3 percent of the UC Davis student body as of Fall 2014.
Black Family Day, put on by the Cross Cultural Center (CCC), will take place on Saturday at the quad and will celebrate the academic achievements of the African diaspora.
Along with Picnic Day, Black Family Day is one of the longest running traditions at UC Davis. The event started in 1971, predating the establishment of the CCC, when there were only about 100 black students on campus. The celebration was not nearly as grand as it is today and was simply a barbecue on the Quad. The event sprung out of the UC Davis black students' call for more visibility on campus.
The family unit has been incredibly important to the black community dating back to slavery, when plantation owners attempted to break up families and sell them to different owners because of the strength they had together. Black Family Day celebrates this historically important legacy of the black family structure.
Theodore Mitchell, a second-year transfer clinical nutrition major and co-coordinator of the event, explained that the celebration is not just for black people.
"Not only because Africa is the home of humanity but because America is a salad bowl, we do mix," Mitchell said. "It's open to everyone who just feels a kinship to the diaspora. We encourage people to come out and learn and have fun."
The black family encompasses a great deal more people than just blood relatives, but rather a whole community of support and love. Danielle Soba, a second-year international relations major and co-coordinator of the event, explained that the goal of the event is to provide a place of relaxation and a time to come together and celebrate as a community.
"I think that's what Black Family Day is and always should be about: just everyone coming together and celebrating the black family and its importance," Soba said.
Fong Tran, a program advisor at the CCC and community development graduate student, hopes that this day will wake people up to the struggles the black family is facing and provide an opportunity to stand in solidarity with them.
"[This is] a way for me to acknowledge and help out and actually [support] 'black lives matter' rather than making it a hashtag for myself," Tran said.
For Mitchell, Black Family Day is an event he looks forward to throughout the year.
"Black Family Day is very close to my heart because I love being black and I love family. So to celebrate both of those together is amazing," Mitchell said.
There will be live music, dancing, food and a children's fair. Entertainment will include SAYS, a spoken word group from Sacramento, Kida the Great, a dancer, and several different dance groups that highlight the diversity of the African diaspora, including folklorico and Nigerian dance.
The main event is scheduled to take place from noon to 4 p.m. on the East Quad, with a number of other events that will follow throughout the evening.
Photo Courtesy of UC Davis Cross Cultural Center.