Free concert to feature Giraffage and Rudeboi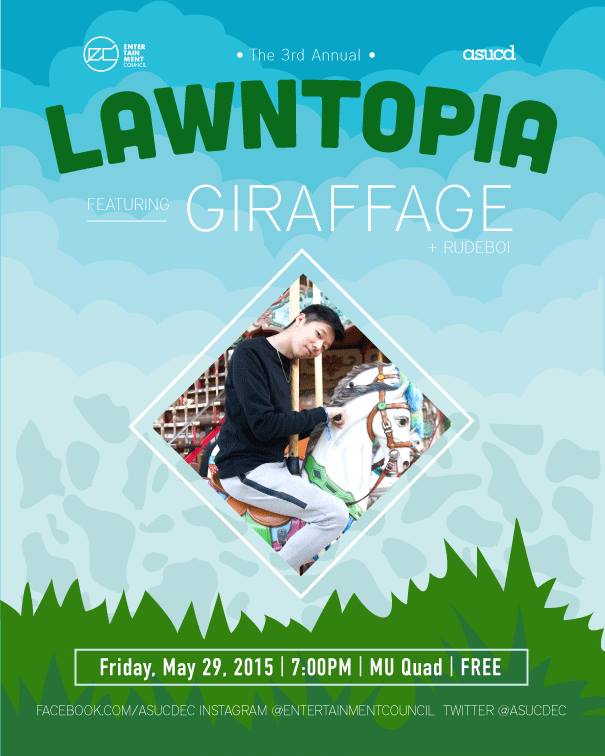 On Fri., May 29, the Entertainment Council will host the third annual Lawntopia, a free concert headlined by electronic music artist Giraffage and featuring hip hop artist Rudeboi as the opening act. The concert will take place on the Memorial Union quad and there will also be food booths. Megha Chandrashekhar, a senior chemistry major and physical promotions director for Entertainment Council, said that this year's Lawntopia is trying to establish itself as more than just a musical performance.
"ASUCD started [Lawntopia] three years ago, and it was a really big success the first year," Chandrashekhar said. "We're trying to make it more of a carnival type thing this year. We're working on getting more than just the show happening, to have it be an event that students will want to come out to every year."
Chandrashekhar said that budget issues are among the biggest challenges in bringing artists to campus, since Entertainment Council only has a certain amount of money they can pay artists.
"Everyone always wants more money and we have a limited budget," Chandrashekhar said. "For this quarter, the reason we were able to have so many shows is because we reallocated a lot of our budget."
Reallocating their budget has allowed Entertainment Council to bring artists like Flume, Belle & Sebastian, and Giraffage to campus. Chandrashekhar said that when deciding who to bring to campus, they tend to look at headliners of festivals, such as Outside Lands.
"[Those artists] create the most hype. Everyone wants to see whoever's on the lineup of a big festival," Chandrashekhar said.
Rudy Lopez, a junior English major who makes music under the name Rudeboi, is excited for the opportunity to open for a big artist like Giraffage.
"It's definitely going to be my biggest gig yet," Lopez said. "I've performed in spaces like SickSpits, the EOP talent show [and] Black Family Day. I performed at the CoHo Open Mic and that's when [Entertainment Council] first saw me. Then they emailed me about Lawntopia and I didn't even realize how big it was."
Lopez, who describes his music as hip-hop, says his interest in making music didn't start until he reached high school.
"In high school, I discovered YouTube and started listening to Eminem and Mos Def, just to name a couple. By my senior year, I decided to write my first song," Lopez said.
Since coming to Davis, Lopez has worked hard on his music and tried to perform as much as possible, to get his name out in the Davis music community. He sees his Lawntopia performance as his chance to reach a wider audience.
"I'm excited because I have an hour-long set, so I have a lot of freedom," Lopez said. "But I'm nervous because I don't know who exactly the crowd is going to be."
To be part of the Lawntopia crowd, come to the quad on Friday, May 29. The concert will start at 7 p.m. Admission is free and open to the public. For more information, visit the Facebook event page.
Courtesy graphic by Entertainment Council.