Best Burger: Burgers and Brew
A Davis favorite, Burgers and Brew takes the crown for Best Burger.
"All our beef is Diamond Ranch beef, same with our lamb," said Sara Kronenberg, 25, manager of Burgers and Brew. "There are vegetarian options too. We can substitute any one of the patties for any of the burgers."
A variety of menu options and fresh ingredients make Burgers and Brew an undeniable choice.
"My personal favorite is the lamb burger. It has a nice little mediterranean twist to it. It's really good — the best burger in town in my opinion," Kronenberg said.
Best Late-Night Snack: In-N-Out
In-N-Out Burger has a simple menu of selections as well as "secret" options. There are many versions of burgers and fries, such as animal style and the flying dutchman. In-N-Out also has its "special" sauce that is included in the burgers, and can also be ordered on the side in packets.
Best Place to Take a Date: UC Davis Arboretum
Dating as a college student inevitably means dating on a budget. Luckily for students, the city of Davis contains many lovely (and cheap) places to take a date. One such place is the Arboretum, winner of this year's Best Place to Take a Date category. At the Arboretum, you can take in views of scenic Lake Spafford, ogle at the adorable ever present ducklings and enjoy a romantic picnic. The Davis Farmers Market, which is held in Central Park from 4:30 to 8:30 p.m. on Wednesdays, and 8 a.m. to 1 p.m. on Saturdays, came in a close second.
Best Place to Work On-Campus: Unitrans
Although Davis is generally associated with biking, the bus services offered by Unitrans continue to increase. Undergraduate students are able to take advantage of the bus system thanks to the ASUCD fees, which pay for Unitrans and allow students to ride the busses for free with a valid UC Davis student ID.
This year, voters selected Unitrans as the "Best place to work on campus," beating out contenders such as the ARC and the ASUCD Coffee House.
Clint Kastrop is currently a clerk in the Unitrans office in the basement of South Hall where he communicates with customers who range from students to various members of the community. He has worked for the company for four years.
"Unitrans, our career staff, are very aware that we are students and that we have all these other responsibilities including school," Kastrop said. "They work around our schedule and make us feel very welcome to talk about our issues and make sure that we are able to work for them and do as much as we can there."
Drivers go through months of training to receive a class B license. Kastrop said that Unitrans focuses heavily on their employees due to the amount they have invested to train driver and other workers.
Other than a handful of career staff, Unitrans primarily employs students. This includes workers in the Unitrans office, bus drivers and support services. Even the maintenance staff employs a number of student mechanics.
Recently, Unitrans ridership has reached almost four million annually, serving campus and surround areas in the city.
"What makes it unique is that it's such a big part of Davis," Kastrop said. "Almost all of the calls I get are from routine customers who rely on Unitrans daily to get where they need to go. So it's amazing being part of this organization that's been around for decades that's integral to the city itself, not just the campus."
Best Bike Shop: Bike Barn
There are multiple bike shops in the city of Davis, but the Bike Barn is in a convenient location on campus near the Silo, and this year it was voted as the "Best Bike Shop" in Davis.
The Bike Barn began in it's current location in 1971 and has served students, faculty and staff with bike repairs ever since. It's address is TB (temporary building) 24 and it is one of the oldest buildings on campus. having been built in 1910.
David Canzoneri is a junior economics major and currently the business manager at the Bike Barn, where he has worked since the beginning of his freshman year.
"Bike shops in general can be kind of intimidating toward customers, especially customers who don't really know about bikes. And by having a very friendly and inviting environment where we're not trying to take advantage of them, just putting good service above everything else, I think that's what sets us apart," Canzoneri said.
He mentioned that the Bike Barn prides itself on its customer service, as well as its willingness and ability to do repairs on low-end bikes. It is unique in the amount and type of repairs the mechanics make.
"We do thousands of flat repairs every year, and there's not really any other bike shops that do that many repairs," Canzoneri said. "Most other shops, their main goal is selling bikes. As an on-campus bike shop marketed toward students, we don't really have that option."
The Bike Barn employs between 20 and 25 mechanics in a given year. It is open Monday through Friday 9 a.m. to 4 p.m., and even during the current construction.
Best Place to Dance: In My Room
Why do we hide ourselves from success? UC Davis' favorite place to get funky with our bad selves is in the confines of our own homes, letting our pets, wallpaper, and neighbors be the audience to our off-beat stomping and unsynchronized crumping. The floor may shake, the music might be humiliating, but we shall dance on because quite literally, no one is watching.
Unlike public spaces, dancing in the privacy of our own rooms might conceal us from unwanted criticism. However, a bedroom is the place to express our true selves, whether that be through breakdancing on our unvacuumed carpets, shaking along to Top 40 on the radio, or swing dancing in the dark with our significant others at two in the morning. There is no social constraint, no etiquette and no embarrassment. In this way, dancing in our rooms is the most freeing experience of all.
So congratulations to those who dance in your rooms– you are revolutionizing how we see ourselves, as well as the show "So You Think You Can Dance." Just don't leave Baby in the corner.
Best Place to Nap: UC Davis Quad
Nothing beats finishing a Fickle Pickle sandwich on the cool grass as the sun shines on you. It's in between classes, the Coffee House noise has died down from the lunch rush, you just finished a tough midterm and… you fall asleep.
So many of us have been victim to this, and the ramifications can be terrible– missed coffee dates and sprints to class are inevitable. But we risk it, because the space we are given on campus is too comfortable to resist. You can see hundreds of people a day spread across the quad, open books fallen on their faces and new tan lines forming from their capris. Passing by them on a particularly busy day can be infuriating, but when in that comfortable position, it's all we want in the world.
Naps are a college given; it's like we're kindergarteners all over again. But what kindergartener can say that they've willingly napped on the grounds of one of the nation's top university? Thank you, Memorial Union quad, for the naps you have given us, and the ones you will allow in the future.
Best Place to People Watch: UC Davis Quad
You can see just about anything imaginable on the quad on any given day. Just give it a go, sit out on one of the tables facing the spacious greens and find your entertainment. People slacklining, or at least attempting the feat, picturesque groups that look like they are straight out of a college brochure and cute dogs being walked through campus. You may find some interesting sights in places like the CoHo or Central Park. Still, if you are looking for prime people watching, why not do so while lounging in the sun on a beautiful day at the Quad!
Most Picturesque Location: UC Davis Arboretum
We've all been there: our parents are in town for a long weekend without a whole lot to do around Davis. What better place to visit than the UC Davis Arboretum, where your Dad can be inspired by the hundreds of labeled species of plants and your Mom can hastily attempt to photograph the otter that floats by. Bikers and joggers whisk around the pathways, people lay out on the grassy knolls and the wide variety of trees and plants glisten in the light. Go relax in the Arboretum if you are looking for the most picturesque spot in Davis.
Best Place to Study: Shields Library
With finals approaching at a frightening speed, and bringing with them stress, sheer terror and sleepless nights, a change of scenery could be a solution – or at least an aid – to these college created woes. Peter J. Shields Library, sandwiched between an avenue of the same name and Hutchinson Drive, offers four levels and the perfect atmosphere for sitting down and getting work done.
Equipped with a 24-hour study room, comfy couches, isolated desks, group study areas, countless books and resources, and even a designated lactation site, Shields Library is one of the most versatile buildings on campus. The cool interior climate lends to a setting where heat-caused drowsiness does not exist. And if the inside location proves to be too dull, an inner alcove provides a completely sheltered, secluded and peaceful outdoor setting found right in the heart of the library.
The light that oft-shines through the paned windows of Shields Library provides a beautiful and natural filter for all breeds of Instagram photos, and the CoHo is mere minutes away to complement the whole experience with any variety of sweet, cold or warm beverages.
Easily accessible by all, Shields Library is an essential destination for those in desperate need of grinding through insurmountable mountains of work, or even just regular-sized mountains of work. So stop by the Best Place to Study as voted by UC Davis students: Shields Library.
Best Japanese Cuisine: Mikuni
Residing in the popular Davis Commons, Mikuni Japanese Restaurant and Sushi Bar (generally referred to as Mikunis) stands tall as one of the most prominent establishments in Davis.  Since its opening in 2009, Mikunis has been at the forefront of Japanese cuisine in the city.
"Mikuni's always comes up whenever deciding where my friends and I want to eat in Downtown.  With fresh and flavorful selections, Mikuni's never disappoints," said Rita Baljian, a UC Davis student and sushi enthusiast.
Boasting a plethora of handmade rolls and fresh ingredients, the reasons for Mikunis' growth in popularity are clear.  Despite their discouraging prices, there is no doubt customers are getting what they pay for and a good time is always a guarantee.  Mikunis' friendly service, quality ingredients and fiery ambience creates a trifecta of culinary excellence leading to an elite dining experience.
Best Pizza: Woodstock's Pizza
Get ready to give your heart over to this year's best pizza in Davis, Woodstock's!
The restaurant, located on G Street in Downtown Davis, uses only the "best and most fresh ingredients." This, along with their exceptional customer service, is why they are currently ranked No. 3 among independent pizzerias nationwide.
"[Our goal is] the ultimate pizza experience," said Woodstock's manager Ted Parks.
It was in the early 1980s when Chuck Woodstock fulfilled his dream of opening a pizzeria in the town of Davis, making this "ultimate pizza experience" a possibility.
"Friday and Saturday dinner-time are definitely our absolutely busiest times," Parks said. "It kind of depends on what's going on, we always get more people if something's happening [in town]."
Parks said amongst customers, that "everything" on their menu is equally as popular. From their "Davis Classic" to their "All Meat Orgy," Woodstock's ensures to meet all pizza lovers' cravings.
"It's all about our awesome employees and the atmosphere," Parks said.
Best Boba: Teabo
This year's best Boba in Davis, Teabo, serves Davis students' drink of choice at one of the highest qualities available.
"We aim to provide wholesome, high quality milk tea [and boba]," Teabo manager An Nguyen said.
As opposed to using powdered products, Teabo solely uses dairy products such as whole milk and half and half, while also providing non-dairy alternatives such as soy and almond milk. Boba is cooked with honey and brown sugar, and their drinks' ice and water undergoes a filtration process to provide a clean, safe product.
Along with this, they brew loose tea leaves imported from Taiwan to ensure the best quality tea in the area for their customers.
After their opening in December 2011, Teabo grew to eventually becoming one of the most popular boba options in Davis.
"We're most busiest at night and our busiest days are Thursdays and Sundays," Nguyen said. "Basic black milk tea with boba is really popular, [also our] passion fruit green tea – we have different crowds that come in, so [the most popular items] vary."
Best Coffee: Dutch Bros
With a variety of coffees, complemented with generous shots and friendly service at all hours of the day, Dutch Bros snags the Aggie's Best of Davis award for Best Coffee.
Located on Olive Drive, Dutch Bros is open 24 hours a day, seven days a week, making it a popular late night energizer. The Davis Dutch Bros was established in 2012 and also features a drive-thru. Its coffee is handcrafted and the smallest servings come with double shots. It also offers freezes, frosts, smoothies, teas, sodas, muffin tops and more.
Dutch Bros is well known among UC Davis students for its convenience, availability and highly rated service. Baristas are known to be ever cheerful while working odd hours, and Dutch Bros is rumored to provide free drinks to first-timers.
Best Dessert: CREAM
Picture this: warm, freshly baked cookies surrounding ice cream in a long list of yummy possibilities. Famous for its ice-cream sandwiches, CREAM wins Best Dessert in the Aggie's Best of Davis competition.
The Davis CREAM opened in September 2013, and is located on F Street, right across from Regal Cinemas, making it a popular after-movie treat. CREAM's specialty is its customizable ice-cream sandwiches, but it serves sundaes and milkshakes as well. Cream also participates in many community events and caters for schools and clubs around Davis.
"We're unique because every visit, you can have a new experience," CREAM manager Andrew Mackenzie said. "It's totally customizable, and there are so many random combinations. There are always new desserts and new things for people to enjoy, and that's the number one thing that makes people love CREAM."
Voting was close in the Aggie's Best Dessert contest, and Yolo Berry finished in second.
Best Thai Food: Thai Canteen
Discover high-quality, cheap Thai food that you can get at 1 a.m. to satisfy your college student stomach. Pay at the counter and get your food fairly quickly from one of the workers dressed sleekly in black. The modern designs, silver chairs, wooden tables and dim lighting make for an aesthetic experience. With an average of $8 a plate, you get the bang for the buck, though they won't accept card unless you pay more than $10. It is closed on Mondays.
Best Burrito: Guadalajara
Word must have gotten out early. When I rolled up to Taqueria Guadalajara's North Davis location yesterday to grab one of these babies, the place was packed. Every table was occupied, and a line stretched out of the door to block the sidewalk. Despite the overwhelming demand, I escaped with my burrito less than 15 minutes after ordering. It was gone in another 10.
"Guad's" burrito simply meets all the classic qualifications — tasty, substantial and reasonably priced. Grab a regular burrito with meat, rice, beans and pico de gallo for $6 or shell out an extra dollar for sour cream, guacamole and cheese.
Best Evening Entertainment: The Mondavi Center
Located right by the UC Davis campus, the Mondavi Center is a beautiful venue for entertainment. Its location gives students easy access to the many different musical performances, plays, dances and famous entertainers that it brings to Davis.
This year, the Mondavi Center hosted a number of great acts including the San Francisco Symphony, musical act Belle & Sebastian and "Orange is the New Black's" Laverne Cox, among many others.
"Laverne Cox's words are so eloquent and inspiring…So many people attended and to have a face and voice like hers on a platform where she is very privileged to influence and inspire mass amounts of people is very important," junior civil engineering major Aaron Keonorasak said.
As such a conveniently located and spectacular building to see performances, it is no wonder that the Mondavi Center was voted as this year's Best Evening Entertainment.
Best Event: Picnic Day
This annual open house celebrates UC Davis and the community by hosting over 200 events throughout campus and is the largest student-run event on campus. With big events like the Doxie Derby, Battle of the Bands at the Arboretum, and a parade that goes through campus and downtown, there is fun for students and community members.
"Our Board of Directors works tirelessly from September until the event in April, and planning for the next year's Picnic Day begins as soon as this one ends," said junior neurobiology physiology and behavior major Annette Nguyen who was the parade director. "Picnic Day has a very far reach in terms of its positive impact, and there's no other student-run event like it anywhere."
Best Parent Friendly Restaurant: Burgers and Brew
We all know what it means when parents come to visit — finally getting to eat something other than frozen food. For a fun parent friendly restaurant, Burgers and Brew is a Davis must. Located at 403 3rd St., Burgers and Brew is perfectly situated downtown for a lively and delicious meal. With large portions and exciting menu options like breakfast fries (picture brunch on fries, who could resist?), students leave full and happy with their parents at their side.
Best Place to Buy Groceries: Trader Joe's
Trader Joe's is a specialty foods grocery store located at our local University Mall on Russell Boulevard. A grand majority of their merchandise is under the "Trader Joe's" name,  which allows the store to have conveniently low prices and one-of-a kind products.
Besides its low prices, what makes Trader Joe's a great grocery store is all it has to offer. There are many things you can purchase from fresh flowers, to fruits and vegetables, and they have many products for organic, vegan/vegetarian, and gluten-free eaters and other healthy options that are convenient for college students and other local shoppers.
They create a welcoming environment through their friendly Hawaiian-shirted staff who are always there to be of service for any of your questions. They are open Monday through Sunday, 8 to 10 p.m.
Best Place to Exercise: UC Davis ARC
UC Davis' ARC wins "Best Place to Exercise" for Best of Davis 2015. With an indoor track, racquetball courts, a rock climbing wall and a variety of group exercise classes, the ARC offers many fun ways for students to get fit.
"The ARC is a favorite location for UCD students to work out [at] because it has something for everyone," said Brian Luu, assistant director at the ARC's Fitness and Wellness Center.
Luu adds that the ARC is unique because of the community it fosters.
"Look around and you will see that students don't only work out here," Luu said. "They spend time with their friends here and receive support here. It is a hub of wellness on campus."
Best Volunteer Opportunity: Yolo County SPCA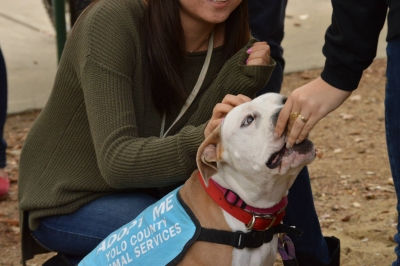 Best Indian Cuisine: Raja's
Best Sandwich: Zia's
Compiled by:
Ryan Reed
Brendan Chang
Amanda Ong
Alyssa Vandenberg
Demi Caceres
Kayla Zola
Melissa Dittrich
Nick Dias
Christine Hwang:
Nick Frederici
Emilie DeFazio
Eleanor Dierking
Neha Mannikar
Tristen Thalhuber
Eleanor Dierking
Bryan Sykes
Photos by Monkhmergen Tsogtbayar, Katie Lin, Ciera Pasturel, Angela Willis, Monica Chan, Johnny Ma, Samantha Hartmann, Jian Gelvezon, and Anisa Bashiri.
Graphic by Jennifer Wu.