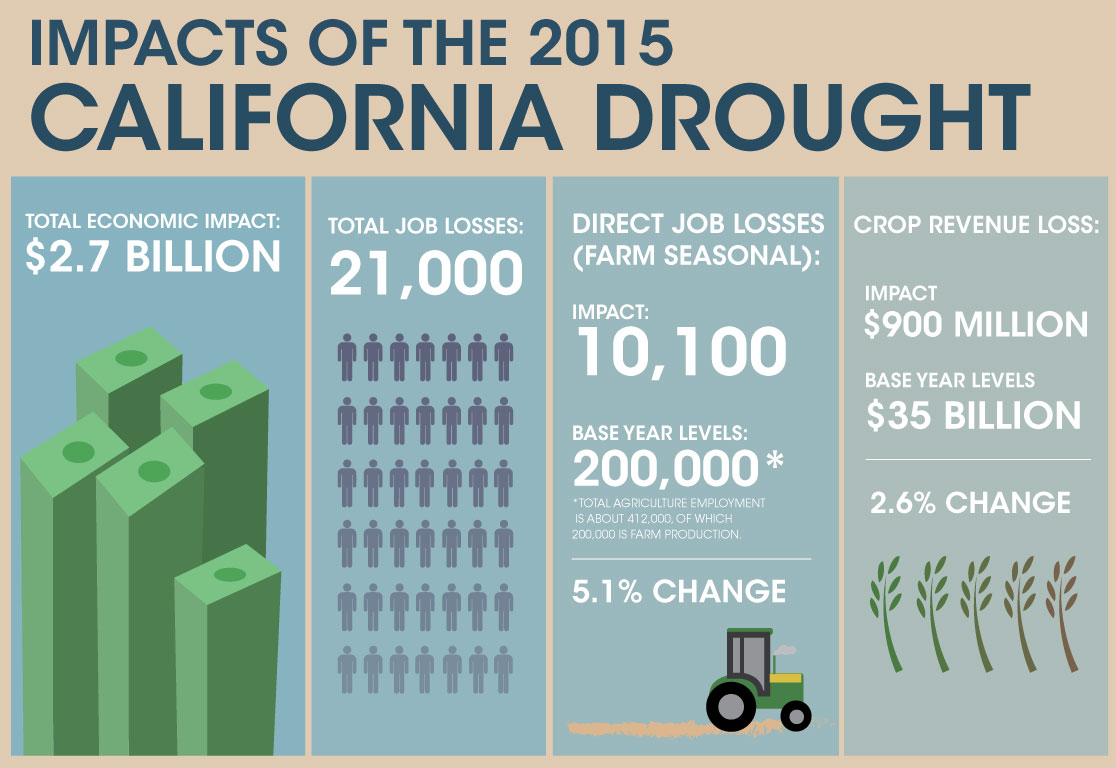 People reflect on drought, effects on Davis and community
With billboards everywhere sporting the all-too-familiar phrase "save water," restaurants only serving water "upon request" and talk of a possible and much-needed El Nino in the midst, it is no news that the current drought is one of the worst California has seen in years.
"The current drought is close in severity to the 1977 multiyear over the 100 plus years in record," said Associate Research Engineer for Civil and Environmental Engineering and Center for Watershed Sciences Dr. Josué Medellín-Azuara. "What is different this time is that population and agricultural demands are at historic highs and environmental concerns to maintain ecosystems play a significant role in water management and allocation statewide."
The drought is manifesting itself in communities all over California, and Davis is no exception.
"I try my best to curb my water usage," said ASUCD Senator DaniMae Santiago. "I try to tell my roommates not to use the washing machines unless it's a full load and we use the dishwasher only with full loads."
Governor Jerry Brown has issued a 25 percent reduction of water usage to be upheld in every California city. While Davis has reduced its water usage by about 30 percent, not everyone in the community is taking note of the dry conditions.
"My apartment complex still waters their grass every night," said Ph.D candidate in biomedical engineering Erik Hammes. "While I do think people are more aware of the drought, I don't think they are actively trying to combat it."
Not only are UC Davis students worried about their apartment water usage, but are also concerned about campus usage.
"I would be walking to class and see the lawn being watered," said fourth-year computational statistics major Ferheen Khan. "I live across the street from campus so I see them water Hutchinson field a lot. Considering California's severe drought crisis, I think the school should seriously reevaluate the amount of water they use on lawns."
One author of the recent California drought economic report, professor Richard Howitt, said that although it may not seem so, the UC Davis campus is making a conscious effort to conserve water.
"[The] campus has its own well system, so I assume it is exempt from rules regulating public utilities," Howitt said. "However I believe the ground staff are cutting back on water without letting lawns die completely which is probably the best approach."
Websites offering help on how to save water hope to better educate California residents on how they can help beat the drought.
"Education and outreach is critical to get the notion of water scarcity in the population's mindset," said Medellín-Azuara. "At the end of the day, enduring water conservation actions might prevent expensive infrastructure investments and more severe mandated water use cutbacks to confront the next drought."
Not only has the drought led to a change in daily habits such as watering the lawn and doing the dishes, but it has also affected those who enjoy regular and seasonal recreational activities.
"In the winter, I would go skiing with friends and with a club, and the snow was just horrible," said recent UC Davis graduate Sam Moffitt. "There wasn't even really snow."
With the decreased water usage of the Davis community, it is clear that many residents of Davis are concerned about the drought, and are trying their best to help out in their everyday tasks.
"I try to take shorter showers, my parents save water from washing vegetables into a bucket to use for outdoor plants and I use a thermos to drink tap water," said fourth-year economics major Stephen Tang. "Oftentimes I see college students just purchase plastic bottled water in contempt for Davis water quality and end up using more plastic and littering the environment."
To combat the drought, changing habits to cut back on water usage is key. Like Tang, taking shorter showers and using water appliances that use little to no water could be a helpful step towards conservation.
"I believe everyone should consider researching changes in their life style to conserve water," said Tang. "People may be unwilling to change because they think they have a minuscule impact and notice other people around them aren't accommodating for the drought as well. But in the end, drought impacts everyone whether you're a farmer or a student."
Photo by Angela Willis.