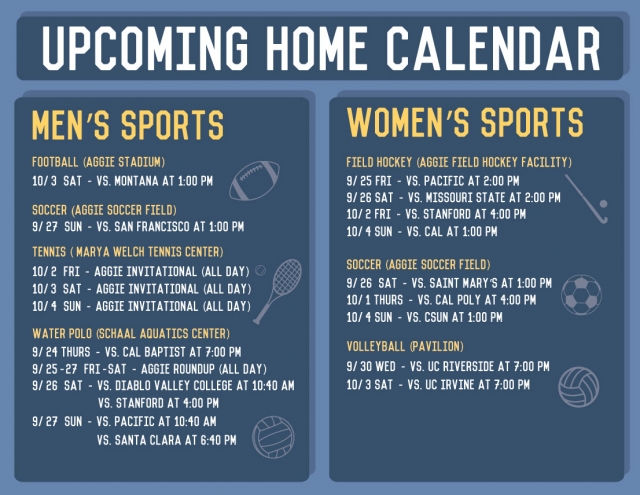 Sports action from the beginning of the season through Sept. 24
Men's Cross Country
Aggie Open (W, 23-38)
UC Riverside Invitational (Fourth-place finish)
The Aggies hosted their first of two home events at the Aggie Open in early September, starting their season off strong as both men and women's teams defeated the Sacramento State Hornets, each team scoring 23-38.
Senior Trevor Halsted led the men's team in his first competition since 2013 after sitting out a year injured, and finished second in the 6-kilometer race with a time of 18:31. Halsted was followed eight seconds later by Aggie senior Cody Nguyen, while senior Amar Dholakia, redshirt sophomore Austin Goins and senior Nick Ratto also made it to the top-five scorers.
At the UC Riverside Invitational a week later, the men's team placed fourth after a tough 8-kilometer race. Halsted came in 11th with a time of 24:38.6, and the two other top-25 finishers – Nguyen and Dholakia – came in 15th and 22nd respectively, less than ten seconds after Halsted.   
The men's cross country team will next lace up their running shoes as they race 8-kilometers at the Stanford Invitational on Sept. 26.
Women's Cross Country
Aggie Open (W, 23-38)
UC Riverside Invitational (Second-place finish)
The Big West Conference champions took control of their season after taking down the Hornets in a 23-38 win, becoming victors at the Aggie Open for the eighth year running. Only down one starting athlete from the previous year, an undoubtedly seasoned team begins a new year ready for anything.
The 6-kilometer race at the UC Riverside Invitational was a tough one as the Aggies fell to Arkansas, a team that squeezed their top five athletes into the top ten. With the women's cross country team concluding the day with 86 points, they were followed by UC Santa Barbara with a final score of 128.
Senior Christine Hoffman came in third overall, less than 12 seconds off the lead and barely a second away from second place with a time of 20:40.1. Owing to her exceptional performance, for the first time in her career Hoffman was named Big West Conference Women's Cross Country Athlete of the Week.
Senior Erika Barr came in tenth, with a career-best 6k time of 20:57.7, beating her previous best time of 21:10.2.
The Aggies (both women's and men's teams) will return to UC Riverside's course later this season for the conference championships, and in the meantime will continue their promising season on Sept. 26 at the Stanford Invitational.
Men's Golf
Saint Mary's Invitational (Fifth place-finish)
Husky Invitational (Tied for seventh)
Beginning its season at the prestigious Poppy Hills Golf Course in Pebble Beach, Calif., the UC Davis men's golf team ended the Saint Mary's Invitational in fifth place out of 15, a respectable beginning for a team that was close to breaking into the NCAA Finals last year.
Senior Patrick Soli and freshman Ryan Knop led the Aggies throughout the tournament, finishing the first round tied for seventh and 14th after shooting par and one-over, respectively.
By the end of the second day, Soli and Knop were tied for 13th and senior Luke Vivolo was one off of their pace, tied at 18th. This combined effort brought the Aggies up to fourth place for the day, only two shots behind third-place Oregon State.
In the final round, junior Ben Corfee sprang into view with a par-71, bringing him to a 30th place finish. Soli held his position tied for 13th, while Knop and Vivolo fell back, tying for 23rd and 38th. The team ended fifth in the Invitational.
14 teams convened at the Husky Invitational on Sept. 21 for a two day tournament. A stellar first two rounds greeted Soli, where he came in tied for ninth, before beginning his third round. Knop boosted the Aggies to a seventh-place finish by shooting two-under in the third round, as the team shot 299-305-289, a total of 893, or +41 for the tournament.
The Aggies will travel to Glencoe, Ill. for the two-day Windon Memorial on Sept. 27.  
Women's Golf
Branch Law Firm/Dick McGuire Invitational (Tied for 11th)
East/West Match Classic – stroke play (Tied for fifth)
East/West Match Classic – finals vs. Wisconsin (W, 5-0)
Big West champions for six years in a row, the women's golf team is a consistent threat to any opponent. They finished last season with spectacular performances that include a championship title and a program-high 11th place finish at the NCAA Finals.
36 holes into the Branch Law Firm/Dick McGuire Invitational, junior Paige Lee led the Aggies on day one, tied for 31st at two-over par with senior Andrea Wong right behind at three-over. The following day, Wong rocketed ahead with an extremely rare double-eagle – a par-five that she shot in two strokes – that helped bring her to one-under, where she headed up the Aggies tied for 18th. The team finished 11th, tied with Gonzaga.
Using the still-young NCAA Finals guidelines – two rounds of stroke play followed by two rounds of match play – at the East/West Match Classic, Lee tied for fourth at two-under before entering match play and helping her team tie for fifth before the second half of the tournament.
Semi-final match wins by Lee and Wong were not enough to overcome Penn State's three wins of the day. The final day, however, had the Aggies paired with Wisconsin, where each member of the UC Davis women's golf team performed admirably, winning their matches for a 5-0 smackdown.
Without a single home match or tournament for the entirety of this year's season, the Windy City Collegiate awaits the women's golf team as they travel to Chicago, Ill. for a tournament on Oct. 5.
Men's Tennis
Four athletes – two singles and a doubles team – head to the Battle in the Bay Classic, as the Big West co-champions begin their tennis season.
In the first round, junior Alec Adamson caused a commotion with his defeat of the No. 2 seeded athlete, San Diego's Uros Petronijevic, going 3-6, 7-6 (0), 6-4.
A series of strenuous tiebreakers in the first two sets led to a decline in the third for fellow junior James Wade, as he went down 6-7 (4), 7-6 (3), 6-3, while the Aggies' doubles team of seniors Brett Bacharach and Adam Levie lost to Stanford's duo 8-5.
Day two was a success story for Adamson as he swiftly overcame Anthony Tsodikov of Stanford in two sets, 6-3, 6-2, and went on to defeat USC's Kalman Boyd in the quarterfinals, 6-2, 3-6, 6-4. The semi-finals flew by as Adamson won in quick succession 6-4, 6-4, which led to his showdown in the finals against Andre Goransson. Adamson lost 6-4, 7-5, but put up a strong fight.
The men's tennis team is home for its next event, hosting the Aggie Invitational on Oct. 2 at the Marya Welch Tennis Center.
Men's Water Polo (6-4)
A team naturally divided by age and experience, the men's water polo team spent the season thus far learning and improving on the bond that all successful groups share. Losing a handful of invaluable players from last year would seemingly put the Aggies at a disadvantage, but so far in their season the play has been increasing in cohesion with each successive match.
International first-years utility Sasa Antunovic from Croatia and attacker Ido Goldschmidt from Israel have made a splash, scoring goals nearly every match and becoming strong presences in the pool. Sophomore goalkeeper Spencer Creed was awarded the KAP7 Western Water Polo Association Player of the Week at the beginning of September due to his 30 saves and two steals during the Triton Invitational, helping the Aggies exit with a 2-2 record.
Defense seems to be their priority, and it has shown with the many preventions of goals during power plays. This came to light in their recent matches against the San Jose State Spartans and the Cal Golden Bears, whom UC Davis held to four conversions over 16 total power play attempts.
They also take the aggressive approach, showcased by some exciting matches during the NorCal Invitational. Narrowly losing to Pepperdine 12-11, the Aggies went on to flatten Chapman 20-4, followed by two wins, both 10-7 against Air Force and Princeton.
The men's water polo team will face Cal Baptist on the evening of Sept. 24 before beginning their three-day home event, the Aggie Roundup, a day later.
Field Hockey (5-6)
Omnipresent tenacity is the reason the UC Davis field hockey team attacks each game with a fierce vigor, no matter the odds. The Aggies' style tends towards battering their opponent's defenses with flurries of shots until something gives. This was clearly evident in their first two home games, with 3-2 (OT) and 3-0 wins against Bryant University and Saint Louis University, and especially in their 4-2 loss against Hofstra where they outshot their competitors 23-13.
Despite their tendency towards attack, the field hockey team relies heavily on their goalkeeper, junior Erica Cohen. Most impressively, in a game against Louisville, Cohen had a record 11 saves, proving to be only the second Aggie in the sports' DI history to do so. Though she was unable to prevent two getting by her, leading to a 2-0 loss for UC Davis, she recovered eight of the 11, keeping the ball in play with her teammates.
Junior forward Danielle Koehne has also been an exceptional team player, with a team-high four assists this season.
The Aggies give it all they have with every competition, and any loss is not due to a lack of effort. They battle the elements and deny goals whenever possible, leaving their hearts out on the field. Eluding defeat in their two most recent matches with 2-1 triumphs for both, they brought their record up to 5-6.
Join the field hockey team at home on Sept. 25 for their first league game of the year against Pacific.
Photos by Aaron Jaurez Kong, Ciera Pasturel, Abigail Alcala and Katie Lin.
Graphic designed by Tiffany Choi.