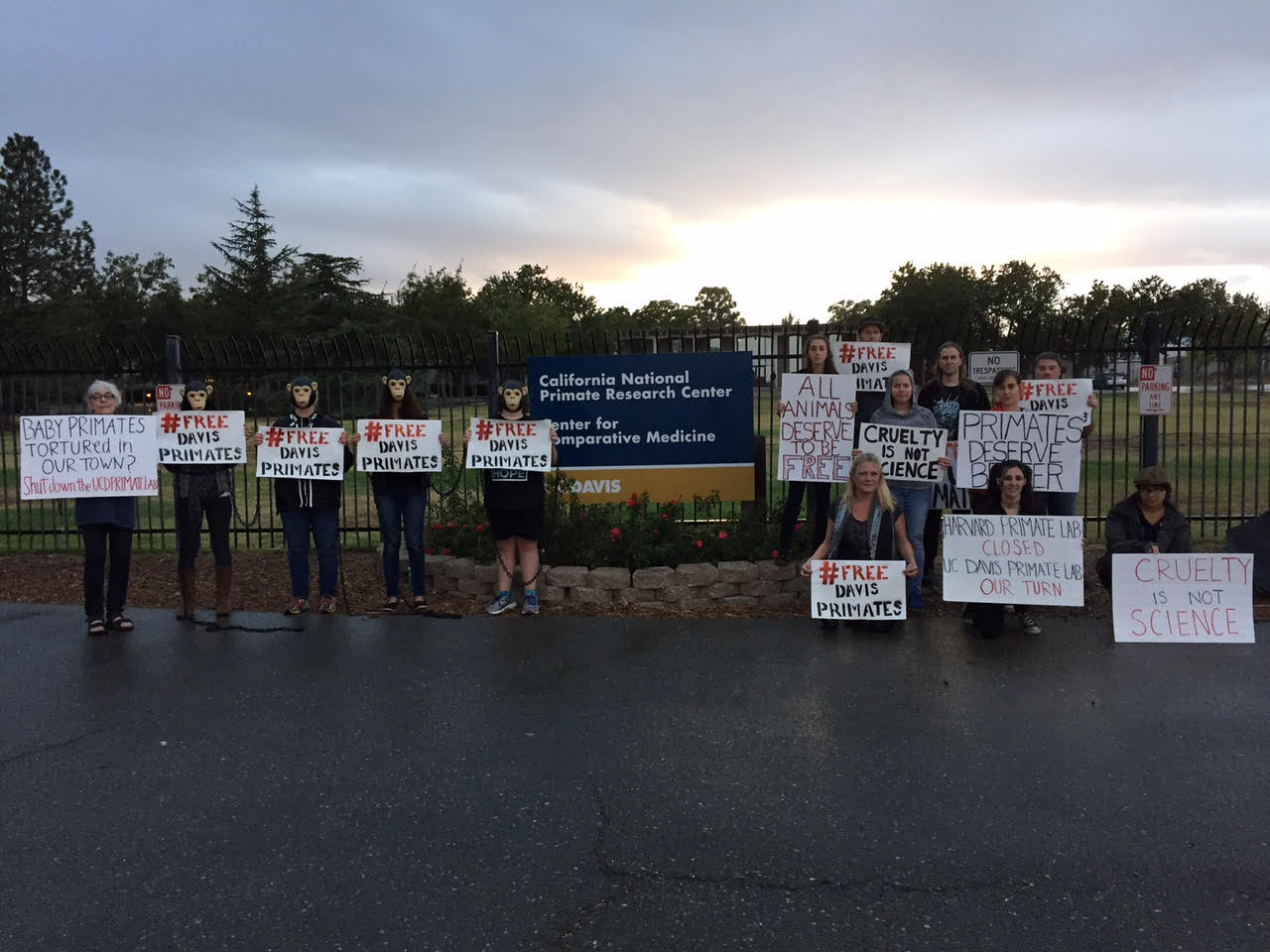 Center under fire for alleged neglect, maltreatment of monkeys
On Sept. 16, local activist group Free Davis Primates held its first protest of the year at the UC Davis California National Primate Research Center (CNPRC).
The CNPRC, which allows researchers to experiment on non-human primates, has long been a source of controversy, with animal rights activists protesting against its treatment of the primates since the center's opening. The center has a long history of neglect, including escaped monkeys and a fine from the U.S. Department of Agriculture for the death of several primates.
"An alarmingly small number of the experiments done on primates are actually providing information for disease-related research," said Lindsay Rubin, one of the organizers of Free Davis Primates. "We feel it is wrong that the public has been completely misled to believe they are conducting life-saving research on these animals."
Rubin, who said that about 20 people attended the protest, started the Free Davis Primates campaign in 2014 after learning about the new smoke inhalation facility being added to the primate research center.
"[There are] glass chambers that hold baby, pregnant and elderly monkeys, [and] they're forced to inhale smoke we already know is toxic," Rubin said. "I soon after found out that UC Davis has 5,000 primates they experiment on and began the campaign to raise awareness about the issue of animal experimentation on primates in our town with millions of our tax dollars."
Rubin and her co-organizer Caroline Hagan Webb want to increase awareness of the CNPRC this year.
"One of our primary goals [for this year] is to have everyone in Davis know it exists," Webb said. "People find it shocking that right here in Davis we have 5,000 primates held captive that are being experimented on. It's not a very well-liked issue."
Webb said that although Free Davis Primates has protested about once a year in the past, the primate center has never directly responded to their protest demonstrations. The group plans to increase pressure on the CNPRC to shut down by increasing its protests to once a week.
Andy Fell, associate director of News and Media Relations at UC Davis, said that research done at the CNPRC is important because of the medical benefits for humans that it yields.
"Many medical advances have been made possible by research involving animals at some step," Fell said. "For example, researchers at the California National Primate Research Center helped in the development of drugs to treat and prevent HIV/AIDS, including tenofovir (Truvada), now one of the mostly widely-used anti-HIV drugs."
However, both Rubin and Webb maintain that the research done at the CNPRC may not generate as many health benefits for humans as expected.
"The guidelines that generally primate facilities follow are a lot more vague than they lead on," Webb said. "If you actually look into the details they're allowed to approve any experiment so long as it either furthers knowledge or helps humans in some way. Helping humans in some way might be good, like working on a disease, but furthering knowledge could be a completely random experiment."
Webb and Rubin hope that the recent news of Harvard University closing its primate center due to similar complaints will aid their campaign to shut down the CNPRC.
"We think the Harvard center closing can really give the movement more momentum," Webb said. "Harvard's obviously one of the leading universities in the country. If they can recognize that this is wrong then the rest of us should, too. It's 2015 — we're smart enough to come up with more humane ways of doing experiments that don't involve killing non-human primates."
Webb says that the primates at the CNPRC are closely related to humans, and therefore also highly intelligent, with complex communication systems and emotions.
"It would be wrong if you did the experiment to me, and it's wrong if you do it to our fellow primates," Webb said. "There's always more to learn and more diseases that you might want to cure, but we can't keep using progress as an excuse to torture innocent beings. The ends don't justify the means if it never ends."