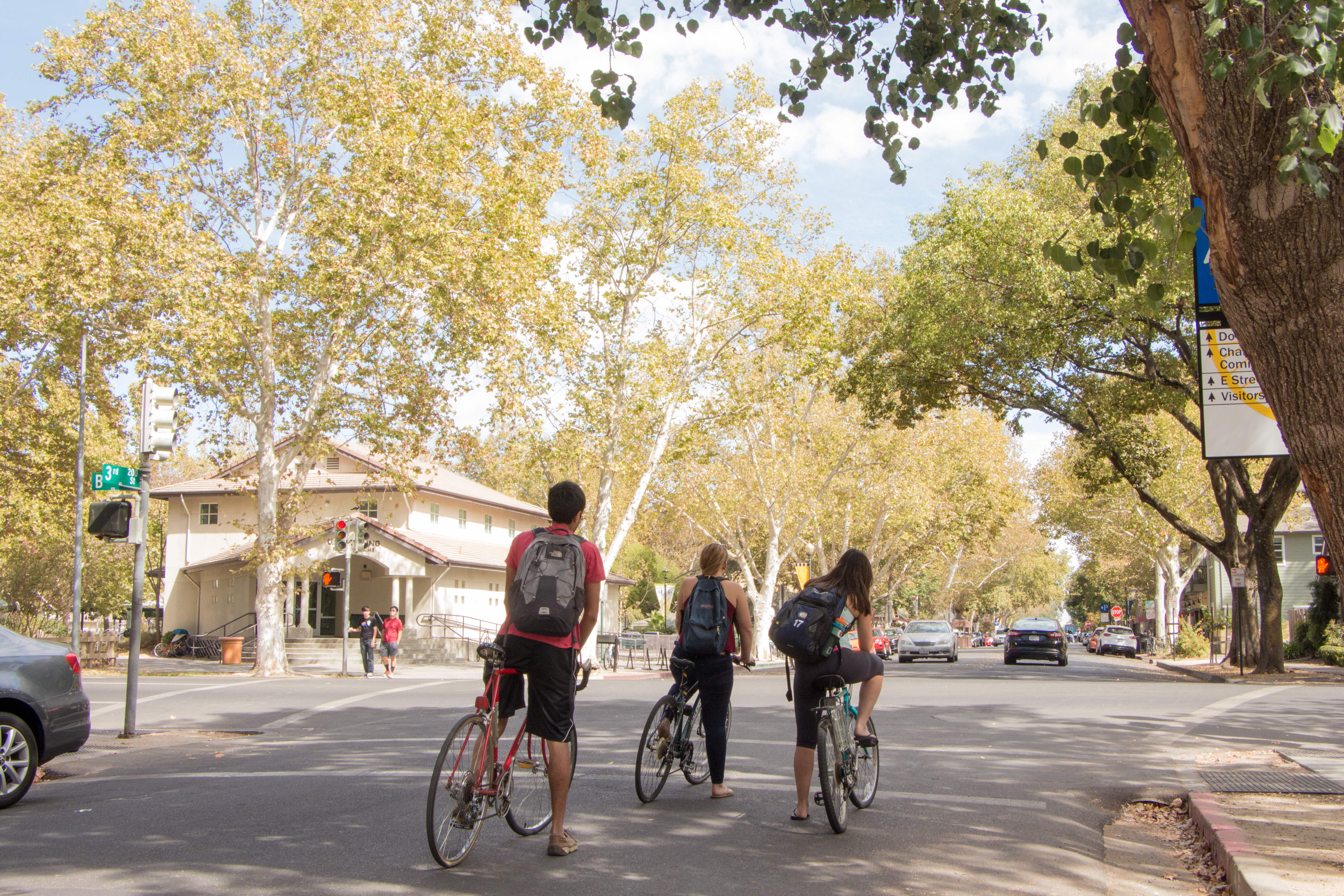 Davis community kicks off Car-Free Month with bike and bus events
As the bike capital of America for over fifty years, Davis is no stranger to alternate modes of transportation. Davis was the first city in the U.S. to create ubiquitous bike lanes for individuals who prefer to travel on two wheels instead of four. In tune with Davis's support of alternative transportation, the city will kick off its first "Car-Free Month" this October.
Last spring, bicyclists and transportation advocates in the area approached Jennifer Donofrio, the City of Davis Bicycle and Pedestrian coordinator, about having the city participate in "Car-Free Day," a national celebration on Sept. 21. Unfortunately, the date coincided with the start of UC Davis' Welcome Week, which would result in a lack of involvement from the university. The date was postponed until Donofrio suggested that the entire month of October be car-free.
"There are already so many cool events taking place," Donofrio said. "International Bike and Walk to School Day on Oct. 7, Ken's Bike-Ski-Board's Wind Down Wednesdays and the UC Davis Bike Auction all happen in October every year, which makes it a great time for Car-Free Month."
Other highlights of Car-Free Month include free Unitrans rides for all Davis residents (not just university students), impromptu musical performances on buses, a free shuttle service to the Davis Farmers' Market, the UC Davis Aggie Pride Ride and discounts on Amtrak trips and Zipcar memberships.
The Pride Ride was organized in large part by the Bike Barn and Leslie Mancebo, the Transportation Demand and Marketing Coordinator at UC Davis Transportation and Parking Services (TAPS). According to Mancebo, students will use bikes to get around campus and downtown Davis, but many are hesitant to go beyond that, especially during their first two years at UC Davis. The Pride Ride was designed to encourage students to use their bikes off-campus.
The Pride Ride includes a portion of the Davis Bike Loop, a 12 mile network of bike paths that go all around the city.
"Very little of that ride is on the street with vehicle traffic – it's mostly on paths just for bicycles," Mancebo said. "It's really cool to ride that and to learn that you can get around Davis so easily on a bike. If you tried googling how to get to Target on a bike, it will send you down some of the busiest routes on the town. Whereas if you take the bike loop, it's such a nicer, more pleasant route."
In addition to being a car-free activity, the Aggie Pride Ride also intends to promote school spirit for the homecoming football game later that evening. Both are scheduled for Oct. 10, along with the bi-annual bike auction.
According to David Takemoto-Weerts, the Bicycle Program coordinator at TAPS, the auction sells over 300 "abandoned" bikes in varying condition, with nearly 100 bikes sold every hour. The auction is open to the public, and though it is now a highlight of Car-Free Month, it has been a UC Davis tradition for decades.
"I've been at this job since 1987, and the auction has been going on for long before I even got here," Takemoto-Weerts said.
The bike auction is similar to the past "police auctions," where cops auctioned off unclaimed items left for months. Instead of jewelry pieces or electronics, the most abundant of these neglected items in Davis are bikes. Donofrio believes that the auction is not the only thing that has changed over time – trends in transportation have changed as a result of preference.
"Millennials aren't exactly following the trajectory of car ownership we're used to," Donofrio said. "Not everyone today learns to drive at 16 and then gets a car. It's a definite trend I'm seeing that people are choosing to own cars later in their life, if at all. Millennials are choosing to live closer to their workplace and take public transit or bike to and around school."
Still, Donofrio is hesitant to define this phenomenon as a bike culture, citing the Netherlands where over 30 percent of the population uses bicycles. Dutch people tend to think there is no bike "culture" in the Netherlands, and that instead it has become embedded in daily life. To Donofrio, these Dutch cities are strikingly similar to Davis.
"Every month is a bike month or car-free month in Davis," Donofrio said. "Except now we are getting the entire community and other organizations involved. We're latching onto events that are already popular and successful."
According to Donofrio, the main goal of the project is to provide information to Davis residents that may not be optimizing their usage of alternate, reliable and affordable travel options. Mancebo believes the project has loftier goals beyond publicizing transportation.
"We want people moving around in a more healthy way. Healthy could be in terms of environmental health, financial health, and also physical health," Mancebo said. "Even riding the bus may not seem better for you, but it's better than driving. You often have to walk to the bus stop or to your destination…it can be a lot healthier than hopping into the car and being stressed out by traffic. Car-Free Month is all about exploring these healthier options."