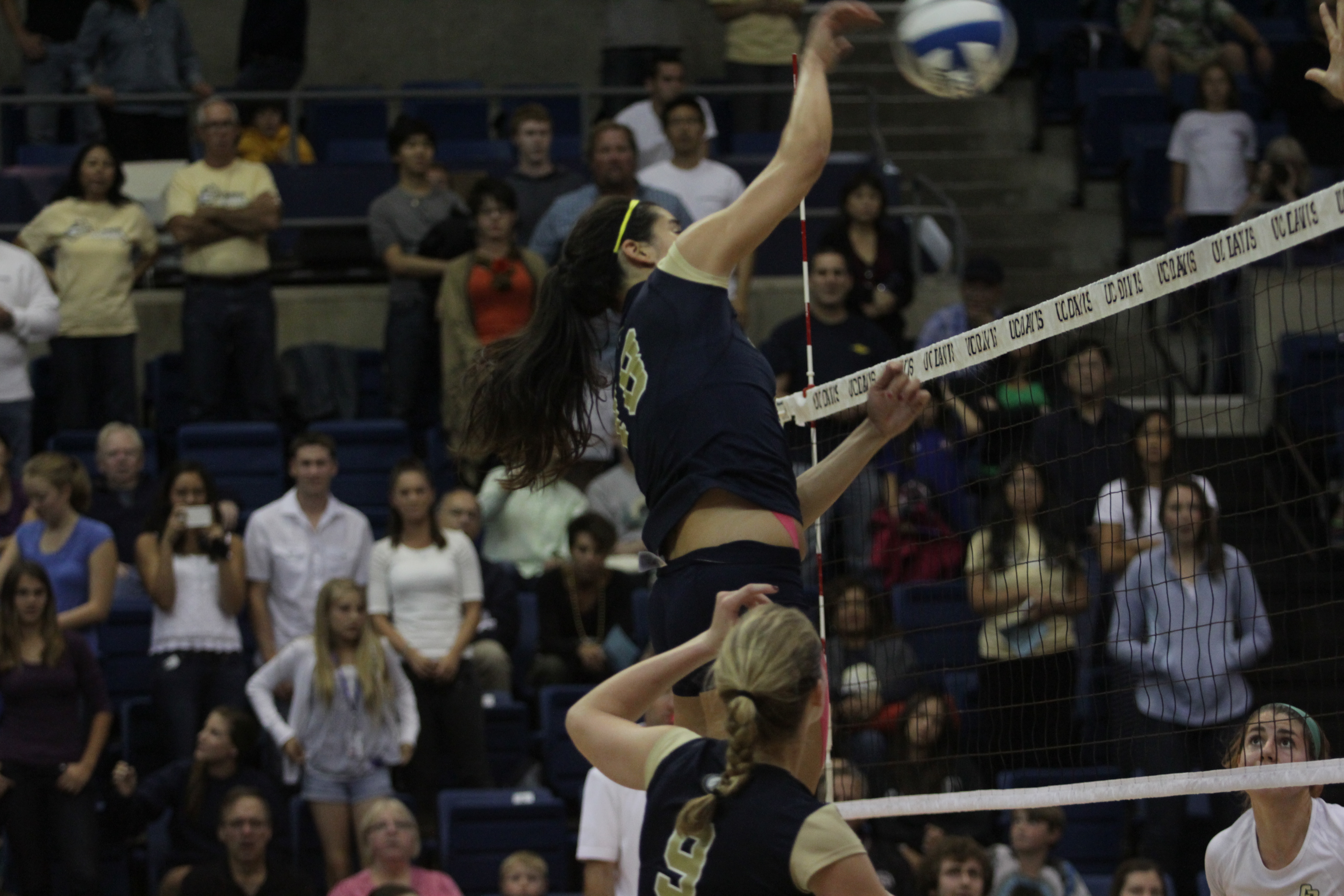 Aggies defeat the Highlanders in first home match on new court.
An animated crowd spurred the Aggies to triumph in the Pavilion for a satisfying debut on their brand new court. With a massive UC Davis mustang looking up from the floor and gleaming hardwood framing the scene, the UC Riverside Highlanders were defeated in the fourth set.
"I love that we have a good floor and new big logo out there," head coach Dan Conners said. "It feels good to be out here showing off the court and getting a win in the process."
It was a close first two sets, as the teams battled to control the lead in the final moments of the first set. A combined effort by the UC Davis athletes gave way to a three-point comeback to take the first win 28-26. They were then prevented in the following set from converting two points into a victory by UC Riverside, who took it by the same margin of 28-26 and tied up the score.
The third set saw team-wide cohesion for UC Davis early on as the team opened up, starting with 5-0 lead in the beginning that crawled up to 16-13 before the Aggies started to batter their opponents, pinning them down and only allowing the Highlanders' to score one of the next 10 points for a final score of 25-14.
A consistent lead by the Highlanders' finally gave way late in the fourth set, marking the deadly tenacity of the Aggies' outside hitters as junior Kendall Walbrecht rocketed in an ace and was swiftly followed by senior Kaylin Squyres with three consecutive kills to win the match for her team. It was a standout set for Squyres especially, who made nearly half of her 24 total kills, and also a standout match for Walbrecht, who finished with 19 total kills, a career high.
Freshman libero Malia Bolko had a game-high 25 digs, Squyres took home 13 and junior setter Sophia Marr had 12 for the match.
"We've worked through some issues where we've been a little too passive and conservative, and we had longer streaks of aggressive plays [tonight]," said Conners, as UC Davis' conference record improves to 1-2 with its first conference win of the season.
Coming off of four straight losses, the Aggies overcame timid play that had been haunting the team for much of the year.
Despite some moments where the volleyball team seemed to falter, the Aggies ultimately had a solid inaugural showing in the new Pavilion court and will remain at home to play UC Irvine on Oct. 3.