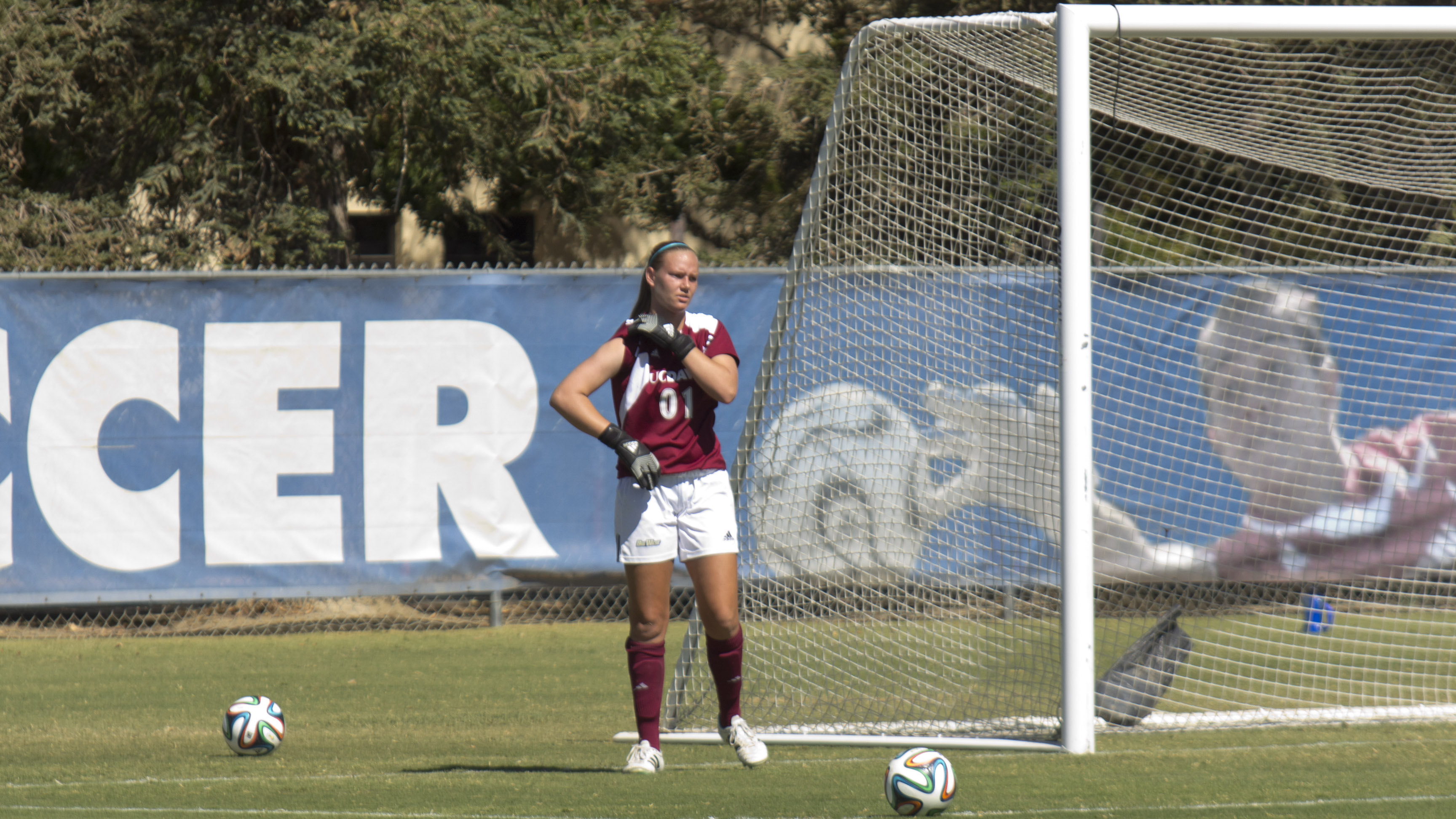 Aggies go through double overtime in game against CSUN
After out-shooting and drawing more corner-kicks than their competitors, the Aggies ended their 110 minute conference game without a single score.
"We have just been focusing on being tactically flexible," Head Coach Twila Kaufman said. "It just comes down to what the other team gives us."
Fresh off a win over conference competitor Cal Poly on Oct. 1, the UC Davis women's soccer team faced off against California State University, Northridge (CSUN) on Sunday, Oct. 4 in their second match of conference play.
The Aggies started the first half of the match with some tight aggression. Although they held possession of the ball for the majority of the first half, CSUN was able to leverage more of their minutes into actual scoring opportunities, leading UC Davis by one more shot on goal at the end of the first half.
The second half of the match opened with some aggression on behalf of the CSUN women's team. This aggression was a bit overzealous, as CSUN's Lindsay Kutscher received a yellow card for a foul against freshman forward Crystal Crump. An incredible save by CSUN's goalkeeper made sophomore Mandy McKeegan walk away from the opportunity without a goal.
The Aggies took the yellow card to heart, swiftly taking tempo of the game and getting possession of the ball.
This control of the game went on as junior midfielder Ashley Kawasaki took the ball all the way down to the outside of CSUN's box. CSUN's Christina Nixon only stopped Kawasaki when Nixon fouled her hard enough to earn a yellow card. The penalty shot quickly converted into a corner kick off a deflection by a CSUN defender.
With only ten minutes left on the clock, the Aggies had to make this corner matter. McKeegan blasted the ball in towards junior midfielder Andi Damian, whose shot went wide off another deflection and turned into a second round of corner kicks. CSUN's defense yet again repulsed this scoring opportunity.
However, with Crump passing to junior forward Rachel Smith, the Aggies were able to take another run at the victory. After blocking a shot once, CSUN's keeper was out of position, making another shot by the Aggies a sure thing — if it were not for a completely vertical high kick by a CSUN defender blocking the goal.
In a final drive by UC Davis, Crump and Smith tried to work their magic a second time, but Smith's shot was a little off center. Regulation play ended without a score, moving both teams into a first sudden death elimination period of ten minutes.
First Overtime
In the opening movements of the first overtime period, an errant ball blasted into senior Haley Hughes face, causing her to be subbed out on account of a bloody nose. While Hughes was dealing with her minor injury, the Aggies were able to attempt their first corner-kick of the overtime period.
Unfortunately, the corner-kick was not converted and CSUN quick took control of the ball. Four minutes into overtime, CSUN presented their only scoring opportunity of the period. Their shot went high and the UC Davis counter-attack provided Smith with a third scoring opportunity.
In a heartbreaking near miss, Smith was unable to secure the goal and the game. The final three minutes of the first overtime passed without fan-fare.
Second Overtime
CSUN decided to change up their defense for the final ten minutes of play, coming off the starting whistle with a full press against the Aggies. This aggression played to CSUN's advantage, yielding them two scoring opportunities after a failed attempt by UC Davis.
With two minutes left in the period, a drive by CSUN would have spelled defeat if it were not for an amazing leap by redshirt freshman goalkeeper Alexis Smith.
The match ended in a 0-0 tie.
The Aggies continue with their conference play leading the Big West standings, and are facing two away games at Cal State Fullerton on Oct. 9 and UC Riverside two days later.