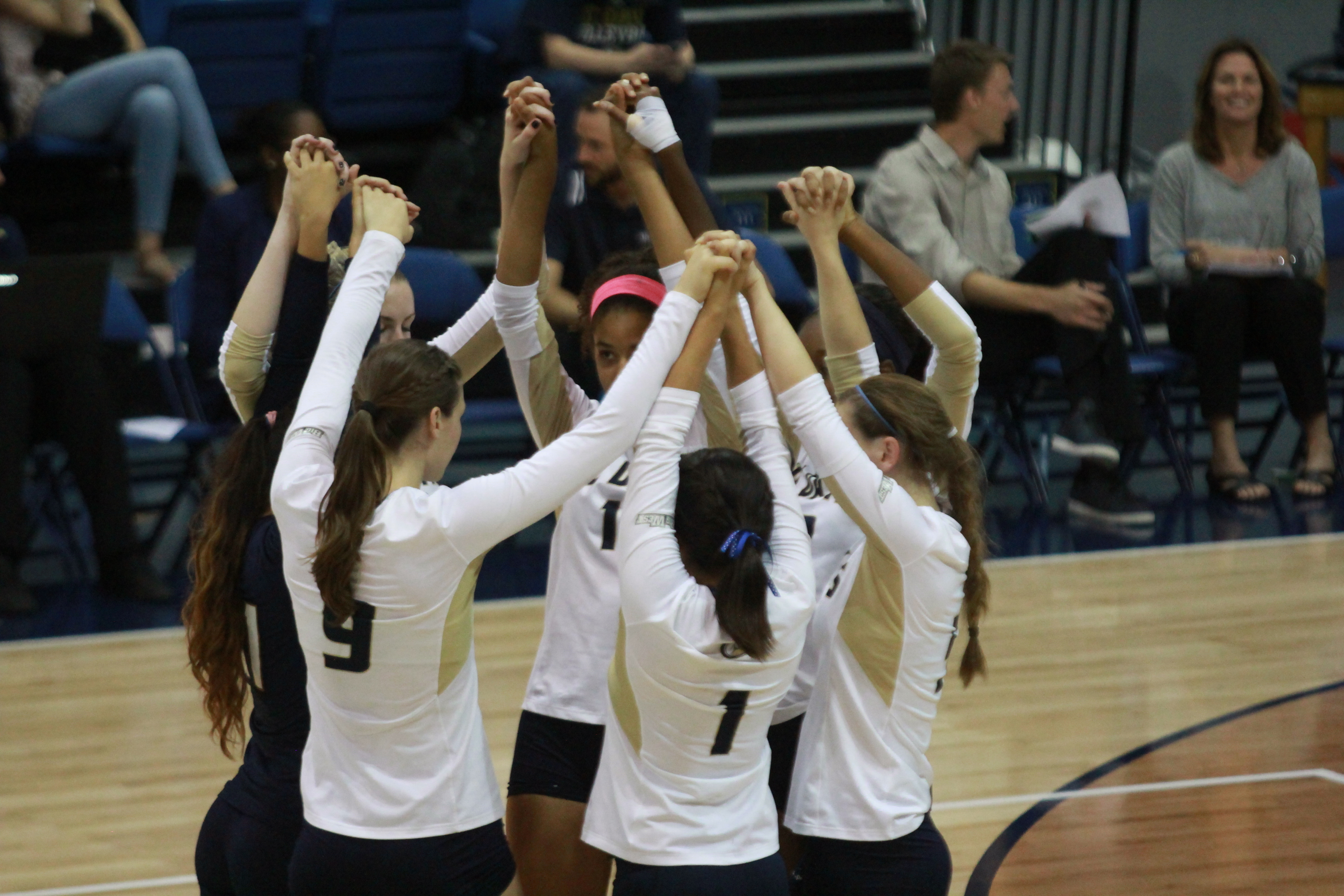 Last game of homestand brings cheers
Pacing throughout the game, UC Davis Head Coach Dan Conners watched as his team played "in the moment." The three-set game put up some exceptional numbers from the whole team, with final scores of 25-13, 25-23 and 25-18.
Moving junior outside hitter Kendall Walbrecht to the left side set up great plays from both sides. Walbrecht, who scored 14.5 points against California State University, Fullerton, put up two kills after seven attempts in the first and finished with seven kills from 13 attempts in the final set.
Senior outside hitter Kaylin Squyres normally sets the tone, but tonight it was freshman outside hitter Nicola Moore who stole the show. Following Walbrecht, Moore scored an astounding 13 points against the Titans. Along with her 12 kills, Moore completed two successful blocks and three digs, performing not only offensively but defensively as well. Combined, the three created a balanced offense, with Squyres taking on a supportive role that allowed more strategic attacks.  
"She [Moore] hasn't had a night like this," Conners said. "She had 12 kills on 16 swings… we know she's capable of putting up big numbers."
"We're trying to be more consistent with our first contact, passing and defense," Conners said. "We're trying to be a little more controlled there so we can use our quick attackers like Aima [Eichie]."
"It's nice to see it click, get the win and be able to have it all in a nice package," Moore said. "We should be able to continue our streak against Hawai'i."
Last week's Big West Conference Defensive Player of the Week freshman libero Malia Bolko followed nearly every block attempt by sophomore middle blocker Aima Eichie and others resulting in 13 digs, eliminating kill attempts by the Titans and contributing greatly to the Aggies win.
With their fourth win, the Aggies doubled their Big West Conference record, bringing it to 4-2 as UC Davis recovers from a few losses early on.
"It's really exciting," Bolko said. "It felt nice to see it finally coming together as a team. The home stretch is finally clicking.
Balanced play in the third set elevated the intensity of the court as the fans came to their feet. The majority of the team got a dig or two, with 18 total as the Titans desperately attempted to shower UC Davis with kills. Junior setter Sophia Mar set the court up for the win with 14 assists and the Aggies improved their record to 9-11.
The team will defend their winning streak as they face off against Hawai'i on Friday.