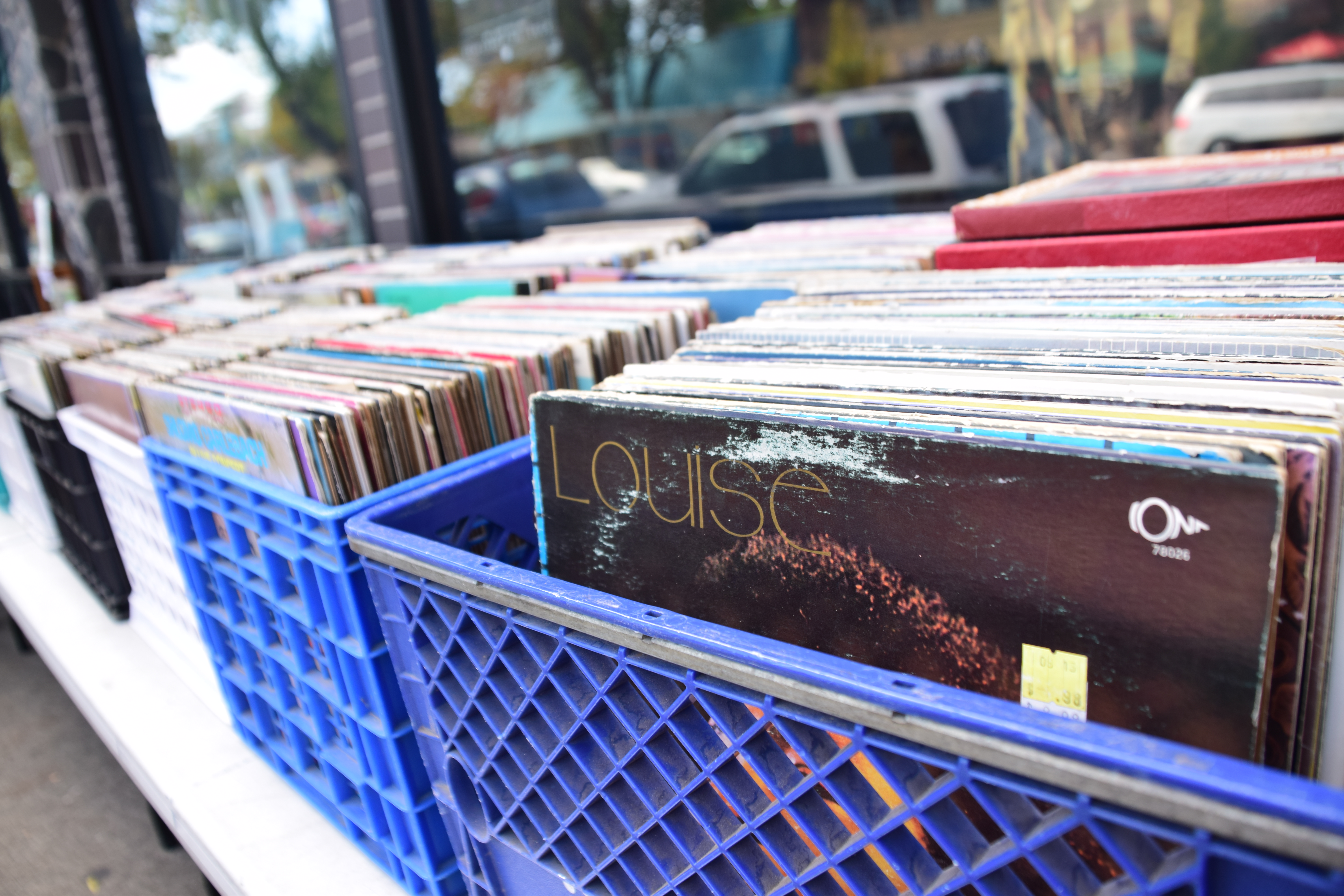 Vendors from all over California gather for Davis Vinyl & Music Fair
The weekend of Oct. 18 is the only weekend of football season when the Raiders don't play, according to Paul Wilbur, Armadillo Music staff member and Raiders season ticket holder. That's why Wilbur chose this particular weekend to hold the Davis Vinyl and Music Fair at the Davis Senior Center.
Wilbur has worked here for over 18 years and has been helping to run the fair since its renewal in 2009.
"The first one we ever did was 14 tables, the one we're doing now is 55 tables," Wilbur said.
Since then, the fair has come a long way. Last year, over a thousand people attended the fair.
This year, Armadillo Music has secured a number of new vendors, and they hope to encourage even more vinyl enthusiasts to come.
"We now have Woodstock's Pizza inside the venue so you can buy food, which is huge," Wilbur said. Doing so allows them to keep people inside the venue all day, a great advantage according to Wilbur.
"The number-one complaint I hear from people is that they didn't set aside enough time. Like they'll come in and say 'oh I've got a half-hour' and they'll look around and say 'I can't do anything here with half an hour, I need three hours!'" Wilbur said.
With vendors coming from all over California to sell records ranging  from the Beatles to heavy metal, Led Zeppelin to jazz, it makes sense why people can spend hours getting lost at the fair.
"I think the reason [why vinyl has come back in such a big way] is that in the modern age where your whole life is literally run through your phone, young people miss having a connection to music," Wilbur said.
"They don't have a connection to music like I had when I was their age. To them, the idea of sitting down and listening to a record player is absolute heaven because they have to stop doing everything else and listen."
Dynn Javier, a second–year English major and the KDVS general manager, agrees that vinyl is a very emotionally-charged medium. KDVS will be present at the fair to kickstart their first annual fall fundraiser.
"A live free-form radio station is almost an allegory for vinyl; it's not the most popular or state of the art thing, but it definitely has a place in a lot of people's hearts," Javier said, which is one of the reasons KDVS is keen to be involved with the Vinyl Fair. "If we can solicit a good number of people who are very interested in us after the event, that's all we ask from it."
Armadillo Music and KDVS work together on sorting and exchanging vinyl and Javier praises Wilbur's help immensely.
"He's very much invested in us and we're very much invested in him, so any chance we get to collaborate and make something happen together is worthwhile," Javier said.. "And we don't have to worry about money, it's just friends helping friends."
It is this attitude which has helped make the Davis Vinyl Fair such a success over time, with everyone in the community having an interest in improving the Davis music scene as a whole.
When asked for any final words of advice, Wilbur had a few.
"If you're going, bring a bag, and bring lots of ones and fives — it's okay to haggle. You can say 'I don't want to pay $15, can I pay $12?' People are there to sell things, so absolutely, come and treat it like a vinyl fair fleamarket, have fun and give yourself lots of time. If you don't give yourself lots of time, you're going to be mad at yourself."
The Davis Vinyl and Music Fair will be held Oct. 18 from 8:30 a.m. to 4 p.m at the Davis Senior Center. Admission is free except for early bird entry from 8:30 to 9 a.m, which is $5. For more information, please visit the Armadillo Music Facebook page.
10/19/15 6:30 p.m.: The article was updated to include more information on the background of the sources interviewed.