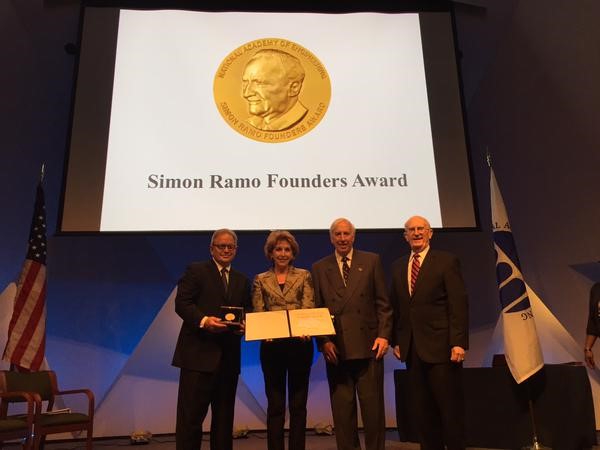 National Academy of Engineering awards UC Davis chancellor for leadership in education, diversity
On Oct. 4, the National Academy of Engineering (NAE) honored Chancellor Linda P.B. Katehi with the Simon Ramo Founders Award for her leadership in engineering research, entrepreneurship and education, as well as her advocacy for higher education as a solution to improve the U.S. economy. Katehi is the first woman to receive the award since its creation in 1965.
"It was a major honor for me to receive this award," Katehi said. "What is unique about this specific [award] is it was named after the founder Simon Ramo, the only surviving founder of the academy […] The other thing is he's one of the biggest names in my own area, which is electromagnetics and electronics […] It was very meaningful to me personally."
While biomedical engineering professor Angelique Louie sees Katehi's award as a celebratory achievement for women in STEM fields, she also suggests that the win demonstrates the conservative nature of the engineering profession.
"It is astounding that this is the first time the NAE Simon Ramo Award has been given to a woman," Louie said. "It highlights both how far we have come and how much further we need to go to support diversity in science and engineering."
When Katehi began her career, she did not see as many women in STEM fields. She hopes her success will encourage more women to enter these professions.
"Engineering has always been a field where not too many women go," Katehi said. "We have seen progress obviously, but when I was an undergrad, there were only two women in a [graduating] class of 189 in electrical and mechanical engineering. Only two. Now of course it has changed, but it started there. We definitely need more women in engineering and the STEM areas."
According to the academy's website, the NAE's mission is "to advance the well-being of the nation by promoting a vibrant engineering profession and by marshalling the expertise and insights of eminent engineers to provide independent advice to the federal government on matters involving engineering and technology."
"I was very excited and she was [too]," said Katehi's husband, chemical engineering professor Spyros Tseregounis. "This is a major award, and they recognized her efforts in education, science and engineering. We do understand how important [Katehi's efforts] are to the engineering field, both for education, educating the new engineers, and for economic development."  
The award is given to members of the NAE. With only approximately 70 members joining the academy per year and a maximum membership of 2,500 members, acceptance into NAE is competitive. New members are elected by current NAE members based on leadership in making significant contributions to the field of engineering. Katehi was awarded membership to the NAE in 2006.
In 2014, 134 of the approximately 2,300 members were women. For Katehi, the low number of women in the academy is indicative of how few women there are in the STEM fields. Katehi suggests that the low number is due to a lack of recognition for females in the industry, which discourages women from pursuing the profession.
"Not too many women were recognized in the past," Katehi said. "And there were definitely many more than five percent of women engineers [in NAE] that have really done amazing things in their careers to be recognized."
Karen McDonald, associate dean of engineering and faculty director for UC Davis ADVANCE (a program which promotes the inclusion of gender and cultural diversity in STEM fields), predicts that diversity in STEM fields will have a positive impact on increasing creativity and innovation within the profession.
"Engineering is a very creative, interactive and team-based profession that uses math, science and engineering to solve real-world problems," McDonald said. "Increasing diversity will bring more diverse experiences, perspectives and novel approaches to these problems, influencing the types of problems that are addressed and the questions that are asked, which will enhance innovation and societal impact."
According to Tseregounis, Katehi's goal to promote higher education and diversity, especially in STEM fields, has beneficial impacts on the economy.
"The research and advancement that engineers do helps with economic development because it creates ways of building things more efficiently, or building new things," Tseregounis said. "This of course results in new companies coming out to make new products. That spurs job creation and economic development."
ADVANCE program coordinator Denneal Jamison-McClung is hopeful of the future for diverse groups in STEM fields as well as other professions following Katehi's achievement.
"It is refreshing to work with a leader who has a vision of excellence that includes diverse viewpoints," Jamison-McClung said. "The work we are doing on campus to improve diversity in both STEM and non-STEM departments […] will have a positive impact on our entire community. It's an exciting time!"