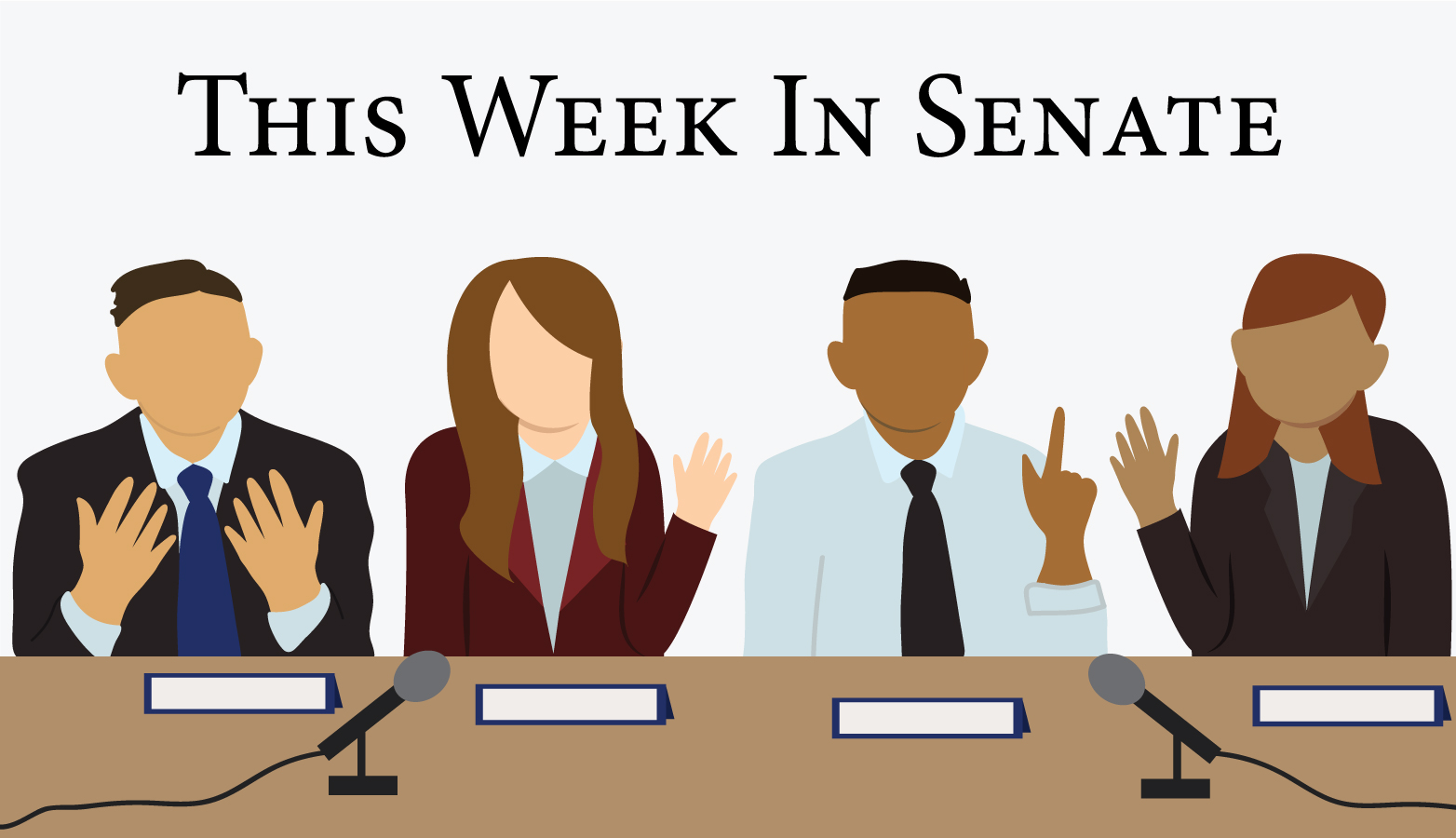 Senate passes several electronic initiatives
On Oct. 15, ASUCD Vice President Gareth Smythe called to order the third weekly senate meeting of the quarter in the Memorial Union's Mee Room.
The meeting was mostly comprised of legislative changes.
Two of the legislative measures passed provide greater opportunities for students to vote online; these changes could increase the accessibility and visibility of ASUCD platforms.
First, Senate Bill 6 (SB #6) was presented by Senator Sevan Nahabedian and Election Committee Chair Daisy He. This bill, which would add the option of electronically signing nominations for potential candidates, was passed with an 8-2-2 vote.
Senate Bill 4 (SB #4), authored by Senator Alex Lee, was also passed last Thursday. This bill would allow petitions to be far more accessible online.
Alongside SB #4 and #6, the senate presided over several other measures.
Senator Roman Rivilis presented Senate Bill 81, which solidifies the relationship between ASUCD's External Affairs Commission (EAC) and the City of Davis. EAC has been instrumental in linking students to the Davis City Council and local businesses. With a 10-0-2 vote, the bill passed.
The senate passed two resolutions. Under the first, the university will formally acknowledge Oct. 2 as Indigenous Peoples' Day.
Additionally, Senate Resolution 1 was passed. This resolution would continue to support the Student Alumni Association's attempts to add a quarterly membership fee.
Lee introduced a major step in the arrival of the newly designed Aggie Cards through last Thursday's passage of Ballot Measure 1. This measure would allow students to vote for their favorite Aggie Card design in the upcoming fall elections. At this pace, Lee expects the new cards to be distributed as early as next year to the Class of 2020.
Lee also authored Senate Bill 5, another bill passed last Thursday. This bill gives the Elections Committee Chair more leeway in hiring an elections committee.
The senate also made several confirmations this week, primarily for individuals who were unable to be confirmed the previous week. Anjali Manghnani was confirmed as a member of the Internal Affairs Commission; Nivan Khair was confirmed as a member of the External Affairs Commission; and Reagan Ballo was confirmed as a member of the Business and Finance Commission.
Lastly, Outreach Assembly confirmed eight individuals: YuTing Han, Sofia Molodanof, Monique Hefler, Liqun Dong, Amy Ye, Carlie Hambuck, Lauren Riebs and Francisco Cerda.
Several presentations were then delivered.
Don Saylor, the Yolo County Supervisor, spoke on behalf of Calfresh to address hunger and food security among college students. Calfresh has reduced the level of requirements for individuals, giving greater access to students who may not have been previously eligible. Saylor urges students to apply either online or in person. Calfresh, as well as other similar initiatives, will be showcased during ASUCD's Food Connect Night, the details of which are to be announced.
The conversation then moved to the current progress of the upcoming Senate Elections. According to He, the number of potential applicants will not be confirmed until the applicants have completed both the packet and candidate workshop. However, the committee is expecting a fair amount of candidates to run for ASUCD senate this fall.  
Two unit directors delivered presentations concerning the progress and future plans of their units.
Darin Schluep, director of the Associated Students Dining Services, spoke on behalf of The Coffee House. Schluep announced the addition of several fall-themed items, including waffles and root beer floats. CoHo South has also added several menu items, including a Thai burger and chili cheese fries. In addition, the CoHo has been working closely with the Athletics Department to provide catering during games. Financially, the CoHo has been declining steadily due to a recent increase in minimum wage and rising janitorial costs while CoHo South has been continuing to earn steadily, with an estimated 1,000 customers per day.
Following Schluep's presentation, a memorandum of understanding was passed between ASUCD and the Student Community Center (SCC) concerning CoHo South and its shared governance. With the passing of this memorandum, ASUCD has agreed to pay the SCC for the CoHo South's rental fees. These rental fees will be used by the SCC to provide enhanced programs for students.
Nicole Garcia, the unit director of the Aggie Reuse Store, presented her unit report for the store. Under Garcia's leadership, Aggie Reuse has undergone massive reconstruction. Some improvements include a bi-quarterly review of the store's leaders, increased social media presence and projects created by the store's volunteers. With these changes, the store has reached a third of its yearly quota and is expecting to grow even further.
After several public announcements, the meeting adjourned.