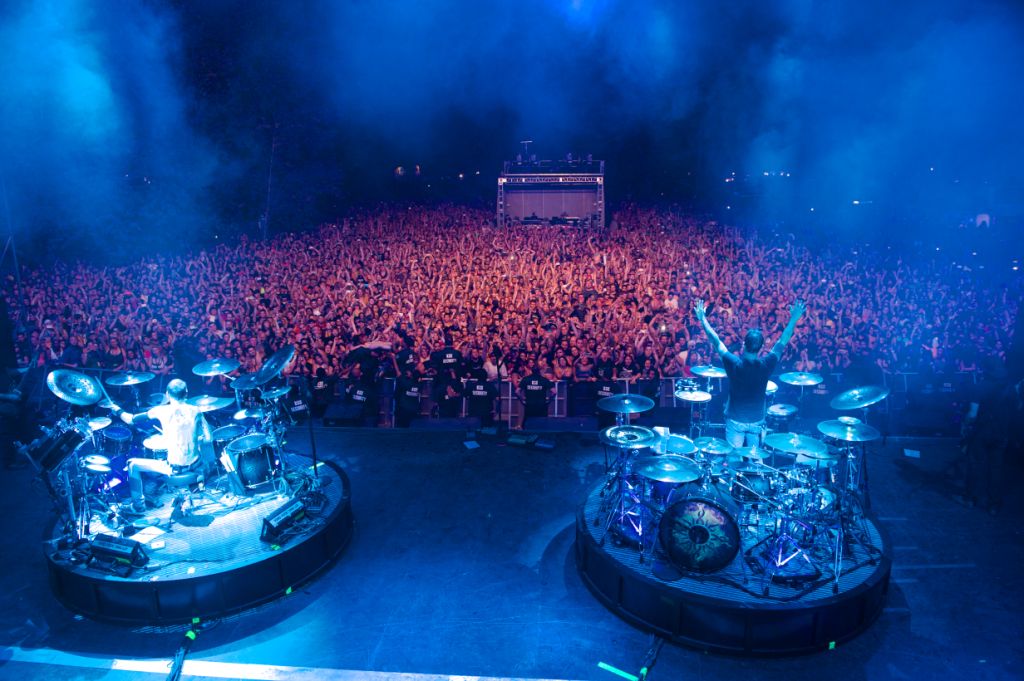 Slipknot and Marilyn Manson among headliners.
Sacramento's annual Aftershock festival, presented by Monster Energy and featuring some of the biggest names in mainstream metal such as Slipknot, Marilyn Manson, Faith No More and Deftones, is coming to Gibson Ranch Park on Oct. 24 to 25.
Clay Busch, head of marketing for Danny Wimmer Presents, the company putting on Aftershock, explains the evolution of the event. "The show's in its fourth year now," Busch said. "It started off as a one-day event with Stone Temple Pilots and Deftones headlining, and it's grown into a two-day camping festival with over 25,000 people each day. It's California's biggest true rock festival at this point. I've been there since day one, so it's my fourth year at Aftershock too, and we're really excited to be coming back."
This growth has attracted bands back time and time again.
"We're looking forward to being one of the headliners at Aftershock this year and performing in our hometown. It's always special to return to the city that made us," said Chino Moreno, lead singer of Deftones.
Corey Taylor, the leader of Slipknot, expressed his excitement for playing Aftershock.
"[There are a] lot of great bands — [I] can't wait to see everyone, from Manson to Clutch," Taylor said. "Sacramento won't know what hit it when me and my friends are through."
This year, Aftershock has implemented several changes to the festival. The organizers are teaming up with World Wrestling Entertainment (WWE) to showcase the up-and-coming superstars of wrestling.
"We have multiple matches and multiple autograph signings, so fans have a chance to [engage with the wrestlers]," Busch said. "Another new addition is Tequila World, a little village showcasing five or six top-brand tequilas. There's also the Jack Daniel's JDX experience, a kind of travelling museum showing the process of making whiskey, so that's a cool addition this year. There's some things coming back again, [such as] three main stages, one side stage and a lot of cool bands."
In addition to all of this, camping is a new and popular addition this year. Mike Testa, COO of the Sacramento Convention & Visitors Bureau, said that Aftershock is expected to bring in $11 million to the Sacramento economy.
"People are driving in, they're buying a bunch of groceries, they're spending money on gas," Busch said. "They're enjoying Sacramento. The hotels are sold out."
Busch discussed how Danny Wimmer, the founder of Danny Wimmer Presents, aims to provide as rich an experience as possible on a budget.
"Wimmer curates the entire festival experience, from Tequila World to the food we're bringing in to the bands we book. It was his idea to bring in WWE; he's always trying to overdeliver for the general festival experience," Busch said. "We're always trying to keep ticket prices low so people can come out and consume everything we have and give to the show. We're all about the experience, so we overspend for façades and lighting and better-looking stages, the things you see at big festivals like Coachella, and we take pride in trying to provide that same experience for rock."
In addition to providing a great experience, the festival also strives to contribute positively to local art programs. Attending Aftershock will be Crazy Dave's Music Experience, an interactive music store with lots of artist signings, artist demos and unique ways to interact with the bands. There will also be The Student Experience, designed for kids enrolled in music programs in the surrounding area.
"We'll be bringing out a local school and they'll do backstage tours, they'll get a chance to meet me, and they'll get a true experience of what goes into every aspect of making music, from learning the instruments, to recording and releasing the CD to the live experience," Busch said. "We all have a responsibility to keep educating our future musicians and supporting arts programs as public school funding goes away for the arts. It's our responsibility to continue to educate. For some kids, [this will be] the first time they've picked up a guitar. That is our future of rock, that's our next guitar hero, our next big lead singer, that's our next great drummer."
Aftershock promises a weekend of some of the greatest hard rock and metal acts around, and is set to be its biggest, best and hardest yet.
For more information and tickets, please visit the Aftershock website or their Facebook page.