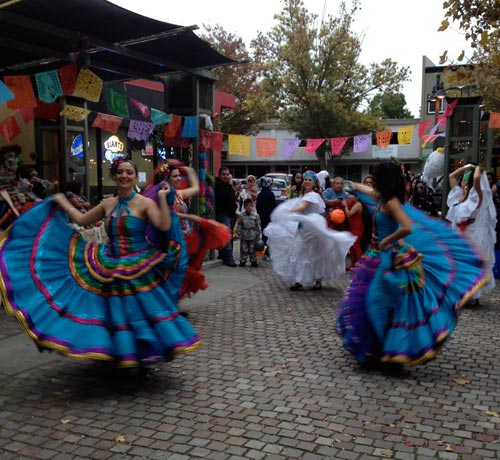 Davis Downtown to put on third annual Day of the Dead event
People can celebrate Halloween through a myriad of traditions, whether it's trick-or-treating, passing out candy or squirming through a scary movie marathon. There is something for everyone in Davis; if you want to try switching it up, Downtown Davis is putting on their third annual Dia de los Muertos celebration on Oct. 31 from 2 p.m. to sunset at the E Street Plaza.
This cultural event brings to life the Mexican tradition of honoring loved ones that have passed on. It is a day of both remembrance and celebration, complete with mariachi music, food, dancing and fun. All ages are encouraged to attend and experience the festivities.
The event kicks off with a Halloween and Dia de los Muertos-themed story time. There will be  an altar for anyone to contribute physical memories or offerings to lost loved ones.
Reyna Saenz, the owner of Tres Hermanas on 2nd St., encourages everyone to come and pay respects to friends and family members that have passed away. She also hopes to see people decked out in traditional Dia de los Muertos dress and face paint.
"[On this date], we are honoring those that have passed away," Saenz said. "We just celebrate their life and [the fact] that they were in our lives."
At 4 p.m., Aztec dancers and drummers will start off a processional, which will make its way from Tres Hermanas to the E Street Plaza, where dancing, music and poetry will continue until the event ends at sunset.
The Dia de los Muertos event pulls in people from throughout the region by providing a cultural alternative to traditional Halloween activities.
Jeff Simons, the owner of Watermelon Music on E Street, is sponsoring the event with Davis Downtown, El Burrito and Tres Hermanas. Simons believes this event is a nice break from handing out Skittles and Snickers on Halloween night.
"I like that it is more than just giving out cheap candy. You've got all of these people downtown so if there's a way to give them a little shot of culture, that's great," Simons said. "It pulls a whole bunch of people in that [trick-or-treating] wouldn't."
Saenz loves the holiday and the opportunity to honor lost loved ones and share her heritage with the people of Davis.
"You get to have a day [to think] about your loved ones who have already passed and [have] a celebration of life," Saenz said. "I like that people get together and get to see part of our culture."
Simons also asks that parents bring their children so they, too, can learn about this tradition.
"My kids both went to a Spanish immersion school," Simons said. "So they've had some exposure to Dia de los Muertos and an understanding of how it works, but for the town as a whole to do it is very beneficial."
To really get into the Dia de los Muertos spirit, make sure to try some of Saenz's pan de los muertos, which is a Day of the Dead sweet
For Mexican Americans, the day provides an opportunity to celebrate their culture and allows others a glimpse into an unique holiday.
Julia Gonzalez, a second-year psychology major, enjoys this chance to share her Mexican heritage with her friends.
"I love celebrating the ancestors that shaped who I am," Gonzalez said. "I also get to show my friends who are not Mexican what this holiday is all about — really celebrating and thanking those that came before us."
For more information, please visit the event website.