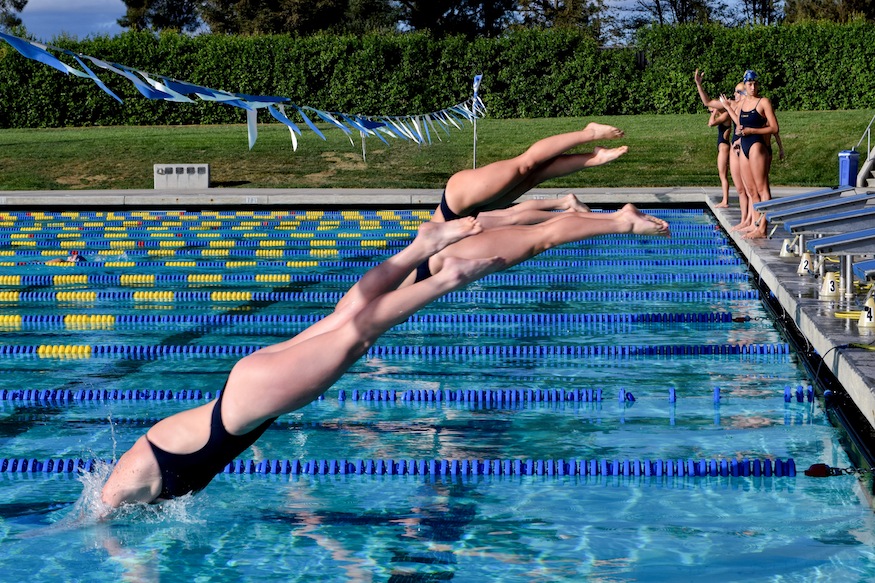 Women's swim and dive team start season with non-competitive Intrasquad meet
The UC Davis women's swim and dive team got their feet wet, both literally and figuratively, at the annual Blue-Gold Intrasquad scrimmage, an informal event that welcomed back alumni in a friendly round of competition. Dipping their toes in the competitive waters for the first time after a nonstop training period that began in September, the meet served as a dress rehearsal to put their practice to the test.
"One of my goals as a coach is to see them develop in all aspects, not just as an athlete," Head Coach Barbara Jahn said. "Some have more work to do than others, but overall [I look forward] to seeing them mature."
At the Blue-Gold Intrasquad meet, Aggie swimmers and divers wore either gold or blue caps and the alumni sported white as the team was split down the middle for a match of friendly competition. The nominal divide between the athletes did nothing to prevent mingling from both sides, as the current swimmers welcomed back friends and idols with open arms.
For the divers, this was the first — and last — event where they could receive calls from their coach, a safety net to prevent hesitant athletes from crashing into the water and help them land up and down.
"They're getting to a point where they don't need them as much, but there are a couple kids who still need a call or two just so they don't crash," diving Coach Phil Tonne said. "They are a week or two away from not having any calls at all. I was really really happy with the way they did."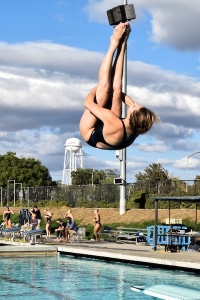 The UC Davis swimmers held close and competitive races throughout the meet. Junior veteran Hilvy Cheung dominated in both the 100 and 200 yard butterfly events, hitting the wall with times of 56.50 and 2:03.16 respectively, and beating her nearest competitor by over six seconds in the 200. An impressive showing by freshman Mia Facey saw her take gold in two freestyle events, the 50 (24.39) and 200 (1:55.68) yard freestyle.
Freshman Solie Laughlin, an Aggie to watch out for, qualified earlier this year for the 2016 Olympic Trials in the 200-meter backstroke. Unsurprisingly, she swam laps around her teammates in both backstroke events, going 57.82 in the 100 and 2:08.75 in the 200 yard.
"It's fun to see the freshmen for the first time head-to-head," Jahn said. "You can see them in practice, but that doesn't always indicate where we think they are. It's a really hardworking group of freshmen and I see them contributing a lot to the team this year.
Tonne expects senior divers Audrey DeNeffe and Lucy Lafranchise to give great performances over the season, despite injuries that both athletes are recovering from.
"They should be in my top three pretty much every meet," Tonne said.
Lafranchise is on the mend from a back injury and only competed on the 1-meter, where she placed second with 282.52 points, with DeNeffe less than ten points behind in third place. Overcoming a minor hip flexor complication, DeNeffe came in second on the 3-meter with 259.05 points.
A major concussion last year did nothing to hold back junior Serena Yee, who came in first for both diving events, beating Lafranchise by .38 in the 1-meter and DeNeffe's 259.05 with a score of 259.12 in the 3-meter.
"Just seeing these alumni back, and what they've accomplished — it is just really fun to be a part of their development," Jahn said. "I didn't get them there — they did it themselves — but hopefully I helped them along the way."