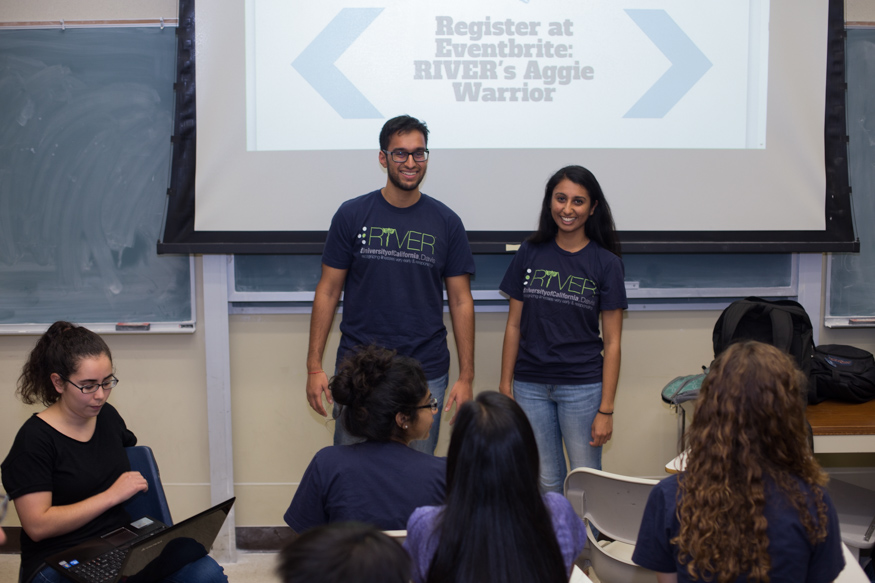 Recognizing Illnesses Very Early and Responding organization holds obstacle course fundraiser to raise money for various programs.
Founded in 2013 by a small group of undergraduate students, Recognizing Illnesses Very Early and Responding (RIVER) is an organization dedicated to educating and providing accessible dietary resources and consultations for the underserved, uninsured and at-risk community in the Davis and Sacramento area.
RIVER's mission is to bridge the gap between public health and medicine by forming a free, preventive care clinic focusing on diet, stress, sleep and physical activity.
Today, Oct. 22, the UC Davis health advocacy group will hold a fundraiser at the West Quad from 11 a.m. to 4 p.m. The money raised through this fundraiser will go toward nutrition and education projects, which involve clinics in Davis and Sacramento such as the Comprehensive Opiate Recovery Experience (CORE) Medical Clinic, Cal State University Sacramento (CSUS) Cardiovascular Wellness Program and CommuniCare Clinic in Davis.
"All the money that we earn will help us run those projects,"said Manvita Tatavarthy, a RIVER co-exercise director and fourth-year neurobiology, physiology and behavior major. "Basically none of it really stays with us. It just goes back to the projects that we're running right now."
RIVER's fundraiser will include an obstacle course called "the Aggie Warrior," consisting of individual events and team events. Those who wish to participate can register ahead of time on Eventbrite or at the fundraiser. Individual competitors will compete against each other to see who is capable of the most push-ups, sit-ups and box jumps, while teams race in the obstacle course.
"There was so much we wanted to do," fifth-year biology major and RIVER Co-President Zannain Shafi said. "Just having a plan for everything and setting deadlines, and making sure deadlines were followed up on [has] been a challenge, but we're really excited that everything we wanted to [do], we've been able to."
The idea for this fundraiser was suggested at the end of Spring Quarter 2015, stemming from the popular television show, "American Ninja Warrior."
"The reason we got into this idea was that, while we do go to Sacramento and low-income areas of Sacramento and Davis and talk about physical activity, we also want [students] at Davis to get more active," Shafi said. "I thought this was a fun way to incorporate a bunch of different exercises."
RIVER's work focuses on the greater Sacramento area; however, the group hopes to bring awareness to how important physical activity and exercise is to every community—including UC Davis.
"I really think the mission statement of RIVER is just phenomenal,"Tatavarthy said. "There's a lot of student-run clinics on campus and they're all great. But the thing is, all of them direct their attention towards a problem that already exists […] what we do is help prevent [the problem] in the first place."
According to Tatavarthy, this preventative angle of medicine has not been explored to its full extent and is extremely important to health advocacy.
"Our motto is 'always prevention before intervention,' which I think is the perfect way to look at healthcare and unfortunately that's not how most people view it," Tatavarthy said. "They wait for the disease or disorder to develop before they do something about it."
At these various clinics, RIVER Exercise and Nutrition interns prepare a ten-week long curriculum on nutrition and education related topics for those at CommuniCare. On top of this, participants provide counseling to people at CORE and often do 24-hour dietary recalls to make sure their needs are met. At the CSUS Cardiovascular Wellness Program, interns will also often give presentations and help patients one-on-one.
RIVER plans to work with an elementary school in the Sacramento school district during the summer. Basing their activities off of those at CommuniCare, the organization will try to direct a healthy influence on children by including games, sports and talks about malnutrition and other important topics.
RIVER Clinic Manager and fourth-year neurobiology, physiology and behavior major Shreyas Bharadwaj said that awareness and education is lacking in the student-run clinic space, which is why these programs are so vital to youth in the area.
"All of these events are linked the same way," Bharadwaj said. "We really try to tackle preventative care from a nutrition and exercise standpoint. And I think that's really valuable because our goal is to essentially spotlight the fact that at the end of the day, a healthy lifestyle can prevent any sort of intervention you may need in the future."
Along with the fundraiser and the elementary school preventative program over the summer, RIVER is planning and working on a few extra projects. One project is an exercise drive to try and collect extra exercise equipment, while the other involves talks about holding a symposium on campus.
"[The symposium will] basically [be] a forum for students to talk to professionals in preventative health and just kind of get exposure to that field […] and also talk to student organizations that kind of have the same vision," Tatavarthy said.
For this upcoming school year, RIVER is hoping to focus on integrating nutrition and education into a more holistic curriculum.
"I think in the past we've kept [nutrition and education] a little bit separate," Bharadwaj said. "But if there's a way to integrate both of those and give people personalized plans, and also have that data recorded in some sort of way such that we can keep track of it over time […] that's the big goal for the year."
Despite the many programs the group currently has in the works, RIVER's main goal is to expand on the underrepresented secondary healthcare services provided by the existing UC Davis student-run clinics.
"What we're really looking at is expanding the programs and bringing more resources to those communities," Tatavarthy said. "Providing them more of what they need and just kind of targeting what we do more towards whatever their needs are."