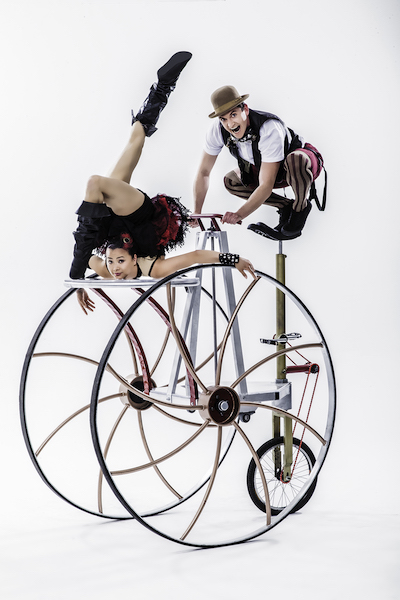 Cirque Mechanics' Pedal Punk comes to Mondavi Center.
Those who are familiar with the Mondavi Center know that it showcases events with inspirational speakers like Laverne Cox and seasoned musical acts like the Royal Philharmonic Orchestra. However, on Oct. 25, the Mondavi will be breaking from their usual pattern of performances by hosting the acrobatic troupe Cirque Mechanics, which will be putting on a show that is no less awe-inspiring, but far more abstract and death-defying.
The show is called Pedal Punk and it is a high-energy, acrobatic show that utilizes broken bikes to depict a world where cycling has become a magical escape. The main purpose of the performance is to bring to light this generation's dependence on technology and how smaller, seemingly insignificant items are often overlooked.
The performers take these insignificant items — in this case, broken bikes — and create a show that displays the ingenuity and raw talent humans possess. Pedal Punk is a show that contains symbolic significance with harrowing feats of skill.
Chris Lashua, the artistic director and founder of Cirque Mechanics, explains that the main goal of the performance is to show the relationship between the performers and the contraptions they are working with.
"The device that serves as our 'bike shop' allows aerialists to be lifted as [the bike] is pedaled," Lashua said. "[This feature lets] artists bounce and fly all the way to the top of the central [stage] and supports a platform that showcases a hula hoop act 10 inches in the air."
Without a doubt, the preparations for the show will be extensive. "The 90 to 120 minutes the audience sees onstage is surrounded by weeks of work, particularly by our production team," said Jeremy Ganter, the associate executive director at the Mondavi Center.
Ganter also explained how the crew not only has to set up the various props on the stage, but also has to ensure the safety of the performers.
However, the hard work is expected to pay off. This is not the first time Cirque Mechanics has visited Davis and Ganter reveals that ticket sales are doing well, which suggests that Cirque Mechanics may return again to the Mondavi in the near future.
'"Sales have been very strong, which is always a good indicator, particularly for a return engagement like this one," Ganter said.
Pedal Punk is also expected to really resonate with Davis residents, since many rely on biking as a primary mode of transportation.
"Our show Pedal Punk is based in a funky timeless bike shop so it is always exciting to come to communities where cycling is such a big part of life," Lashua said.
Students like Amy Nguyen, a third-year art studio and Chinese double major, are quite enthusiastic about the show.
"I'm pretty excited about the show because it's a weird concept and I think that'll entice people to come watch," Nguyen said. "The show revolves around bikes, so I think that is pretty fitting for a city like Davis."
Many Davis students ride bikes on a daily basis, so Pedal Punk's focus of bicycling will definitely make an impact on viewers, whether they  enjoy witnessing the daring acrobatics or seeing how an everyday item is used to tell a story in an ingenuous way.
Pedal Punk will come to the Mondavi on Oct. 25 at 3 p.m. To purchase tickets or find out more about Cirque Mechanics, please visit the Mondavi Center's link to this event.