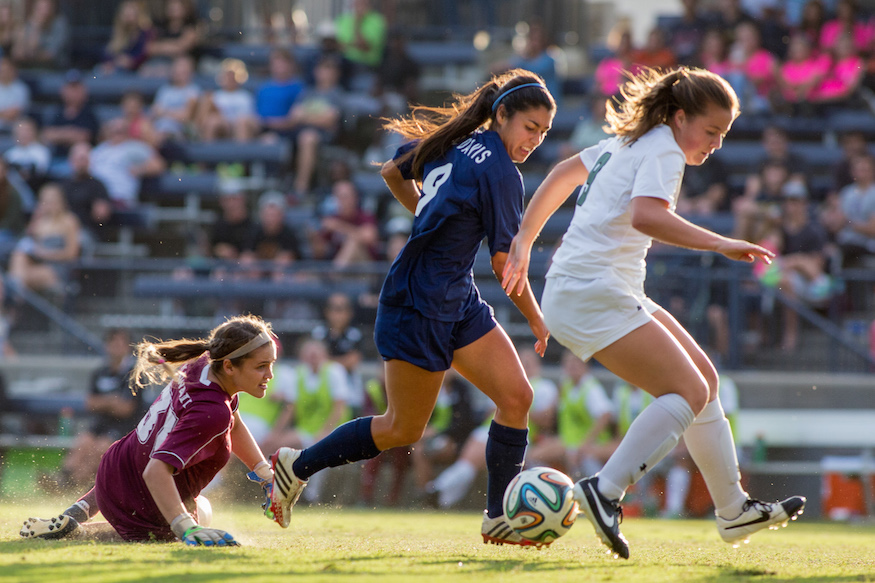 UC Davis defeats Hawai'i 4-0 in last home game of season.
In the last home game of the season, the UC Davis women's soccer team was merciless in their attack on the Hawai'i Rainbow Wahine.
With only a week left in the regular season, the deadline to qualify for the Big West conference tournament was looming closer. Thursday's game against the Rainbow Wahine would determine if the Aggies had a fighting chance to qualify. To top it off, it was Senior Day. Among the six student athletes honored were defenders Lindsay Johansen and Lindsey O'Tousa, forwards Haley Hughes and Ashley Kawasaki and midfielders Ana Marija Sola and Sienna Drizin.
The high-stakes game quickly became record-setting when the Aggies scored 18 seconds into the game. Hughes received an assist from freshman forward Crystal Crump and headed the ball into the goal, setting the record for fastest goal scored in the Aggies' Division I history. This broke the previous record set by Rochelle VanBuskirk on Sept. 29, 2009, when she scored one minute and 41 seconds into the game against Nevada.
Less than 14 minutes later, the seniors were still in control. An assist from Johansen gave Kawasaki the ball inside the penalty box, where she
deftly made it to the far left side of the goal.
The Aggies continued their dominance over Hawai'i into the second half of the game, when a foul on junior forward Rachel Smith led to a free
kick. Sophomore midfielder Mandy McKeegan lobbed the ball across the right side of the field, where it was intercepted by Kawasaki and quickly passed to sophomore midfielder Sydney Burger. She then weaved her way around the Wahine defenders to give the Aggies' their third point of the day and her first career goal.
Crump was the next to score. She received a pass from Hughes and made a breakaway play to kick the ball into the far post. Her goal further extended the UC Davis lead with twenty minutes left in the game. The 4-0 win gives the Aggies a 9-6-2 record, ensuring their first winning season since 2011.
"We all knew this was a must-win, and it was even better being that it was [on] Senior Day because we all played for something bigger," Kawasaki said.
Head Coach Twila Kaufman was equally moved by the outcome of this match, and has her sight set on the upcoming post-season play. The Aggies are close behind UC Riverside, UC Santa Barbara and California State University, Northridge as they head into their last two regular season events.
"I'm looking forward to clawing and scratching and kicking our way to potentially go on in the Big West Tournament," Kaufman said.
With only four teams allowed in the post-season league matches, the Aggies must capitalize on their last two games, starting at California State University, Long Beach on Thursday and concluding at UC Irvine on Nov. 1.