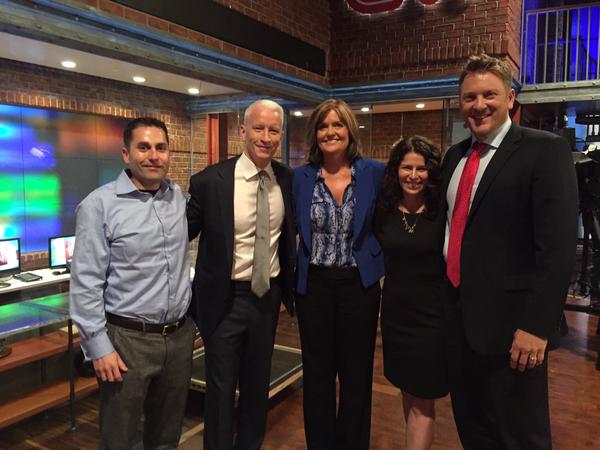 Sociology professor Bob Faris featured for study on effects of social media on teens
A recent CNN Special Report about the effects of social media on teens, titled "#Being13: Inside the Secret World of Teens," featured the research of UC Davis Sociology Professor Bob Faris as well as The University of Texas at Dallas Behavioral and Brain Sciences Professor Marion Underwood.
The study, which aired on Anderson Cooper 360 on Oct. 5, followed the social media activity of over 200 13-year-olds throughout the U.S. who agreed to let their Facebook, Instagram and Twitter accounts be studied over a period of several months.
Faris first began having conversations with producers of Anderson Cooper 360 about the project a little over a year ago; he began collecting data in September 2014. Faris said that his past research, which has focused on school bullying and health risk behaviors of adolescents, relates to the research he did for this study.
"My primary role [in this project] was to conduct [and] design a survey for the kids and for the parents about asking kids what they're doing online, asking kids how they're doing emotionally, [and] asking kids about how what they're doing online is affecting them," Faris said. "We didn't just ask kids what they were doing online, we actually observed it."
Faris said that Underwood focused on the social media behavior aspect of the study, while he looked at how the kids' social media behavior affected their emotions. Both Faris and Underwood said that they felt surprised by some of the results of the study.
"[Before this], I did not understand that Instagram was the main platform for kids who were 13," Underwood said. "Almost everything that gets put on Instagram is highly groomed, highly curated, highly manicured […] kids are really strategic about what they put on Instagram. The comments can get ugly, [but] the actual content of what they post is beautiful."
Faris and Underwood were also surprised to find such a high level of lurking on social media.
"I was sort of expecting to see that the most active users of social media were going to be more affected by it, but that wasn't really the case," Faris said. "We found that the frequency of posting and number of followers didn't really link up to emotional well-being. The one factor that did, in terms of usage, was lurking. The frequency of the kids lurking was significantly related to the levels of their emotional distress."
According to Faris, kids spend more time lurking on social media, primarily out of a fear of missing out on anything, than actually posting content.
Faris also said that for these 13-year-olds, social media plays an important role in how they interact with their peers.
"There's a lot of kids that would talk about feeling excluded at things," Faris said. "But even if they're at the party, if they're not tagged [in a picture or post], it's a snub… it's painful."
The findings of "#Being13: Inside the Secret World of Teens" have already reached a large audience, as the program was the highest rated program on CNN the day it aired as well as the number-one trending story on Twitter and Facebook.
Prior to the special airing, Faris' brother-in-law, actor Chris Pratt, tweeted his support of the project along with a photograph of him as a 13-year-old.
"So proud of my brother-in-law, friend and hunting partner Bob Faris for his involvement in this great project. Check it out!" Pratt tweeted.
Vicki Smith, the sociology department chair at UC Davis, believes that this project has the potential to increase discussion regarding how social media affects teenagers.
"'#Being13: Inside the Secret World of Teens' is already changing the national conversation about how social media impacts the lives of young people and about kids' complex and oftentimes disturbing lives online," Smith said.