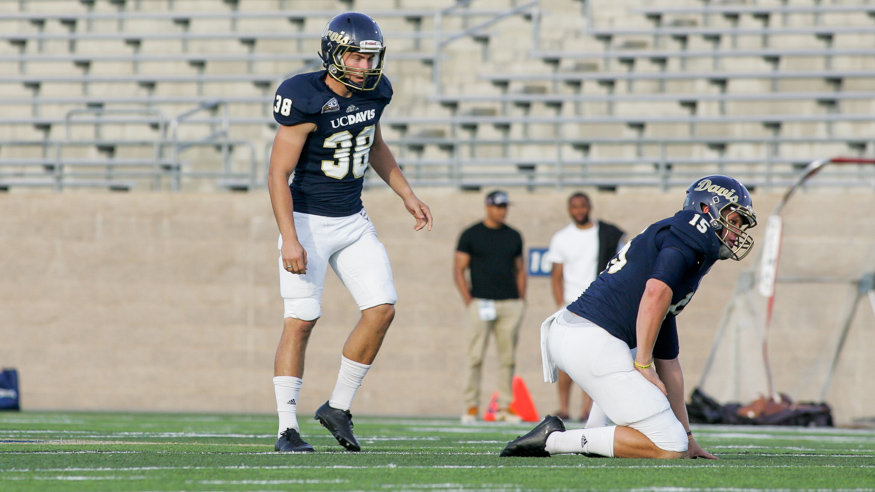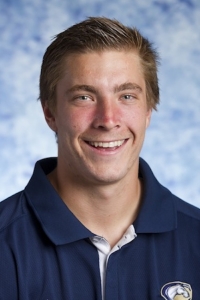 Record tied for career field goals
This week, The California Aggie joined Brady Stuart, a down-to-earth kicker with his head held high. Since the interview, Stuart has broken the UC Davis record in field goals, set by Eddie Loretto (1985-88). The senior, an all-time field goal kicker with a new personal best distance, does not show any signs of stopping as he enters into his final collegiate games.
When did you start playing football and why?
I started playing football my freshman year of high school, and really with no intention of being a kicker. I figured maybe I would do it on the side; I'd play a receiver and corner. My dad forced me to play football my freshman year because I wanted to play just soccer the whole way through and continue with club. My dad forced me to play, and at first I didn't like it, but then I started to.
I played [football] my freshman year [of highschool]. I was a receiver and I didn't do too well actually. I played corner as well, I think I was second string. I did decent, but not great.
Then they had the kicker tryouts and I totally blew it! I was terrible. I was like, where is my place on this team, what am I going to do? So the quarterback was taking the kicks the rest of the year. Then he got tired or something happened – I don't really remember – where I had to come in and start kicking. I just kind of took [over] that job. It just started from there [and] I became the kicker.
So you just put in more work and started practicing?
In the off-season I played soccer, but during football season obviously I was just kicking the football. So sophomore year came around, I played a little corner, but nothing happened with that. So I just started kicking and it just went all the way through high school.
So you didn't apply to all the schools?
I did apply, but I didn't turn in some things that I was supposed to turn in. So I got rejected from everywhere. Honestly, no one knows that side of the story.
So I have four older brothers and an older sister. Three brothers went to UCSB, both my parents went to UCSB, my oldest brother went to UCSD and then my sister went to [University of Arizona]. So everyone basically stayed in California, and I'm really close with my family.
I knew football was going to become an option, and I was going to use it to my advantage. I figured if I had a chance for football, I would want stay in California so I could stay close to my family, and if I could get into a UC it would be great.
Coach [Bob] Biggs gave me a call after a few kicking camps that I went to. I got picked up through him, it kind of worked out completely in my favor.
For everybody's favor really.
Yeah, really! My family is super stoked about it. And it's a great school. At first, I wasn't the biggest fan. I was in California, but I was in Northern California.
You're far.
Yeah, I was away from home. But now I love this place and I love the people. It kind of worked out. I chose Davis because it was honestly the best option that I had. Why turn this place down?
When you chose UC Davis, did you know specifically you we going to go into football, or were you thinking of still doing soccer?
Oh yeah. I was done with soccer my junior year of high school because I broke my collarbone. A lot of my time was invested in football at that point. Soccer was just something fun I could do — it wasn't so serious anymore. I wish it had been, but football has worked out so well for me.
So when I came to Davis, I didn't even think about the chances of soccer. I just thought, I'm playing football and here we go.
What are some of the changes on the team you've seen while you were here?
That's a good question. I mean Coach Gould has made a big difference with getting us a lot of gear, which has been pretty cool. That's definitely a big change and pretty sweet to have.
Personally I've gotten way closer with a lot of the coaches here than I ever have in the past. I'm a kicker. I'm not a safety or a linebacker, so being able to be close to all of those coaches, that's incredible.
As for the whole team, I don't really know how to answer that. We're working hard out here, we're giving everything we got. The record's not the greatest right now, but I know that we're going to continue pushing it, keep working it. Hopefully, things [turn around].
What has been the key to your personal success on the team?
I got to give a lot of [credit] to [my teammates]. It sounds cliché as a kicker, [but it's true]. I got to give it up to my long snappers, I got to give it up to my holders.
While I have been here, my long snappers have been Joey Waters and Grant Hilton. My holders have been Randy Wright, Corey Galindo and Colby Wadman.
Of course I've got to give it up to Coach [Jeff] Copp, too. He really got [me to focus on] my mental side of the game. I had a hard time of that. I would miss and just get in my head. He would always be there to pick me up, but refocus me. Get me back on my feet and stuff.
I've got to give it up to them, those guys have been working with me the whole time and they never gave up on me. And my family, too. Those guys have stood by me and supported me the whole way.
What was it like for you leading up to the moment, in terms of getting this record? Was it something that you anticipated, going into college?
No, I had no idea.
Did it just kind of sneak up on you?
Yeah really! Of course I'm always shooting for it. I am always trying to do the best I can. It hasn't really hit me yet. I think it's super cool that [I] beat a record [at UC Davis]. I'm not freaking out about it. You know, whatever happens, happens. My main focus is trying to have fun out here in my last few weeks of football in college.
But shoot, I'd say it just snuck up on me!
What does the record mean to you then?
I think it's totally cool. I was actually talking to my brothers about it the other day, and they were like, it means so much to [our] parents that I am the last kid going through school and they have done everything they could to help me out, and this is kind of a way that I am giving back to them. To put my name in the record books for however many years to come, that is totally cool right there.
I think the record books show the top ten. So say the guys beat me in the future, well I'm still on there for a while. I never thought that I would make such a big difference. Just being a little kicker out here — I never had an experience like that before.
To say I'm first at something is unbelievable. It's incredible.
What are your plans for the next year?
I don't know. My mom asked me about that last weekend. [She] just said, "Hey, have you started to think about what's to come?" I haven't so much, [but] I know I'm going to once the season ends.
I'm trying to just get through this season and have a good time with the guys around me. Really, appreciate what has been given to me and the people I'm around. I'm only here for six more weeks and I'm trying to soak it all in right now.
I've talked to Sac Republic, the soccer team, not even about working for them, but just kind of keeping in touch with them since I have worked with them in the two past years. Brent Sasaki just keeps on saying, "Just live it up, have a good time. You know, you're in a dream right now. Worry about that after, when you graduate."
So I don't know yet, if anything comes up with football, then that would be sweet. If not, then I'll just keep fighting and I'll go on to the workforce. We'll see where I go from there. It's kind of scary, but it will be cool!
Aaron Sellers can be reached at sports@theaggie.org.