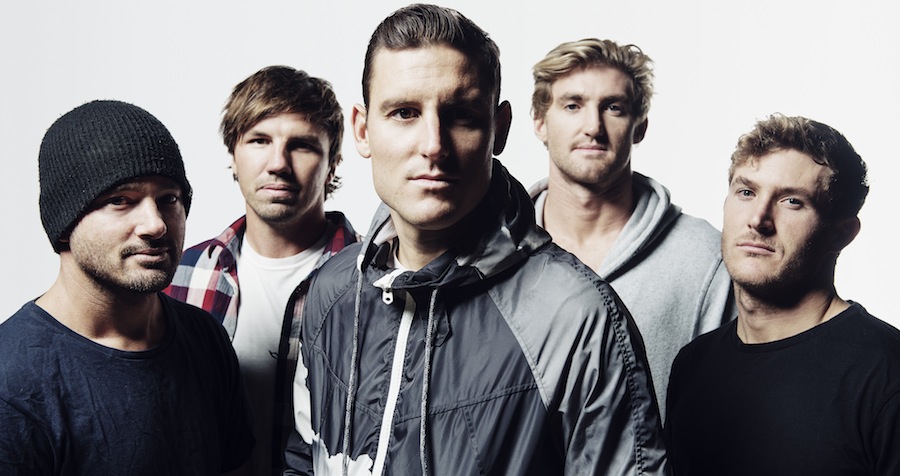 Australian metal group talk about new album and world tour
Ace of Spades, a Sacramento music venue, is set to host Parkway Drive on the North American leg of their tour, set on Halloween night. Ahead of the show, The California Aggie spoke with lead singer Winston Young about the upcoming tour, their new album sound and plans for the future.
First of all, well done on your number one in Australia and success across the world charts, that must feel great! I actually can't stop listening to the new album, especially the song "Bottom Feeder,"— it's so addictive. Can you talk me through the writing process of the album, and that track in particular?
Young: Thank you on the congratulations to start with, it's pretty wild. The writing process for this album was very different from anything we'd done in the past, simply because we wanted to create a different album. It was the first time since [we formed] that we exhausted the creativity from when we started the band, so we wanted to find new sounds and a new direction to take the music, and we had to figure out what that was.
The writing process not only involved the crafting of songs, but also finding out what sound this band was capable of creating in the first place. It involved several years of work with the core writing group, which was Jeff [Ling], Ben [Gordon] and myself. Basically seeing what worked and what our strengths were, what we wanted to highlight in the band's established sound and what we could make work to create a stronger sound. "Bottom Feeder" is a pretty good case study for our new sound. You can see the heaviness, the aggressiveness that you can link to the old Parkway sound, but you also have the enhancement of the vibe and the groove and [a greater] connection with the vocals, which is definitely highlighted in this song. It's a perfect case study of what we wanted to do with the record. That song went through a lot of incarnations before it reached its totality.
What were your inspirations for the new album? The tracks have so many different elements, it feels like you've really tried to shake it up. Is this an intentional change or is it just natural? Do you have a favorite track off the album?
Young: This definitely was an intentional change, but at the same time it was completely natural in terms of where the change came from. Like I said […], the change came about because we have never been people [who] write to any specific formula or for any specific audience. We do what we do because we like doing it. We all felt that the creativity [we had previously] had simply been exhausted and to endeavour to create something that checked all the boxes of those previous releases would just be a second rate version of what we'd done before. That's why it was a conscious effort to change, but at the same time, we tried to maintain the same integrity and intention behind the music that we always had. [I don't have a favorite track] just because all the songs are so different. I find myself liking different songs on different days. That was one of the things that we aimed for too, I don't think there's any one song on the record that kind of sums [it] up — it's definitely an album rather than a bunch of singles.
You've produced music videos for both "Crushed" and "Vice Grip." Why these two, and how did you come up with the concept for the videos? Do you have plans for more?
Young: "Vice Grip" we knew from the [start] we wanted it to be the first single. It's always been the case that whenever we've released something new we've been trying to prove that we haven't changed — we're still heavy, we're still whatever the hell they want us to be. This time around we wanted to do the exact opposite and show people that there has been change. That's a fine line to walk — giving people a single that doesn't scare them away but at the same time fires a warning shot of the change to come. So we thought that would be the best single to start with. Plus, it's catchy as hell.
The concept for the video started as a bit of a joke, because who the hell skydives and sings at the same time? We didn't think it was feasible until we pitched it to the director, and he thought it was great, so we went ahead with it. The rest is history and we're stuck with it.
"Crushed," as a second single, was playing on the idea of giving people exactly what they weren't expecting. Even after we released "Vice Grip," people still thought, "Oh, it's still going to sound like the same Parkway," and we knew that this was an entirely different beast from anything anyone had heard. I think "Crushed" is a heavy song in a different way from anything we've put out before. Again, we wanted the videos for these songs to [be better than] anything we'd done before and stand the test of time conceptually, as artistic as they were in their own right. Gaz [Gordon] came up with this one, and it involved building a room that spun 360 degrees and filming ourselves in it so it gave the illusion of taking away gravity. It sounded like a bridge too far to be able to cross, but luckily the guys made it happen. I'm not sure we have plans for any more, because honestly I don't think we have any concepts which could top those two, so we'll see.
I saw Irving Plaza is now sold out, that's excellent! Have you had many sold out dates? You're on tour for such a long time, and that's incredible, will you be at home for Christmas? How are you finding the differences between all the places you visit? Is any place more receptive than others?
Young: Yup, Irving Plaza is sold out which is pretty wild. I'm not sure if we have any more sold out dates on the tour, I hope there's going to be a bunch that are, so we'll see. We are going to be home for Christmas. It'll be nice to be home for Christmas in Australia because it's beach time! These days, the differences between places we visit are the same as any difference in culture, but I guess the thing that's been really awesome after all these years is that this band has grown organically from the ground up, and there seems to be a very similar community at most of our shows that translates across continents and borders and languages. I think that you can be in any country in the world, but when at a Parkway show, it feels very similar. That's really nice.
So was it a coincidence that you're playing the Sacramento show on Halloween? Can we expect anything themed that evening?
Young: No, we didn't plan to play the Sac show on Halloween, but it works out really nicely. We haven't done a Halloween show in years, I don't know if we'll dress up or what, we're pretty lazy when it comes to that sort of stuff, but any time we do it ends up being loads of fun. Maybe we'll make an effort and dress up like the Crocodile Hunter or something!