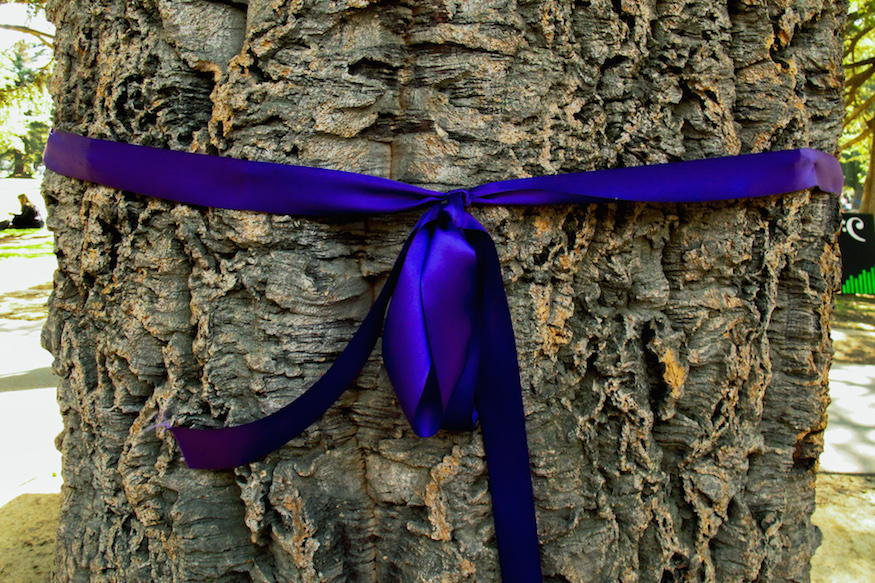 Students, staff discuss October theme of domestic violence awareness
Every year since 1989, U.S. Congress has passed a public law designating every October as National Domestic Violence Awareness Month. On Oct. 23, students at the UC Davis Women's Resources and Research Center (WRRC) held the university's first-ever panel on the topics of dating and domestic violence.
According to President Barack Obama in a presidential proclamation published on Sep. 30, the month is intended to "reaffirm our dedication to forging an America where no one suffers the hurt and hardship that domestic violence causes."
WRRC community organizer and fifth-year Chicano/Chicana Studies major Liz Lopez is normally tasked with organizing programs centered around gender equity, intersectional feminism and social justice. When the WRRC announced the idea of a panel for Domestic Violence Awareness Month, Lopez embraced the opportunity to help raise awareness about domestic violence.
For her, the decision to take on a project like this was inspired by her personal life. Lopez comes from a Mexican family and as she explained, the Mexican family structure is historically patriarchal, with males often asserting their dominance over females.
"I've seen friends and family go through some verbal abuse and a lot of the time it can be very hard for someone," Lopez said. "Growing up, I didn't really understand what a healthy relationship looked like, just because these issues weren't talked about in my household. It doesn't mean that there were only unhealthy relationships, but sometimes I didn't know when to speak up and say something was wrong or right."
Lopez invited speakers from both UC Davis departments and community organizations to the event. Representatives came from the Harassment & Discrimination Assistance and Prevention Program (HDAPP), the Center for Advocacy Resources and Education (CARE) and the Center for Student Involvement (CSI). The WRRC, the Lesbian, Gay, Bisexual, Transgender, Queer, Intersex and Asexual Resource Center (LGBTQIARC) and Empower Yolo were also involved.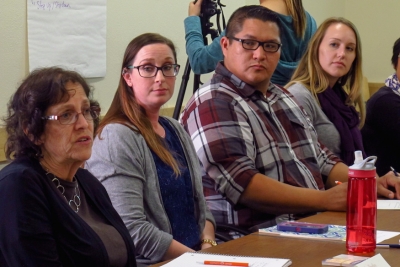 All departments are considered resources for survivors of violence or their friends, though some — like the WRRC, the LGBTQIARC and CARE — are considered a confidential resource.
"We are strictly confidential when it comes to these issues," CARE Director Sarah Meredith said. "We do have to disclose when somebody is suicidal or homicidal, and we do usually ask what kind of support [a survivor has]. But we never want to make the assumption that their friends and family are supportive."
Because survivors may not know where to turn when they feel ready to discuss their experiences, the majority of the discussion at the panel focused on how survivors of violence could find support in their community and resources available to them. Students and staff participated in the discussion, showing their support by wearing purple — the designated color for Domestic Violence Awareness Month.
"It's important to raise awareness about [domestic violence] because there is a lot of stigma against it," said WRRC community organizer and fourth-year gender, sexuality and women's studies major Julia Viramontes. "There might be students that are going through these things and they might not know that there are resources available to them on campus. They might not know that there's a nationwide effort to raise awareness about this problem in order to change the negativity surrounding it."
According to Meredith, these nationwide and campus-wide efforts to raise awareness about intimate partner violence should happen year-round, not just October — especially given the misconceptions surrounding this type of violence. Misconceptions includes the myth that domestic violence only occurs between married couples and not young people.
In fact, according to the National Coalition Against Domestic Violence, nearly 20 people per minute are physically abused by an intimate partner in the United States — equating to more than 10 million women and men annually. College-aged youth are among those most at risk for domestic violence. WRRC Director Leilani Kupo agrees that these misconceptions need to be deconstructed.
"When we talk about sexual violence on campus, I think that there's this misconception that domestic violence doesn't happen on college campuses — that it's only sexual assault," Kupo said. "That is wrong on many levels. Domestic violence happens to college students, to staff members, to faculty — it happens between all of those communities as well."
According to Lopez, the process of learning about domestic violence, red flags and resources has helped her heal, and she believes it was her perfect chance to take action against it. However, she said that the work of the WRRC is never finished.
Besides the panel, the WRRC uses other outlets and resources to raise awareness for domestic violence. Vagina* OurStories is a student and community-run performance that aims to draw attention to gender violence, which extends to domestic violence. The WRRC also runs the Davis Feminist Film Festival, which uses alternative media to draw consciousness to social and gender justice issues, sometimes extending to domestic violence as well.
"If we don't talk about it, nobody's going to really talk about it," Kupo said. "It's important that we talk about domestic violence, interpersonal violence and sexual violence, and that we do it not only in October, but throughout the year — and that we talk about it in different ways."