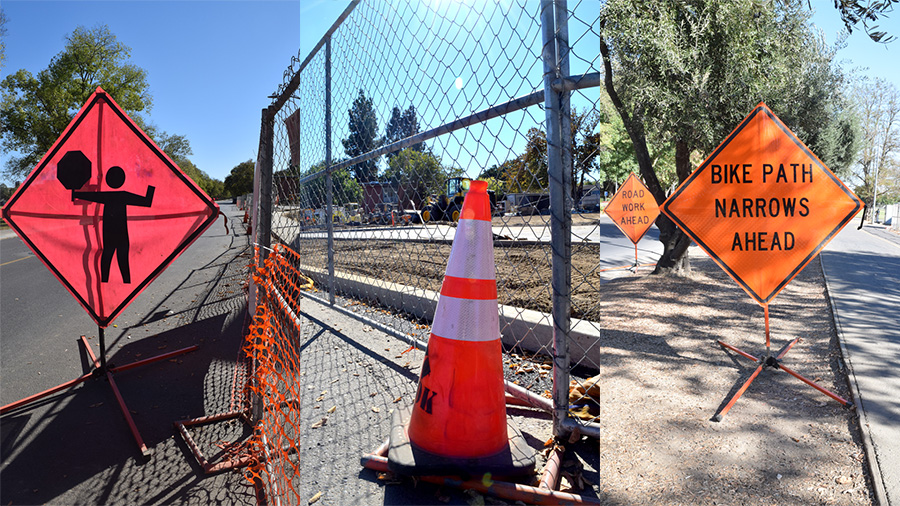 Surface Water Pipeline, Paving Rehabilitation projects to cause road delays in coming months
Expect heavier traffic in Davis throughout October and into November as a result of two major construction projects. The Surface Water Pipeline (SWP) project will install water transmission lines to better the reliability of Davis' water supply, while the Paving Rehabilitation (PR) project will make roads safer.
"The Surface Water Pipeline [will bring] a water pipe down from Woodland into the city. The goal is to get away from wells for potable water and try to deliver [surface water to Davis] instead," said Roxanne Namazi, Davis' senior civil engineer.
According to Namazi, the contractors for these projects are required to submit traffic control plans to document road closures and detours, which are then approved by the city to ensure road safety.
"[Construction for SWP] is mostly on Pole Line and Covell Boulevard. [We also] have the Street Rehabilitation Project in progress that is [taking place] on 8th Street and Lake Boulevard," Namazi said.
These construction projects are impacting both Yolobus and Unitrans bus routes. Yolobus routes 42A, 42B, 34 and 242 will experience delays as a result of the SWP and Unitrans lines L, P and Q will be rerouted.
"[During construction], we try to accommodate as many bus stops as possible. We look at different routes, different streets and try to reroute the entire system [while also attempting] to change it as little as possible," said Vivian Nguyen, a Unitrans employee. "Our goal is to get as many customers and as many riders on the buses as possible."
According to Nguyen, Unitrans gets early notices from the city about construction in different areas and uses dispatch to communicate rerouting and traffic.
Mike Luken, the Yolobus deputy director of Operations for Planning and Special Projects, said SWP has influenced the bus routes on Covell Boulevard and Pole Line by increasing trip times. PR, however, has caused bus stops to be temporarily closed.  
"What we've done is we've reached out to our riders via an email service that they subscribe to, as well as Facebook and Twitter, [to] make them aware that this is happening and to expect delays," Luken said.
Unitrans publishes ride delay information on their website. Nguyen suggests that riders look online every day before boarding the buses to plan out their trips.
Namazi explains that the PR project will end within the next few weeks while SWP will take more time.  
"The Rehabilitation project will be wrapping up in a couple of weeks," Namazi said. "They are nearly finished paving and will be striping [the roads] in the next two weeks.
For alternate route information, visit unitrans.ucdavis.edu or yolobus.com for updated information.
Written By: OLIVIA ROCKEMAN