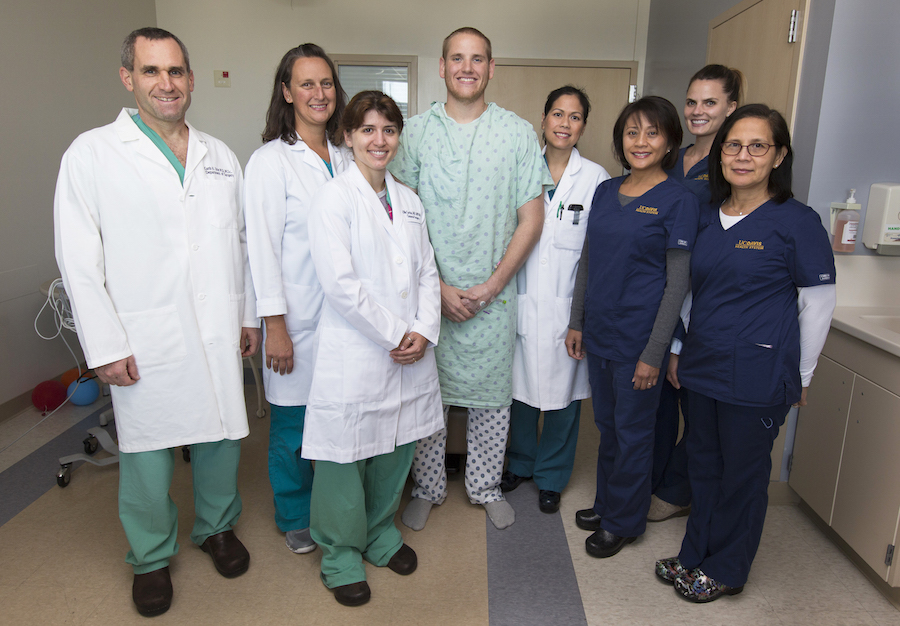 Hospital treats injured airman Spencer Stone for collapsed lung, lacerated heart
On Oct. 15, injured Air Force airman Spencer Stone was released from UC Davis Medical Center (UCDMC) care after he was victim to a brutal stabbing the week prior.
Stone suffered multiple injuries, including a lacerated heart and collapsed lung, after he was stabbed outside a bar by two men in Sacramento at approximately 12:30 a.m. on Oct. 8. The incident came only two months after Stone was lauded as a national hero for thwarting a potential terrorist attack on a train headed to Paris in August.
Stone was admitted to the UCDMC for immediate care and arrived at the center's Level 1 trauma center at approximately 1 a.m. with stab wounds to his torso and internal organs. He was subsequently admitted to the hospital's intensive care unit where he underwent heart surgery, the mending of a collapsed lung and treatment for additional stab wounds in his liver and back.
Although Stone's family has been relatively quiet about this incident, his mother Joyce Eskel provided some brief commentary to thank the medical center's staff for their care.
"Our family wishes to express our deepest gratitude to the staff and providers at UC Davis Medical Center," Eskel said in a public statement. "I'm especially grateful to [trauma surgeons] Dr. Ellie Curtis, Dr. Garth Utter, the entire trauma team and the ICU nurses who treated Spencer so well. We've been overwhelmed by the support from our family and friends, the Sacramento area, the Air Force and people around the world. Thank you all."
Stone provided a public statement showing his gratitude as well.
"Thanks very much to the first responders and the team here at UC Davis Medical Center for taking such good care of me," Stone said.
Stone continued on to say how his friends and family have provided him with love and support during this life-threatening situation. He affirms that he is focused on recovering and hopes to live his life peacefully.
"Thanks, also, to my amazing family and friends for their love and support," Stone said. "And thanks to everyone who has sent encouragement during this challenging time. I'm focused now on healing and recovering and look forward to the next part of my journey."
UCDMC Executive Officer Ann Madden Rice commented on Airman Stone's visit to the university's hospital. She expressed her empathy for the hospital's unexpected guest.
"I am thrilled that Airman Stone is doing well and proud that our Level I Trauma Center was here to help," Rice said in a public statement.
After the altercation, the two men suspected for attacking Stone fled in their vehicle. Stone's assailants have not been caught and remain at large, although the incident was caught on video by local security cameras.