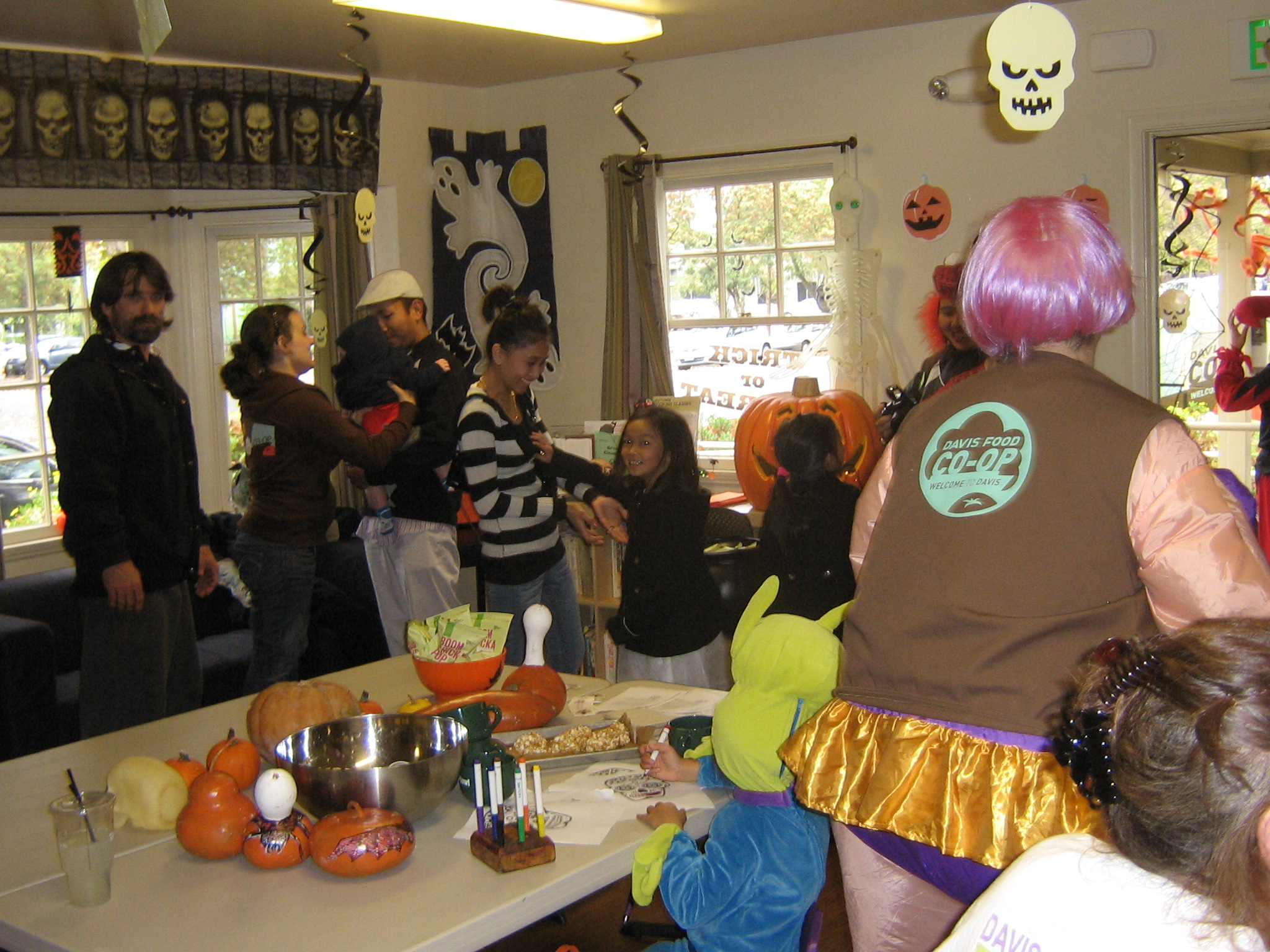 Davis Food Co-op to put on Not-Very-Scary-Haunted-House
Every year, the Davis Food Co-op brings a dose of Halloween spirit with their Not-Very-Scary-Haunted-House. This event provides a space for children and families to take a break from trick-or-treating on the Davis Downtown Treat Trail.
The Davis Food Co-op brings snacks, crafts and a little bit of scare to their teaching kitchen on G Street across from the Co-op grocery store. Inside, they set up a room complete with seasonal decorations.
Julie Cross, the marketing manager for the Co-op, started the event fifteen years ago to humble beginnings.
"We originally did it on the patio of the Co-op and we would hang black plastic from floor to ceiling to make it dark enough to make a haunted house, and we've gradually accumulated a lot of not-too-scary decorations, but they're still seasonal," Cross said. "When we made our teaching kitchen, we moved the event to the teaching kitchen."
With the teaching kitchen came hot cider and yummy snacks for tired parents and excited children to munch on during the day, as Lis Harvey, assistant marketing manager of the Davis Food Co-op and mother of two, realized.
"Our holiday traditions are all about offering the community something fun and useful," Harvey said. "I understand just how much folks appreciate a place to rest along the Treat Trail."
The haunted house also brings trick-or-treaters to the outskirts of Downtown Davis, which is part of the reason why Cross started the event.
"We wanted to come up with something that makes people want to walk in this direction and come to our companies down here because we have very nice businesses in the mall," Cross said.
Part of the fun for those that put on the event is seeing the creative costumes and the joy of the children that come through, according to Cross and Harvey.
"We all look forward to welcoming tired super-heroes and little witches and their grown-ups; they look forward to a bathroom break and fun decorations," Harvey said. "It's a definite win for everyone involved."
Cross has seen some remarkable costumes come through.
"People get really creative with babies in strollers. You know you can build an entire costume around babies in strollers because they don't move at all," Cross said. "So you can make them into Thomas the Tank Engine or whatever it [is] you'd like to do."
This event differs from the other events put on by the Co-op because of its emphasis on fun and community. Cross aims to provide a home-like feel for those that choose to attend.
"A lot of our events are educational. This particular event is just about community and having a good time together," Cross said. "The Co-op is a community center for a lot of families with young kids, so they have that sense of home with the Co-op."
Cross also explains the importance of tradition to this holiday event.
"It's one of those holiday constants, so it doesn't change a lot," Cross said. "We acquire a few more decorations every year but other than that [we don't change the event much]. That's okay with us because we like tradition."
Cailin Simi, a Woodland resident, brings her siblings to the Treat Trail in Downtown Davis every year and loves the fact that there is a space to take a break and relax before heading back out on the candy hunt.
"My little siblings love trick-or-treating and I love taking them and seeing their excitement every year at the candy, but it is nice to stop and get some hot apple cider and regenerate before going out again," Simi said.
Cross also encourages students to come see the kids' costumes and help hand out candy.
For more information, visit the Davis Co-op's event page.