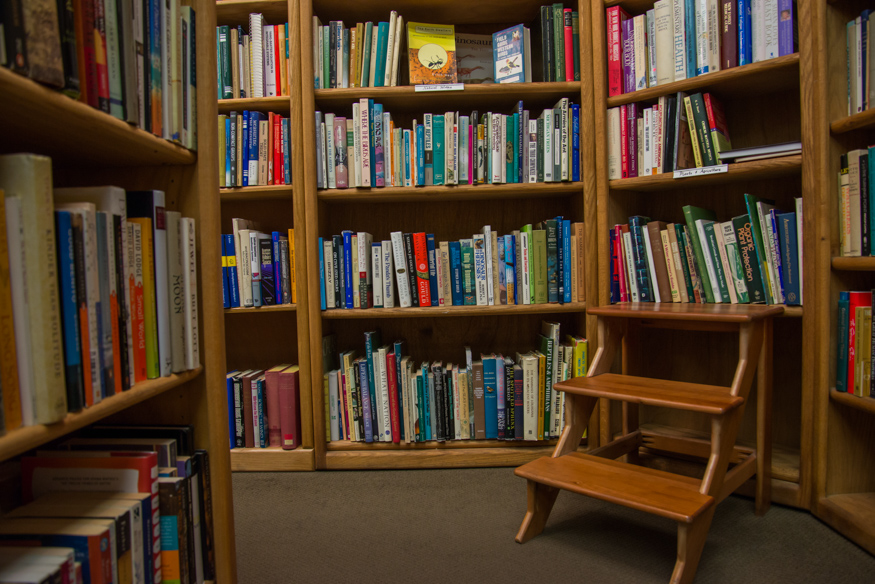 Logos Books donates to charity, hosts poetry readings
Susan and Peter Linz opened Logos Books six years ago, with the goal of raising money for Doctors without Borders and Save the Children. Doctors without Borders provides international medicine and healthcare to areas in need, while Save the Children promotes children's rights worldwide. Both are non-governmental organizations.
The Linz's began selling books online in 2000 but decided to open the store on 2nd Street in Davis in Feb. 2010.
Peter Linz was an Emeritus professor at UC Davis who taught computer science and mathematics. When he retired, he decided to keep himself busy by selling second-hand books online, according to Susan Linz. He sold mostly technical books and gave the money to Doctors without Borders and Save the Children.
Susan Linz used to teach French at Solano Community College (SCC) and English as a second language at the Davis adult school. When she retired from teaching, the couple decided to combine their efforts and open a store together, continuing to donate to Doctors without Borders and Save the Children.
"We wanted the money to go out in the world to help people who are more needy than we are in California," Susan Linz said. "[Peter] had researched those two charities and found that they were giving more money to the people they were serving rather than have it tied up in administrative costs."
Logos Books donated $47,000 in total to Doctors without Borders and Save the Children in 2014. A total of $200,000 has been donated to these two organizations since the store's opening six years ago.
"Sometimes people think that [$200,000] is not much money, but we have to pay rent for this space and we have to pay insurance," Susan Linz said. "We probably made twice as much before the costs of having a business."
According to Susan Linz, there are 25 volunteers currently working for the bookstore. Since the couple is unable to work 10 hour work days and hunt for books for the store, volunteers come in to work four-hour shifts.
One of these volunteers is Beverly Sykes, who has lived in Davis for 40 years and has been volunteering for the past three years. She originally heard about the store opening through her best friend, Susan Linz's mother's cousin.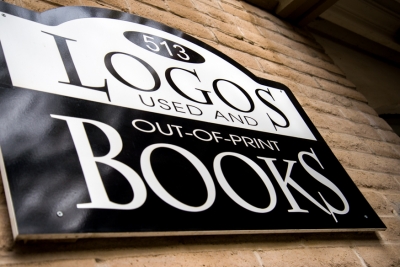 "When my friend told me that they were opening the store, I came to look around and they didn't have many books then," Sykes said. "About a year later, I saw an advertisement in the paper that they were looking for volunteer help. I love the philosophy of the store because all the proceeds go to charity."
Susan Linz also acknowledges that the number of books in the store has greatly grown since the opening. Although the literature and contemporary fiction section is the most popular now, Peter Linz continues to stock the store with eclectic sections, such as mathematics, physical sciences and engineering.

Susan Linz also hosts many events at Logos Books throughout the year. There are separate moderated language discussions, including Spanish and French. Logos Books also participates in the 2nd Friday ArtAbout in Davis, during which she displays art from local artists for up to three months at a time.
On Oct. 22, Susan Linz hosted the first poetry reading in the 2015-2016 Quinton Duval poetry series for the year. The event is named in honor of Quinton Duval, who was a professor with Linz at SCC. He had signed up to read in the first poetry series at Logos Books in 2010; however, he passed away before the event took place.
Dorothy Gilbert, the first poet to read at the Oct. 22 event, attended graduate school for English at Davis in 1969 and continued teaching at UC Davis off and on until 1982. She taught classes in English, comparative literature, poetry and creative writing.

This was Gilbert's first time being invited to read at Logos Books. She read original poems along with her own translation of "Yönec" by Marie De France, which was originally written in Anglo-Norman French.

"I read part of a story about a young woman married to an old man who locks her in a tower. A knight in the form a hawk flies down and into the window and becomes her lover," Gilbert said.

Susan Linz also invited Lynne Knight to read for a third time at Logos Books. Knight taught with both Susan Linz and Duval at SCC.
Knight translated "I Know," a book of poems originally named "Je Sais," by author Ito Naga from French to English. She met him in 2010 in Paris, France and helped him with his poetry.

The second installment in the Quinton Duval series will include local poets Gary Thompson and Albert Garcia on Dec. 10 from 7:30 to 9 p.m. at Logos Books.
Written By RIVA BALLIS