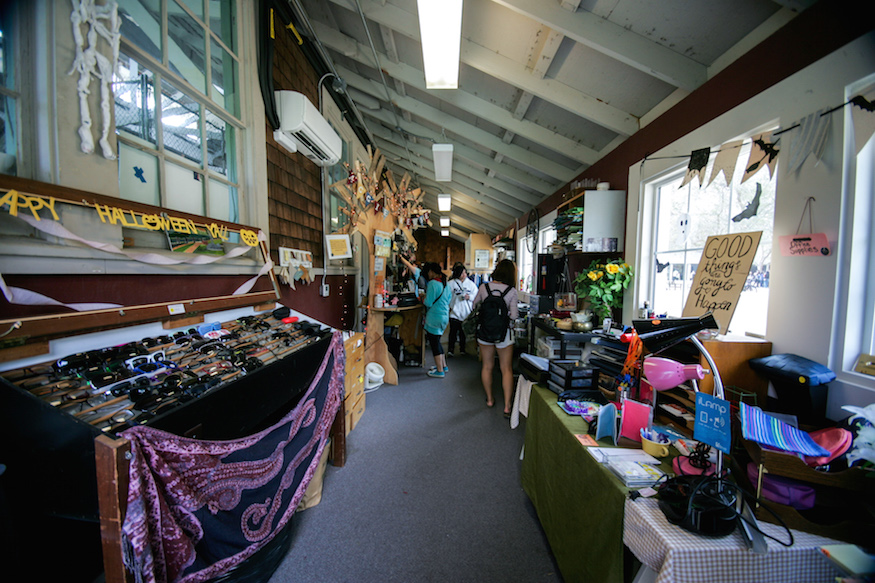 Store managers, advisor, volunteer discuss plans for further student volunteerism and community creativity
For the past three years, the Aggie Reuse store has served as UC Davis students' personal thrift store, offering opportunities to find low-cost items such as clothing and school supplies.
When the store was founded, its mission was to keep items from being thrown into landfills by using it as is, or remaking the item into something new through the process of upcycling, according to their website. Building upon the ideals of design professor Ann Savageau, those involved with the store aimed to promote upcycling as a way for the UC Davis community to become more sustainable.
"We have something for anyone that wants to get involved and I really encourage people to just reach out," said Nicole Garcia, a second-year computer science and engineering major and unit director of the store. "It's a great community that we have here, especially with the store. We can always benefit from the different expertise people have, especially as individuals. I think that is something that shouldn't be overlooked."
The store's management still enforces the importance of diverting waste from landfills, but has recently shifted their mission to also promote a community aspect. Over the past few quarters, they have focused on making the store a place where students can find affordable supplies, learn more about the benefits of upcycling and become involved by bringing their own ideas to the table.
Understaffing difficulties have made recent developments, like their move from the Memorial Union to the Silo on Oct. 5, hard to handle. To combat these issues, the store's management began implementing additional opportunities for people to get involved.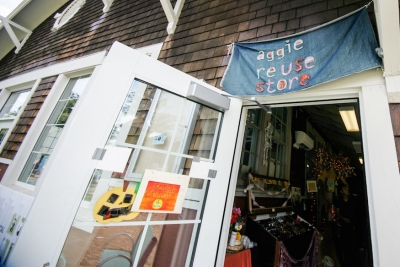 "We tried to have more craft workshops," said Beverly Yee, a third-year landscape architect major and former co-manager of the store from Fall 2014 to Spring 2015. "People could come in and learn how to take scraps of fabric and turn them into headbands, or turn T-shirts into grocery bags — stuff like that."
These workshops served as a way to raise awareness about how students and community members could contribute to sustainability through upcycling. They also helped bring more attention to the store and, in turn, recruit more volunteers.
Chunyin Au, a third-year mechanical engineering major, has volunteered with the store since winter 2014. Everyone began in sales and would spend their time at the store either working the cash register or helping turn donated items into something new like decorations or crafts. He noted that when he began there was not much opportunity for volunteers.
"Most people started as sales because back then, that was the only department available," Au said. "[I]t wasn't as structured as right now, where we have various departments: merchandising, for example, or upcycling."
Since then, Aggie Reuse has restructured to offer various departments for volunteers to join, and the store has become a more engaging space for community members in general. Volunteers are encouraged to incorporate any important ideas they have keep the store on the road to improvement.
"If you're interested in interior design, we have things for you to do develop that," Garcia said. "If you're interested in the art side of things, you can do that; if you're interested in sales or community outreach, you can do that as well. There is a wide variety of activities that students can get involved in."
The Aggie Reuse store has evolved into a place that provide platforms for students who are looking to be more involved, while still promoting their main principles of diverting waste from landfills and giving students the opportunity to buy things they need at a low cost.
"I think that it is a cutting edge concept and one that serves a didactic purpose as well as a practical purpose," said Savageau. "It fulfills our practical needs, but it also teaches us that we can live really good, comfortable lives without buying everything new, and [that] we can also add a lot of meanings to our lives by making things for ourselves and for others."
The store is able to continue its work through donations from different departments and people on campus including Savageau, students and the Davis community. Donations range from clothes to books to photo slides that can be made into a piece of artwork.
The excess material that the store cannot take on due to lack of storage is given to other organizations, such as the Society for the Prevention of Cruelty to Animals (SPCA), that are also making efforts in reducing waste. In some cases, the store also gives the items to those in need.
Aggie Reuse is one of the first of its kind at university campuses by sparking both upcycling and various forms of waste reduction as community movements.
"I'm extremely pleased to see the enthusiasm and the dedication of the students on campus who serve as managers and volunteers," Savageau said. "I think it's just a wonderful sign that students are dedicated [and] committed to sustainable practices — that they really get it and understand why we have to do these things [to be more sustainable]."