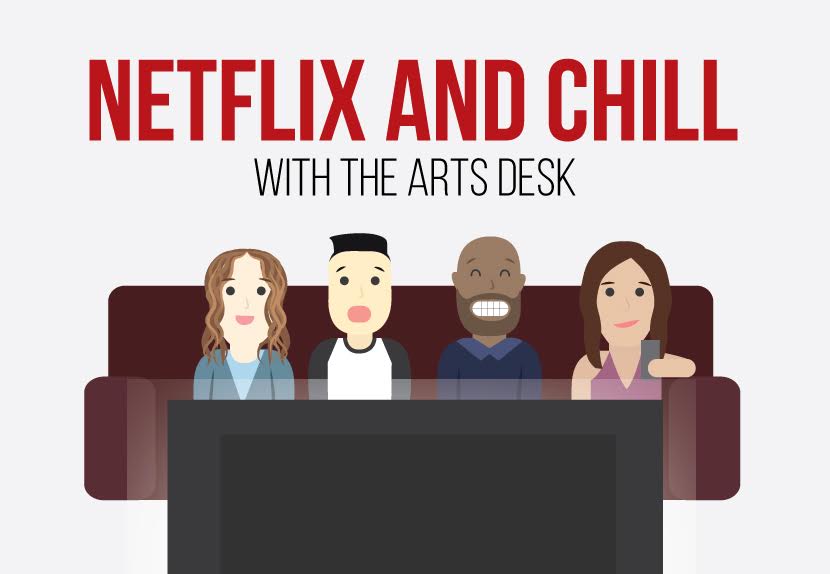 The arts writers share their current Netflix obsessions
Fall weather has finally come to Davis, and there's nothing more pleasant than curling up on a couch with a cup of hot chocolate and a good TV show. The only question is: what should you watch? Luckily, the arts writers have compiled their favorite Netflix shows and movies so all you have to do is grab your blanket, open Netflix and get ready to chill.
RASHAD HURST
Beyond the Lights
Gina Prince-Bythewood, director of the highly underrated Love & Basketball, wrote and directed the romantic drama film Beyond the Lights.  The film stars Gugu Mbatha-Raw (Larry Crowne, Jupiter Ascending), who shines as Noni Jean, a rising pop-phenom who falls in love with a young police officer played by Nate Parker. My mom said she almost teared up watching it, so if you're into films that are touching enough to make your mother cry, grab a blanket, a date or a friend and watch Beyond the Lights.
"Top of the Lake"
This is a tough recommendation to make without giving away too much of the plot, but "Top of the Lake" is a seven-episode miniseries starring Elisabeth Moss (of "Mad Men" fame). Moss plays a detective who returns to her small, remote hometown in New Zealand to find a missing girl. The mini-series tackles a myriad of issues including family, state corruption and gender rights. Fans of character-driven crime stories like "Twin Peaks" and "True Detective" should at least give the first few episodes a viewing.
KRISHAN MITHAL
"Orange is the New Black"
One of the most popular shows on Netflix, and rightfully so, "Orange is the New Black" combines humor with drama and tells the story of a well-to-do New Yorker whose past drug crimes land her in an all-women's prison. This show is compelling because of the diverse and complex cast of characters, from an ex-Russian mafioso who is feared by all, to a woman who rocks crazy eyes, to a transgender hairdresser. Whoever you are, there's going to be a character to relate to, and that's reason enough to delve into the stories of these women for hours on end.  
"Black Mirror"
To what extent will we finally realize our hopeless dependence on technology? "Black Mirror" answers this question in many ways in a dark, satirical and sometime grotesque manner. This show reveals how technology is this generation's downfall, and how our dependency on it is an epidemic that will probably never be cured. Watching one episode of this series will make you want to crush every last electronic device in your possession with a pile-driver, and set off into the mountains to live the rest of your life as a hermit.
KATE SNOWDON
"American Horror Story"
I've watched the first three seasons of "American Horror Story" (AHS) now, and I'm about to embark on the fourth, despite my better judgement. Common lore tells me it's the best season yet, but in the world of AHS, that means nothing.
I watched season one feeling hopeful and excited. I watched season two with some trepidation. I watched season three full of self-loathing at my need for completion. Despite the show's mediocrity and continued deterioration, I am addicted.
So now season four is on Netflix, and I'm going to start it this week. While writing this article, I had to look up synonyms for "fail" just to be able to fully describe how awful the show is, and yet here I am, staring down the barrel of season four and coming face-to-face with the fact that this is my own fault for not bothering to find good TV shows. Please read the rest of this article. Save yourself from AHS.
MEGAN PERRY
"The Office" (U.S. Version)
I LOVE this show. Every year, I feel nostalgic and watch some of the classic episodes, as in the episodes before Michael Scott, the boss and the heart of the show, leaves. This show has an understated humor full of facial expressions, deadpans and relatable characters that truly highlight the experience of working at a job you hate. Although it may make some cringe-worthy jokes, it still stands out as a gem among workplace comedy sitcoms.
"Jane the Virgin"
When I first heard of the premise behind "Jane the Virgin," where a girl becomes pregnant after being accidentally artificially inseminated, I thought it sounded ridiculous, but I watched anyway. Now, I keep watching for the hilarity and warmness Gina Rodriguez brings to her role as Jane. Rodriguez's performance earned her a Golden Globe this year and for good reason: "Jane the Virgin" brings the perfect balance of humor and drama to get you through the school week.
DAVID PARK
"It's Always Sunny in Philadelphia"
Definitely the best show on Netflix, "It's Always Sunny in Philadelphia" brings me joy no matter how bleak my day has been. Nothing cheers me up like watching the shenanigans of the Gruesome Twosome, the unlikely yet hysterical duo of Charlie Day and Danny DeVito.
"The Walking Dead"
If you haven't started this show yet, believe the hype and hop on "The Walking Dead" express as soon as possible. Plus "Game of Thrones" doesn't even come back till next spring, so you need to kill all that time somehow, right?
DIMITRA LOUMIOTIS
"Gilmore Girls"
The strong mother-daughter dynamic that lies at the heart of "Gilmore Girls" makes this show a must-watch for fans of fast dialogue and heartfelt emotion. A few episodes in and you'll be ready to pack your bags and move to a small Connecticut town, eat at a diner every day and completely immerse yourself in the small-town drama of Stars Hollow.
"Scrubs"
The show follows the misadventures of medical interns, and frequently their struggles seem to parallel to the experience of being a college student — stressful but filled with laughter and goofiness. The love between main characters Turk and JD is the factor that always pulls me back to "Scrubs." It's a show that can be binge-watched causally, such as on a lazy Sunday to avoid a big paper that's due the next morning. Not that I'm doing that right now or anything.