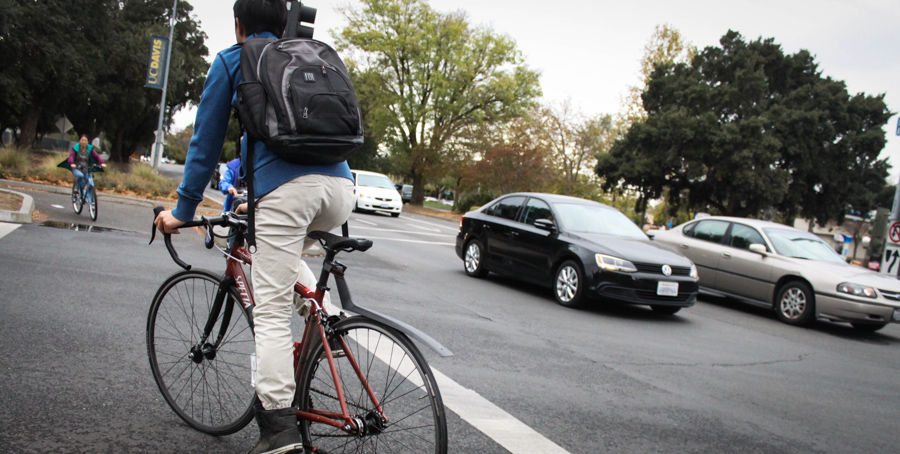 Yolo County Friday Night Live works to call attention to distracted driving.
A student-led study conducted near high schools in West Sacramento, Winters and Woodland analyzed tendencies of selected drivers in the area. Observed drivers were found to be engaged in activities that seriously impaired their focus while driving. Distracted driving includes eating or drinking, using a handheld device and listening to loud music.
Students observed over 3,000 vehicles and found that eating or drinking and cell phone use were among the most prevalent forms of distraction.
The student research project was funded by a grant from the Allstate Foundation and headed by members of Yolo County Friday Night Live (YCFNL) and its parent organization, the California Friday Night Live Partnership (CFNLP).
CFNLP's mission is to support youth in becoming active leaders in the community. YCFNL and CFNLP are primarily youth-development organizations that seek to empower and educate young people through projects such as the distracted driving study.
Distracted driving is characterized by the California Highway Patrol (CHP) as any activity that threatens a driver's visual, auditory, physical or cognitive abilities while driving. Traffic collisions are the number one cause of death among those aged 16 to 19, according to the CHP.
YCFNL has started promoting programs in local high schools to educate students about the importance of safety behind the wheel.
At Winters High School (WHS), one of the schools involved with the student research, teachers and YCFNL members have begun working with students in WHS's Friday Night Live club to spread awareness about the dangers of distracted driving.
"Our mission is to promote teen activities that are safe and fun. We also want to educate our students about the dangers of drugs, alcohol, and distracted driving," said Olivia Rodriguez, WHS Friday Night Live club advisor.
The club is one of many Friday Night Live groups in California high schools.
"It works with the kids to get the message out about how many [traffic collision-related] teen fatalities there are and how we can prevent them," said Paul Fawcett, principal of WHS. "Having the opportunity to educate students about ways to prevent distracted driving amongst themselves and their peers is one way to hopefully lower those numbers over time."
WHS recently hosted a Red Ribbon Week festival during which groups including Friday Night Live, Mothers Against Drunk Driving and American Medical Response were present.
"We want to educate our students that it does happen […] and that teenagers aren't invincible. We think it's really important to be teaching this to our students," Rodriguez said. "If we could just teach them enough, where more lives could be saved—I think that's our overall goal."
CFNLP works to motivate and mobilize youth to better their communities. It provides support for Friday Night Live program in Yolo County and throughout the state. The partnership also collaborates with outside groups in an effort to address its wide range of focuses beyond traffic safety.
"Our job is to help young people see these things in their community and then do something about it," said CFNLP Administrator Jim Kooler.
According to YCFNL Outreach Specialist Debbie Clarion-Clifford, the group actively targets both middle school and high school-aged students and has a variety of focuses, including alcohol and tobacco prevention and student mentorship, among others.
"[The program] gives the young people a voice in the community that they live in," Clarion-Clifford said. "[It] shows the community that [young people] are willing to take a stand and make a difference."
Written By: ANNIE ADACHI