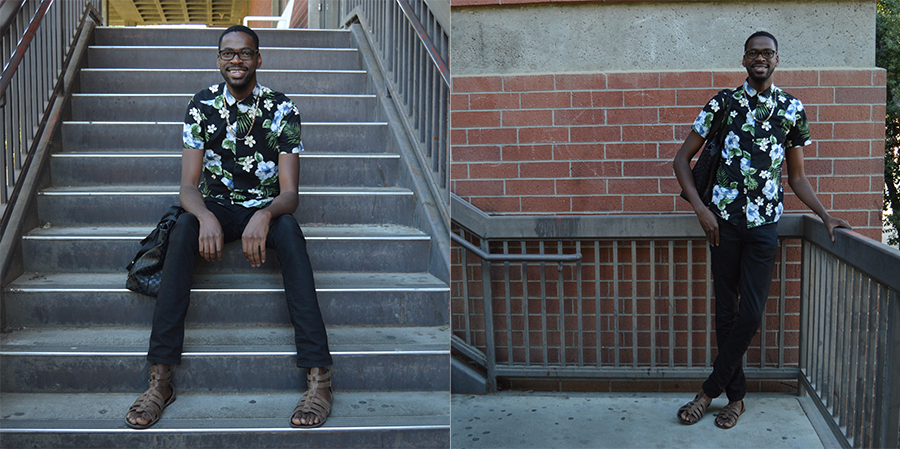 This week's edition: Colorful prints and Jesus sandals.
For this week's edition of Aggie Style Watch, I felt as if the subject came to me instead of the other way around. From across the Quad, I spotted a loud, floral printed shirt that stuck out from the crowd. That shirt belonged to Mikal Mitchell, a third-year transfer student majoring in political science, who is not afraid to be bold in his fashion choices.
ASW: How would you describe your style?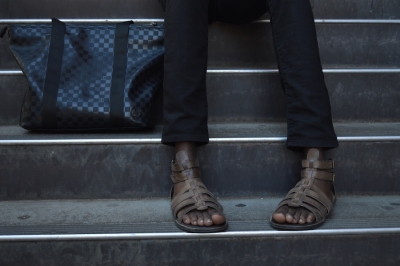 Mitchell: I like anything that makes me noticed — even if I don't need any help with that. I like any loud print. I'm giving you urban tropics today. Basically I go for any colorful, outdoor print.
ASW: What are some staple pieces in your wardrobe?
Mitchell: Always black skinny jeans and my Jesus sandals. Most of my clothes aren't American. I think a lot of men's fashion in America is basic and doesn't give you many options. In Europe, they give you more options, even those that may be considered more feminine. You'll usually see me in anything loud — I even sometimes have shoes that are prints. That's me in a nutshell.
ASW: What are some of your favorite trends? The worst?
Mitchell: For guys I really like the pants that don't fit all the way down — the three quarter length pants. I also like printed pants. For the worst, I hate wedge sneakers.
ASW: Do you have any fashion inspirations?
Mitchell: I used to not really be confident and I would look at things I like but think that I couldn't pull them off. I realized I can pull anything off
with confidence, so I'd have to say that is my fashion inspiration — confidence.
ASW: Do you have any fashion advice?
Mitchell: My fashion advice is that if you like something, put it on.
Written by: DIMITRA LOUMIOTIS – arts@theaggie.org