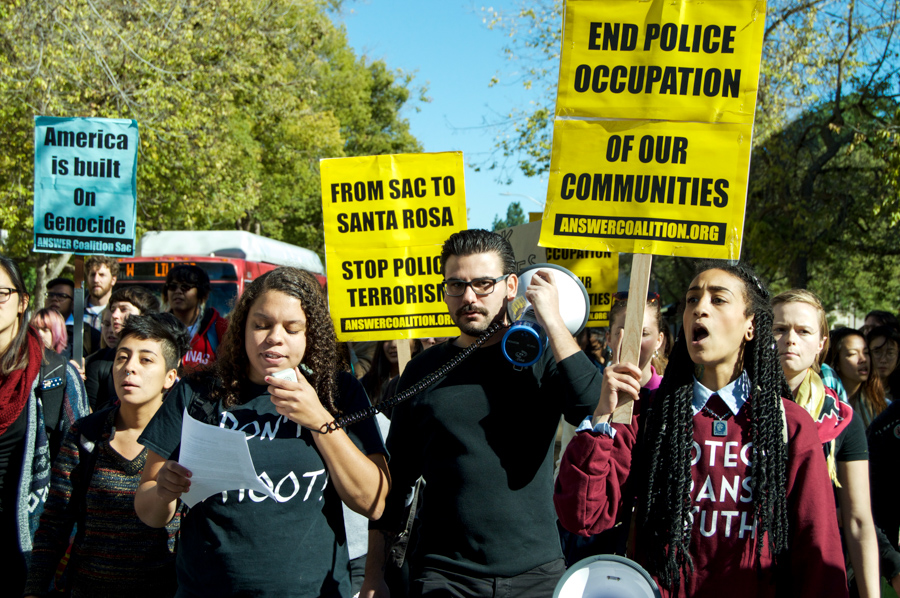 Students demand more from university police.
On Nov. 3, outside the Memorial Union (MU), students and staff gathered for the Divest, Disarm: Davis for Black Lives protest. Organized under the Davis Stands with Ferguson campaign, protesters rallied for administration to tackle the topic of systematic racial oppression present on college campuses.
The protest focused in on two demands. First, protestors demanded that administration demilitarize police from military-grade weapons. They also demanded the university to divest from private prisons.
The protest began at 12:00 pm by the Memorial Union flagpole. It started with speeches delivered from several students. Among the students who delivered speeches included lead organizers Brandon Buchanan and Kyla Burke.
Afterwards, protesters marched towards the university's Fire and Police Department, passing through Olsen Hall and later by the Silo.
Once the group reached the police department, they posted flyers of their demands on the department's entrance. Outside of the department's building, students protested further about their demands to police.
The police did not respond to the protest outside of their building.
The protest ended outside the MU at 1:30 pm.