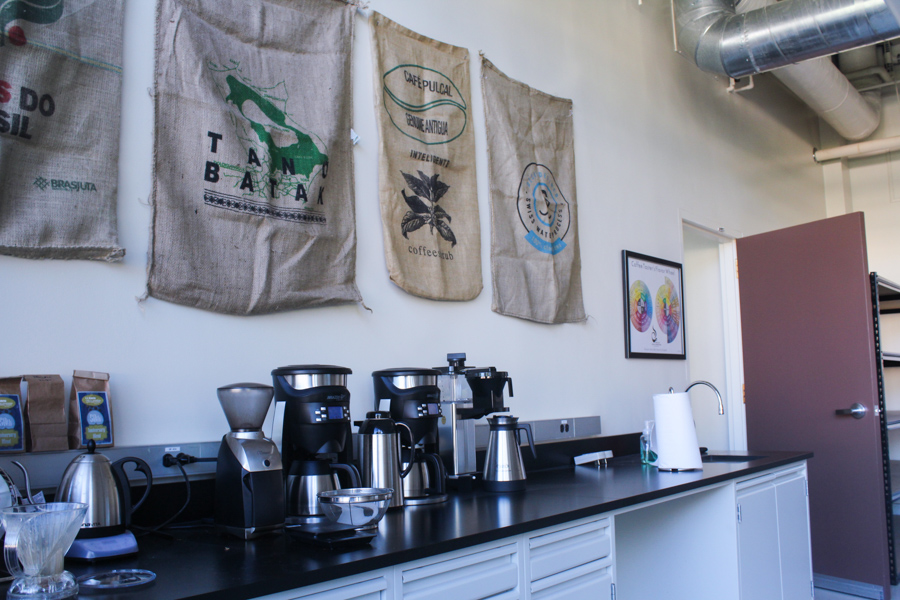 Renovated lab provides space for students to learn the engineering process behind coffee making.
On Oct. 23, the Chemical Engineering and Material Science department (CHMS) celebrated the grand reopening of the coffee lab in 126 Everson Hall. At the improved coffee lab, students can expect to see new lab benches, sinks, floors and air handling equipment.
"The space has just been renovated and it's beautiful," said biomedical engineering professor Tonya Kuhl. "The renovation and enormous improvements in the space were made possible by generous support by Chevron, the College of Engineering and one of our alumni John Wasson."
The coffee lab has been redesigned for the popular class ECM 1, a hands-on class offered every quarter that focuses on energy input to roast and brew coffee.
In the class, students roast their own coffees, reverse engineer a Mr. Coffee maker with the intentions of creating a better brewer and finally present their results to a tasting panel. Performance is graded on a scale of which machines brewed the best flavor and used the least amount of energy to ultimately create the cup of coffee.
"They learn how to approach problems like a chemical engineer," said CHMS professor William Ristenpart. "They learn about energy usage, 'mass transfer' during brewing, chemical reactions during roasting and more generally how to think holistically about the whole entire process of making coffee, including waste streams and inefficiencies."
The idea of a coffee lab began in the hallway of an engineering building where Ristenpart and Kuhl were discussing how they could improve experiments for seniors in chemical engineering.
"Professor Kuhl proposed doing an experiment where we look at how a Mr. Coffee brewer works," Ristenpart said.  "A light bulb went off in my head – why don't we make a whole class about coffee and engineering?"
Now with over 500 students enrolled in the class every quarter, the professors are pleased with how the coffee lab helps show students that chemical engineering is a way of thinking about the world quantitatively to help solve typical everyday problems.
Vanessa Ming, a second-year chemical engineer major, is enrolled in ECM 1 this quarter. She considers the class a one-of-a-kind experience that is unique to UC Davis.
"I really like how it lets me see something as simple as making coffee through a chemical perspective," Ming said. "I would probably never be able to take a class like this at a different school, so I am glad I can experience it here at Davis."
Several companies and businesses have donated their resources and knowledge to the renovated lab, including coffee from Rodgers Family Roasters, equipment from VST Inc and advice from coffee-expert companies like Third Wave Coffee Roasters, Chocolate Fish Coffee Roasters, Wrecking Ball Coffee and the Specialty Coffee Association of America.
Kuhl expressed her excitement to see the coffee community growing at UC Davis and in the United States.
"The coffee community is really growing and filled with fantastic people," Kuhl said.
Written by: Demi Caceres – campus@theaggie.org