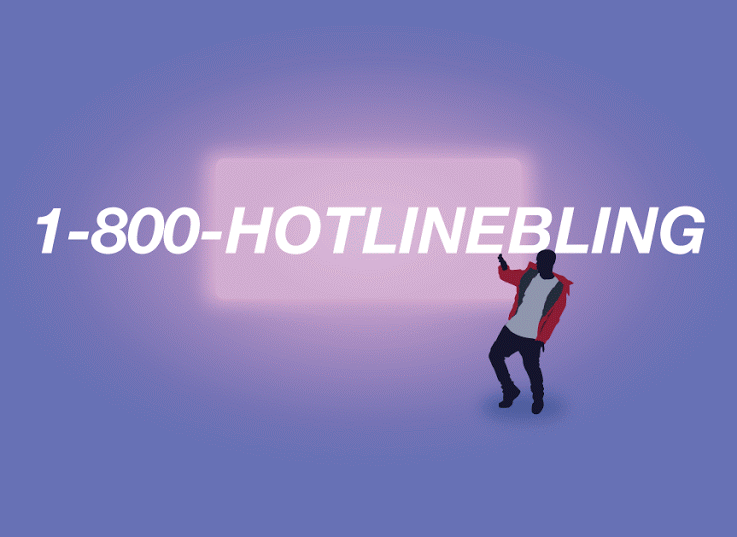 The staying power of Drake's "Hotline Bling" music video.
It wasn't surprising that this Halloween, more than one person thought of dressing up in their best gray turtleneck, Alexander McQueen sweatpants and Timberland boots. Call it the "Cozy Rapper" look, and you've perfectly described Drake in his new "Hotline Bling" video that's been making the viral rounds since its release last month.
The popular video, which was directed by Toronto native Director X, gives Drake's trademark combination of confidence and sorrow the visual setting it deserves. The colorful, geometric sets are largely inspired by James Turrell, an American artist specializing in light and space.
Turrell designs his installations to eliminate a viewer's depth perception. They're large, often taking up the entirety of sweeping, museum-sized rooms. But despite their size, Turrell builds his pieces for the individual. He claims that by spending a long time alone and engaged with one of his pieces, a participant may experience a slow distortion of their reality.
You can count Drake as one of these participants. A 2014 Rolling Stone profile of the rapper included a segment detailing his visit to a Turrell exhibition at the Los Angeles County Museum of Art. In the profile, Drake may not have confessed to having the transcendent kind of trip some acid-heads describe, but he did sing Turrell's praises, explaining that his art was a large influence on a prior tour.
It's an exciting, if seemingly unlikely, combination of two artists at the top of their games.
Turrell's work belongs to a self proclaimed "slow-art" style that seems at odds with the fast-paced nature of the music video medium. But Director X does a fantastic job by putting some crawling camera movements to create the illusion that Drake is in a depthless space. Continual color shifts, erring to the bluish and low-key, are never intrusive and always sync with the song's heavy rhythm. Director X's technical decisions all amount to the creation of mood that, because we're talking about Drake, will naturally gravitate toward the woeful.
Considering the song is about being unable to move on from a former love interest, that sentiment feels particularly appropriate.
And Drake himself picks up on the mood in his own unique ways. Until the outro, every frame Drake occupies, he occupies alone. In a way, these moments of solitude fulfill Turrell's wish that people experience his art by themselves.
For those watching the video, there are many moments when it seems like Drake himself acts as if nobody's watching. This is made evident by his dance moves.
Whether it be a head bob or a tiny twist of the wrist, a large part of "Hotline Bling's" appeal rests in Drake's totally sincere approach to dancing, no matter how awkward it may look. One of Director X's primary goals for the video was to put a spotlight on men dancing, and that effort pays off in spades. Even the clumsiest, least-coordinated man could look at Drake wiggling around and think, I can do that.
With the absence of any distracting background or extras, Drake's odd little hand gestures take on an added significance. His Jordan t-shirt and OVO owl hoodie stand out as the coolest details of the entire video. Whether intended or not, Director X gave the Internet a clean palette for the creation of virtually any meme or animation imaginable, from swatting tennis balls to throwing out slices of pepperoni on a pizza. "Hotline Bling's" sparse look makes it all the more modern because of its ability to be manipulated. The simple box sets feel like more mature, tempered versions of the flashing, rotating cube in Justin Timberlake's 2002 "Rock Your Body" music video. While that video is a pastiche of 90's visual style, "Hotline Bling" feels it's been handed down from the next century.
The same can be said about James Turrell's work, which, in dealing with the the manipulation and perception of light, created a timeless sort of minimalism. Turrell largely informs "Hotline Bling" to this effect by providing enduring source material. People love simplicity, and this video delivers it. And that can only mean one thing: 40 years from now, people will still remember "Hotline Bling" for its innovation and minimalist appeal.