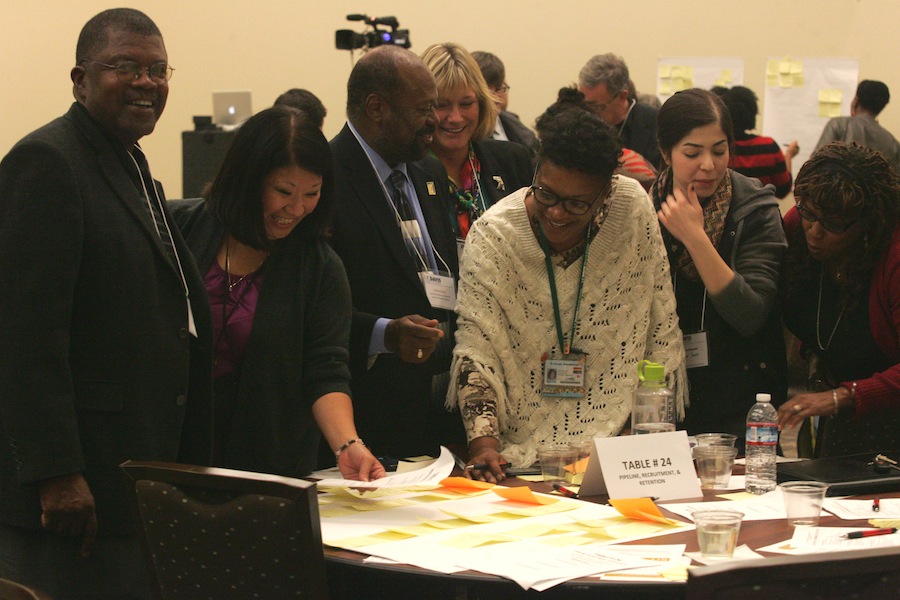 UC Davis works toward creating a more diverse, inclusive campus.
On Nov. 4, the UC Davis Diversity and Inclusion Committee (DIC) held a community engagement forum from 5 to 7 p.m. at the UC Davis Conference Center with the purpose of providing a space for the community to share its input on how to increase diversity and inclusion on campus.
DIC was formed by Chancellor Linda P.B. Katehi in 2014 with the goal of creating a more inclusive campus environment. Students and faculty were invited to attend the forum, which reached its maximum capacity within three days of its announcement. The event was also webcasted live for those who could not attend in person.
The forum began with a welcome from Vice Chancellor for Student Affairs Adela de la Torre, who emphasized the need for diversity and inclusion at UC Davis.
"We want to make sure diversity and inclusion are integrated within the construct of our daily lives," de la Torre said. "So this [forum] is an important opportunity for us today to participate in a community discussion and that will inform our work in this particular initiative."
Katehi emphasized the importance of the forum as a way for members of the community to communicate with each other in order to create effective change on campus.
"I have seen many great plans that have just remained plans because the community was not able to come together to materialize them," Katehi said. "So that's what we are trying to do today, to bring us together so we can talk about the opportunities that we have in front of us and to talk about the difficulties we have faced as a community. […] UC Davis made a commitment to diversity a long time ago. But just that is not enough. A commitment to diversity only provides a platform on which other actions need to be based."
Katehi acknowledged that UC Davis has not always followed its Principles of Community, which call on the UC Davis community to respect the diversity of all of its members.
"We have struggled multiple times to make sure that we all observe [the Principles of Community] and [that] we as a community put them into practice," Katehi said. "And that is not unexpected. We are a very large community. [There] are almost 60,000 people on this campus. [We have to] accept that there will be times when our community will be tested by our own actions and we need to learn how to come together as a community."
Dr. Suad Joseph, professor and Strategic Planning Committee on Diversity and Inclusion chair, then outlined the committee's work so far as well as its future plans.
"We do not want and we do not need another strategic plan that ends up on a shelf somewhere," Joseph said. "What we need is coordination, what we need is the campus community coming together."
Joseph described the four themes of the committee's plan to foster diversity on campus:  pipeline, recruitment and retention; climate; research, teaching, public service and training; and institutional commitment, policies and practices.
Community members in attendance were then assigned one of the themes and brainstormed individually on how to implement diversity and inclusion on campus with regard to their assigned theme before breaking into small group discussions. Small groups publicly summarized and shared their ideas with all forum attendees before the event concluded.
The Strategic Planning Committee on Diversity and Inclusion plans to hold a second community forum on Dec. 2 at the Medical Education building in Sacramento.