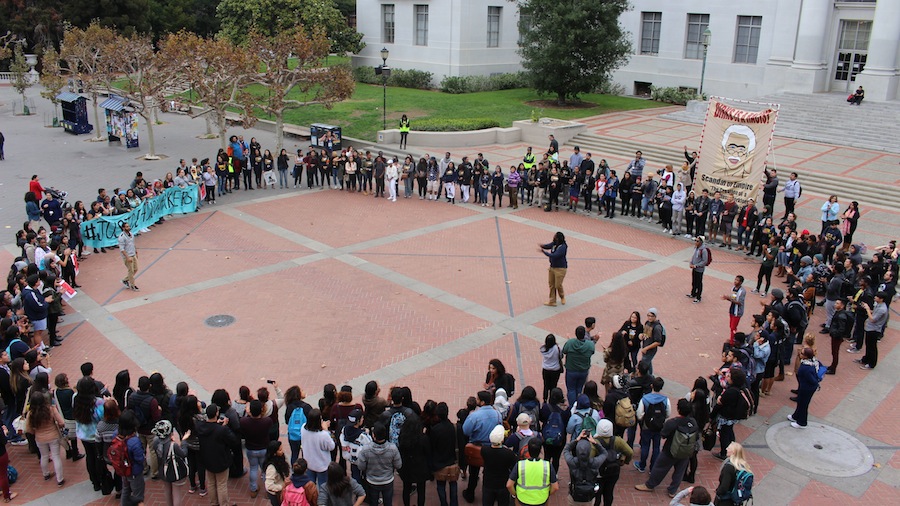 Delegation leaders, budget chair discuss importance of conference attendance.
Every year, the University of California Student Association (UCSA) hosts the Students of Color Conference (SOCC), where students from all nine UC campuses come together to discuss how their identities affect their lives and what their community can do to better address social issues. In its 27th year, the SOCC was held at UC Berkeley from Nov. 6 to 8, with a delegation of 85 UC Davis undergraduates and five graduates in attendance.
This year, the UCSA's campaign revolved around mental health awareness and sexual assault prevention. These themes are then implemented into workshops that take place during the conference. Each campaign runs for two years at a time, with this year's topic of sexual assault prevention being in its second year and mental health awareness in its first.
"It's a great opportunity for students of color to address issues about their identities [and] about their communities to be able to work cross-collaboratively with other campuses and other ethnic and racial communities," said fourth-year community regional development and Asian American studies double major Casey Nguyen, who is also an ASUCD senator and served as SOCC delegation leader. "It's also an opportunity for us to address the intersection of identities, which isn't something that a lot of retreats or conferences or even campus spaces are able to offer."
While the conference's purpose centers around a platform of collaboration, the UC Davis delegation had its own goal in what they hoped to gain from the conference.
"One [of] our big goals at SOCC is just to kind of show that we have a presence," said Sam Alavi, a third-year sociology and education double major and director of the ASUCD Office of Advocacy and Student Representation. "Our other goal is to gain skills to bring back to this campus. A lot of students who go to SOCC end up working at the different centers: at the Student Community Center, kind of bringing that knowledge into the Cross Cultural Center [and] the [Lesbian, Gay, Bisexual, Transgender, Queer, Intersex, Asexual] Resource Center or working for ASUCD."
UC Davis hosted the first annual SOCC 27 years ago, making the event special to the Davis community. The last time Davis held the conference was four years ago, and Alavi said that getting UC Davis to host the conference again would be special for those who have attended in the past and who have been involved with the planning.
However, there are also financial difficulties involved with hosting the event. The conference planning committee would have to propose a budget and plan to UCSA for approval of the event a year in advance. Resources for an event of this size are limited and despite the administration's support, it would take a lot of work and commitment from those planning.
Alavi said that despite the difficulties involved, the conference could be brought back with the dedication and commitment of many students.
"All of our funding comes from campus. In the past we have had students contribute around $15," said Francisco Lara, fourth-year political science and economics double major, and budget chair for the UC Davis SOCC planning committee. "This year we're going to Berkeley and it's so expensive — we want to make sure that even if you don't have $15, you can still come out and [make sure] that money isn't an issue for you to attend. That is also part of the focus of SOCC: that you're bringing people that are underrepresented."
UC Davis students who attended the conference helped give the Davis community a stronger and louder voice with regard to all other UC campuses. Since the purpose of the conference is to give smaller, underrepresented communities a stronger voice, the UC Davis planning committee does its best to ensure that everyone has a chance to attend by providing transportation.
"All of the student life centers have really contributed a lot consistently," Lara said.
According to Lara, an issue with transportation in 2012 resulted in the planning committee having to transport the delegation from UC Davis to UC Riverside in seven different vans driven by students. This posed many difficulties, including liability issues, which led administration to provide funding in order to help with transportation.
The committee's work is making it possible for all students to attend the conference relies heavily on the financial assistance that the administration and student life centers provide. By providing this assistance, UC Davis has shown its perseverance in creating a much more connected and thoughtful community.
"For a lot of people, SOCC is either their entry point into being involved on campus or it's what makes their involvement on campus even stronger, even more connected and even more inspired," Alavi said. "The more student leaders we have at SOCC, the more we have people advocating for the rest of the students who aren't really involved in activism. The centers get even stronger when they have leaders that have so many tools because of SOCC."