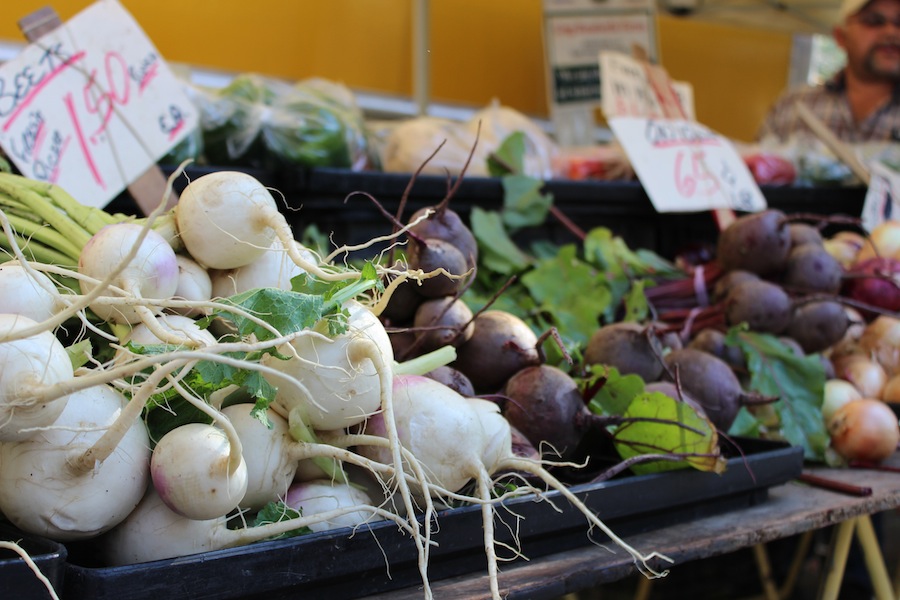 Market at new time, with seasonal produce
With the cold weather setting in, the Davis Farmers Market at Central Park is gearing up for the winter season. Although the ninth best farmers market in the country is slower in the winter season compared to the other seasons, there is a large variety of new produce.
A wide range of winter produce, including pomegranates, kiwis, persimmons, apples, potatoes, onions, greens and winter squashes, are now offered at the Farmers Market for the season. Customers will still find the usual assortment of local eggs, honey and cheese, baked goods, dried fruit, nuts and wines.
"I want my children to eat the most healthy food possible and all the organic food in our house comes from the farmers market," said Davis resident and father of two, Robert Moore.
The Saturday market will continue to take place from 8 a.m. to 1 p.m.  However, the Wednesday market will now take place from 2 to 6 p.m., instead of 4:30 to 8:30 p.m. due to daylight savings time.
Vendor Riffat Ahmad sells apples, melons, Asian pears, persimmons, peaches and tomatoes during the winter season, and gives out samples of his produce for tasting.
"We sell fruits based on season," Ahmad said. "On Wednesdays, not many people stop by."
Many people rely on the farmers market for its quality and reasonable prices.
"The farmers market sells better quality fruits and vegetables and at a lower price, than any other store," said Davis resident Moira Williams. "This is my weekend home."
The Davis Farmers Market will be hosting a pre-Thanksgiving market on Nov. 25 from noon to 6 p.m. In addition to its classic selection, this market will have the essentials needed for the Thanksgiving table, including flowers, fresh-baked breads, pies and prepared side dishes.
If you need to do some last minute thanksgiving shopping, make sure to stop by the farmers market; you'll surely see some great winter produce in addition.