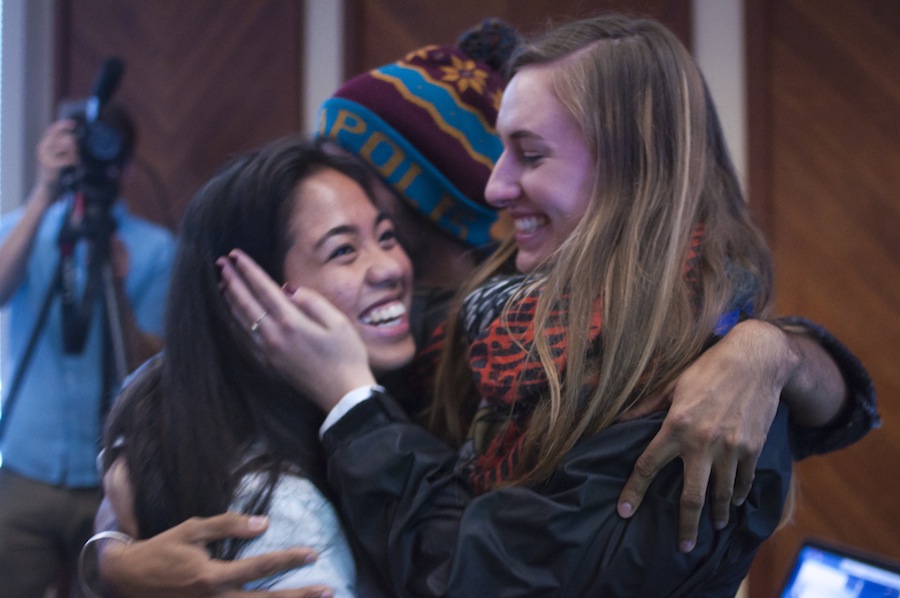 ASUCD elects six new senators
On Nov. 13 at 12 p.m., ASUCD elections chair Daisy He revealed the results for the fall quarter election at the Mee Room in the Memorial Union.
In order of votes received, the six new elected senators are Mikaela Tenner, Georgia Savage, Joshua Dalavai, Parteek Singh, Puneet Dhindsa and Adilla Jamaludin.
Of the newly elected senators, Savage, Singh and Jamaludin are on the recently formed BASED slate while Tenner, Dalavai and Dhindsa ran as independents.
The incoming senators will replace outgoing senators Reem Fatayerji, Alex Lee, Casey Nguyen, Roman Rivilis, Brendan Chang and Andrea Velazquez.
The Aggie Card design that received the most votes was Option 1 (pictured below), which featured a UC Davis mustang in front of a gradient with the university's colors.
In regards to his new position, Dalavai expressed his excitement to begin pursuing his platforms.
"I'm just really happy that I was able to get elected. I'm very excited," Dalavai said. "There's a lot of stuff that I want to get on the ground."
For Singh, the positive election result is a welcomed relief for his stressful week.
"I didn't sleep last night because I had a midterm this morning and I couldn't study. I was extremely stressed," Singh said. "I kind of feel relieved. Happy, relieved."
Jamaludin, who initially placed seventh because of a technical difficulty, was in pure shock when she found out she nabbed the final sixth spot on the senate table.
"[I feel] very shocked. I mean, that was a quick turn. I was waiting for the screen to change again," Jamaludin said. "I expected it to be very, very close so when I saw that I was expecting either way to happen. It's still pretty crazy."
The six new senators will be sworn in on the Dec. 3 ASUCD senate meeting. Complete results can be found online.
Written by: Jason Pham – campus@theaggie.org