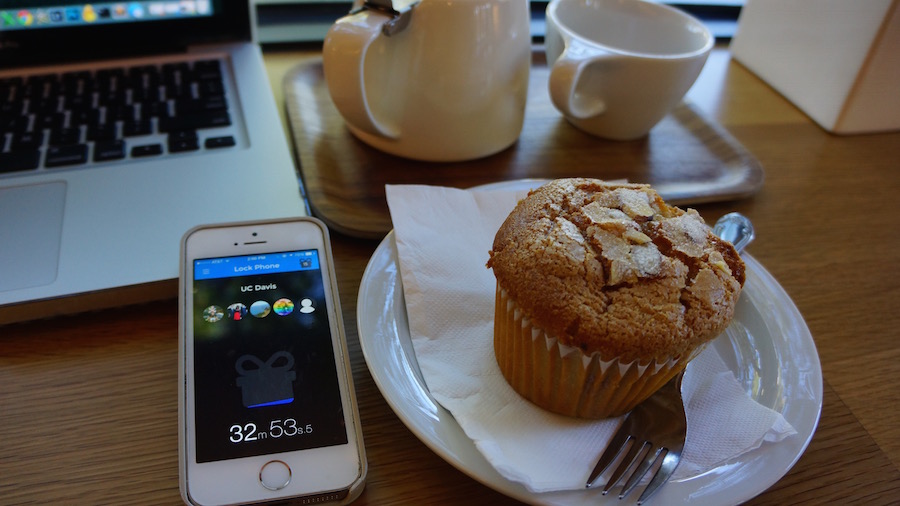 Students can earn discounts at local restaurants by locking their phones during class
Pocket Points, which made its debut at UC Davis this fall, is a free app that allows students to earn discounts at local and online businesses for locking their phones during classes or while studying.
Created in 2014 by Chico State University students Mark Gardner and Rob Richardson, the app accumulates points while the phone is not in use, which can then be redeemed for coupons and deals. It is available for download at the App Store for both Androids and iPhones
"I feel like there is no reason not to be using it," said Trevor Hadnot, a third-year biological sciences major and ambassador for the app. "I should be paying attention in class anyway, so I'm being rewarded for something I should be doing."
Richardson said he first came up with the idea for the app when he noticed how distracted students were during class. He and Gardner teamed up and created Pocket Points hoping to solve this problem, and also to help bring more business to local organizations.
"It's really difficult for some small business, and even online retailers, to get in front of the college students," Gardner said.
The app works off of geo-fences which surround all academic buildings on campus, preventing students from rigging the app by using it when not in class or studying. The Activities and Recreation Center (ARC) is the only building on the Davis campus where the app will not work. However, steps are being taken to fix this problem.
The app was launched at over 65 of the most populous universities across America.  However, community colleges near these universities are included in the geo-fence, meaning there are over 150 active colleges using the app.
According to Gardner, Pocket Points has been a huge success at universities, keeping students off their phones for over "400 years' worth of time." Pocket Points not only benefits students, but also helps businesses that are participating.
"The reason these companies are loving Pocket Points is because they offer these small discounts and students come flooding through their doors," Gardner said. "That's their goal: to increase foot traffic and drive merchant sales."
The establishments that are part of the app are mostly small local businesses such as  Pluto's, Cultive Frozen Yogurt, Wingstop and The University of Beer. The app also has discounts from online retail stores such as Apache Pine, Design by Humans, Ivory Ella and Shoebrats.
The ambassadors of the app are working on adding restaurants such as Woodstock's Pizza, Thai Canteen, Blaze Pizza and La Cantina, and recommendations for new restaurants can be suggested through the app.
Along with Hadnot, fourth-year managerial economics major and app ambassador Addie Green believes that Pocket Points could be an enduring solution to in-class cellular distraction.
"We have many long-term goals. We're trying to get professors and [resident advisors] in dorms to promote [the app]," Green said. "We're hoping that cellphones will no longer be an issue in classes."
Written by Jackie Carmaz – features@theaggie.org