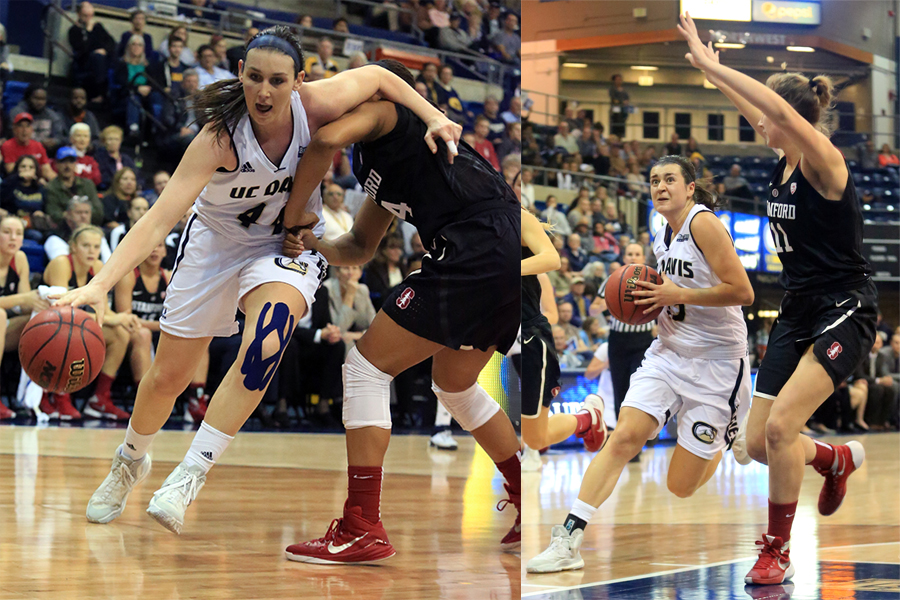 The Aggies put pressure to keep game close with the Cardinal before falling in third quarter
UC Davis women's basketball put up a hard fight against Stanford on the night of their official home opener, but ultimately ended up losing to the Cardinal 74-45. The Aggies started the game neck and neck with Stanford and even had the lead before the end of the first quarter at 15-14. The second quarter continued the tight race between the two with Stanford leading 29-24 at the half.
"I was so, so proud of our effort in the first half," Head Coach Jennifer Gross said. "We were playing with passion and urgency, and we were battling. We've been talking since day one about our defense, and the first half we got a glimpse of how well we can play."
The Aggies held the Cardinal to 30 percent shooting and four steals throughout the first half. After the break, Stanford came out with aggression, scoring 31 points to UC Davis' eight, bringing the third quarter score to 60-32. The Cardinal also held the Aggies to 17 percent shooting for the second half to ensure their win.
"The third quarter, unfortunately, was another story," Gross said. "We lacked some urgency and some energy and that's where the game slipped away. I thought we played three very good quarters, but you can't win games if you don't bring it for 40 minutes."
Despite the challenging third quarter, UC Davis continued to give Stanford trouble by scoring 13 points in the fourth and out-rebounding the Cardinal 24-23 for the half. The Aggies ended the game with 45 rebounds to the Cardinal's 47.
"We're young in terms of us running the new offense," Gross added. "We struggled getting into it cleanly. We weren't always on the same page, and that's OK. We're young and we're staying the course and continuing to get better."
Senior forward Alyson Doherty had her 11th career double-double with 10 points and 11 rebounds for the game. Sophomore guard Rachel Nagel led UC Davis with 18 points, hitting 4-of-10 from three-point range and grabbing five rebounds in 25 minutes of play. Another high for the Aggies was sophomore forward Pele Gianotti with 10 rebounds.
UC Davis next plays Pacific tonight at 7 p.m. in the Pavilion.
Written by Lindsay Yim – sports@theaggie.org