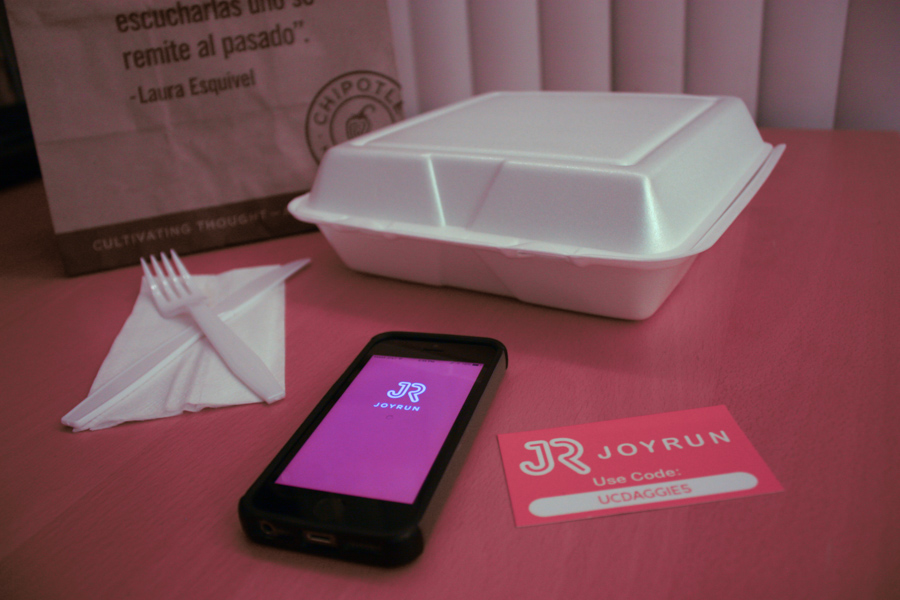 Food delivery app functions on a community basis.
This fall, an up-and-coming food-networking app made its debut at UC Davis. The app, called JoyRun, allows students to easily order and deliver food from local establishments to friends.
Founder Manish Rathi created the app after pondering how convenient it would be to have someone who picked up food for him and his wife, as opposed to going out of his way to get it himself.
"It's a delivery network of students, for students, where you can pretty much deliver anything," said Arteen Asgharzadeh, UC Davis alum and JoyRun campus growth lead. "It's a [social] environment that allows people to interact and chat and get to know each other a little bit while also making money and getting good food."
The app is downloadable for free at the App Store for both Androids and iPhones. According to JoyRun's website, the app operates at any time of the day and costs simply the price of the food item plus "a tiny fee for the convenience." Users pay through the app, eliminating any complications that cash may pose in the transaction.
As Campus Growth Leads for JoyRun, Asgharzadeh and UC Davis alumnus Arsia Sarlak take charge of business marketing and development as well as outreach. They focus on helping to grow the user base by visiting campuses in order to build teams and an overall solid base. Asgharzadeh and Sarlak also work with UC Davis interns to increase awareness of the app.
"Since we're pretty new and still establishing ourselves, we're working on new marketing leads and projects," said Sean Ang, a fourth-year music major and JoyRun campus leader for UC Davis. "Right now I'm running the Facebook page; we're always working on new marketing strategies, and we also do runs to generate new traffic."
Asgharzadeh and Sarlak said they enjoy working for JoyRun since it serves as a way for them to stay in touch with the Davis community.
"We love that we get to be part of our community in Davis," Asgharzadeh said. "We just graduated and we get to give back right away."
As a current student, Ang said it is exciting to be involved in something that is still relatively new, and that opens the door to so many other opportunities.
"It's really interesting to be part of something starting from almost the ground-up, which is an experience you usually don't get with internships," Ang said. "It's really cool being more connected with the community and realizing all these connections can lead to really cool things."
Although JoyRun is mainly food-based, items such as PVC pipes, candy bars and coins for parking meters have been delivered through the app as well.
Though JoyRun currently operates at only two college campuses, UC Davis and Sonoma State University, plans for expansion are already underway. Since the app is still relatively new, JoyRun coordinators hope to explore the option of non-food related interactions in one of the upcoming updated versions.
"We've had people put up warnings about drunk driving and community-based stuff that notifies the community [through the app]," Asgharzadeh said. "This individual came on and was like, 'Watch out, be safe, don't drive drunk' just as an announcement and everyone on the app got a notification."
The JoyRun team is also interested in expanding to serve food fundraisers held by school organizations and clubs such as selling tacos or Krispy Kreme donuts. In particular, Sarlak mentioned Challah for Hunger, a nonprofit organization at UC Davis that sells challah, Jewish braided bread, made by volunteers and donated.
"I ordered from [Challah for Hunger] a couple years back and I thought it was really good," Sarlak said. "And to this day [I think about] how we can get those people to do it on the app, because they'd be reaching out to a whole different market."
According to Asgharzadeh, JoyRun's community basis and social aspect set it apart from other food delivery apps.
"We try to stay away from saying we're a delivery service," Asgharzadeh said. "We're more of a network. Kind of like how Airbnb is not a hotel […] the idea is if you have extra space, why not help someone out?"
For $5 off your next order, use the code CALAGGIE.
Written by: Jacqueline Chu – features@theaggie.org