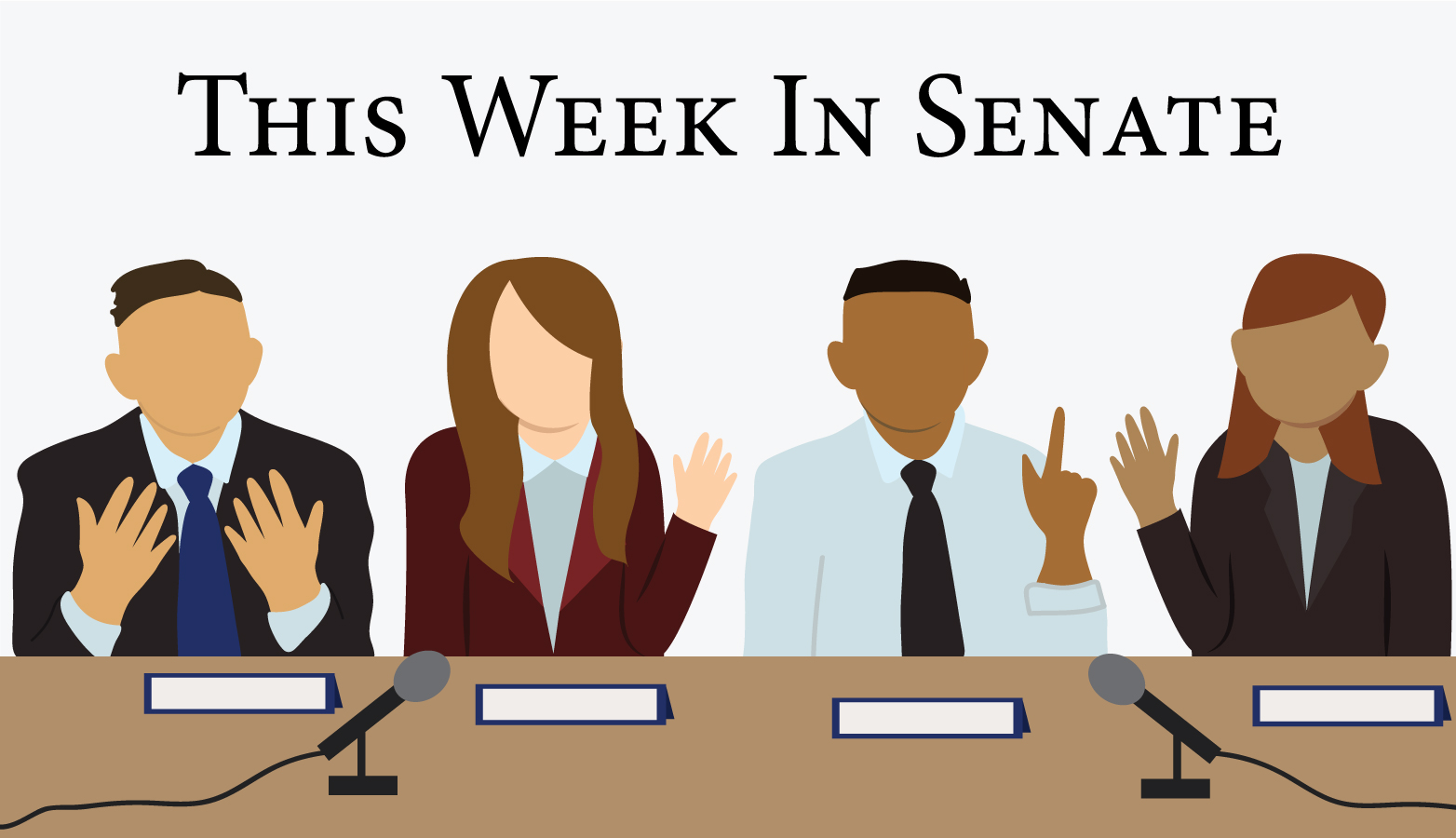 Senate discusses recent AP/IB decision, other issues
On Nov. 12 at 7:59 p.m., ASUCD Vice President Gareth Smythe called to order the quarter's seventh senate meeting in the Mee Room of the Memorial Union.
There were two presentations during Thursday's meeting.
First, ASUCD President Mariah Kala Watson's executive staff presented the progress they have made throughout the fall quarter. All subdivisions of the executive staff, which include Administrative Affairs, Development, Public Engagement and Programs, delivered presentations.
The executive staff achieved several goals this quarter. They simplified the process of gaining credit for internships, increased the amount of scholarship money given to qualifying recipients and are in the process of creating a campus-wide directory.
Following this update, Watson presented a Memorandum of Understanding (MOU) with the Center for Student Involvement (CSI). In this MOU, ASUCD will be receiving money from CSI in return for primarily technology usage.
Several confirmations were made for various commissions. Senate confirmed members from the Environmental Policy and Planning Commission (EPPC), the Gender and Sexuality Commission (GASC), Academic Affairs Council (AAC), and the Ethnic and Cultural Affairs Commission (ECAC).
Next, Grace Scott, the unit director for Picnic Day, presented this year's Picnic Day plans. The theme of this year's Picnic Day is "cultivating our authenticity." Scott also discussed this year's parade marshall, Ramsey Musallam, a teacher who specializes in multimedia.
Three Senate bills were passed last Thursday.
First, Senate Bill (SB) No. 14 was passed. SB No. 14 was more of a clarification concerning the difference behind a statement and a platform. This bill officially defined the meaning of a statement and the meaning of a platform for future reference.
Next, SB No. 17 was passed, also a clarification. It clarified the position of The City of Davis Human Relations Commission representative as any member from the External Affairs Commission.
Lastly, SB No. 9 was passed, which will establish a University Library Committee composed of students and faculty to discuss how to better renovate the library to fit changing student needs. This committee will also serve to relay student interests to library staff. The bill passed with a 7-3-2 vote.
SB No. 15 was withdrawn from the meeting in order to undergo revisions. This bill would have established a transfer, re-entry and veteran committee which would provide input and improvements to the First Year Handbook.  
Senate ended with Public Discussion, where senators discussed the university's recent decision to not allow AP/IB credits to count toward pass times. A majority of the senators believe that the decision was made without the consultation of any students or student representative.
Ritesh Mishra, chairman of AAC, stressed the importance of ASUCD providing student input for future academic decisions.
After public discussion, the meeting adjourned.