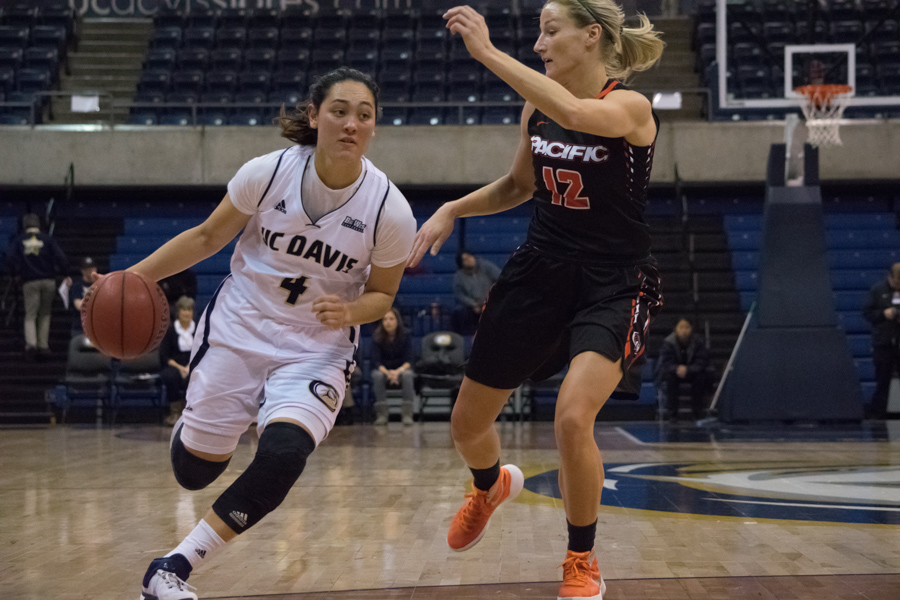 66-53 defeat gives women's basketball team 0-2 record in second official home game
Entering the third quarter with a four-point lead, the Aggies deteriorated in the second half, allowing Pacific to turn it around for a 66-53 Tiger win. UC Davis women's basketball fell to a record of 0-2 on Nov. 16 while Pacific went home, undefeated this season with two wins.
UC Davis played wide and spread out during the first half, sinking free throws and swishing three pointers.
But the clarity was short lived.
Inconsistency amongst the team resulted in sloppy play during the second half. The Aggies began to bunch up and scrambled to make it to the ball, bringing out the confidence in University of the Pacific as they remained in possession.
Sophomore forward Pele Gianotti stayed aggressive and focused regardless of the scoreboard, adding 11 points to tie her career high, as well as six rebounds. She displayed dominance as the game progressed and the gap increased.
Another dominant player, senior center Alyson Doherty, was on the court sporting kinesiology tape on her left knee and a black eye. Despite the injuries, Doherty picked up a few offensive fouls that could have been avoided. Head Coach Jennifer Gross said they will be looking to improve her performance in order to reduce the stress-causing fouls.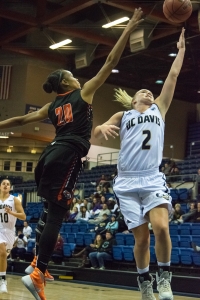 Sophomore guard Dani Nafekh tied Gianotti with leading points by also putting up 11 points. She managed to shoot 100 percent in her free throws, gain three assists and add two rebounds. Regardless of the points she put up, scoring was not her focus and she doesn't blame the Tigers for the team's loss.
"It was us, we know," Nafekh said. "They weren't amazing; they weren't UConn. We've played better teams. Kudos to Pacific — they played really well, but we know we can play better. We need to take it upon ourselves to perform up to our potential and play as hard and as well as we know we can."
Nafekh also mentioned the team's difficulty with staying consistent and how the focus in practice has been shifted to working out the kinks in their offense as they rely on defense for the majority of the game.
"I'm never thinking about scoring per se, I'm just thinking of doing what I can to get my team going […] I think once we click, it will be perfect."
Gross agreed; two of four seniors are playing and lower classmen have been seeing a lot more playing time.
"We're young," Gross said. "We've been spending a lot of time (on defense) and we've kind of  put our offense on hold. Now we have to start getting our offense going a little bit too because we have the ability to score, we just need to get a better flow going offensively."
While the crowd brought a lot of energy to the game last Friday against Stanford, Gross commented on the low energy displayed against the University of the Pacific.
"Once we get our spacing and our flow worked out, I have no doubt that we are going to be a really potent offensive team, we just have to be patient," Gross said.
The team's patience will further be tested tomorrow when they travel to San Diego State.
Written by Veronica Vargo – sports@theaggie.org