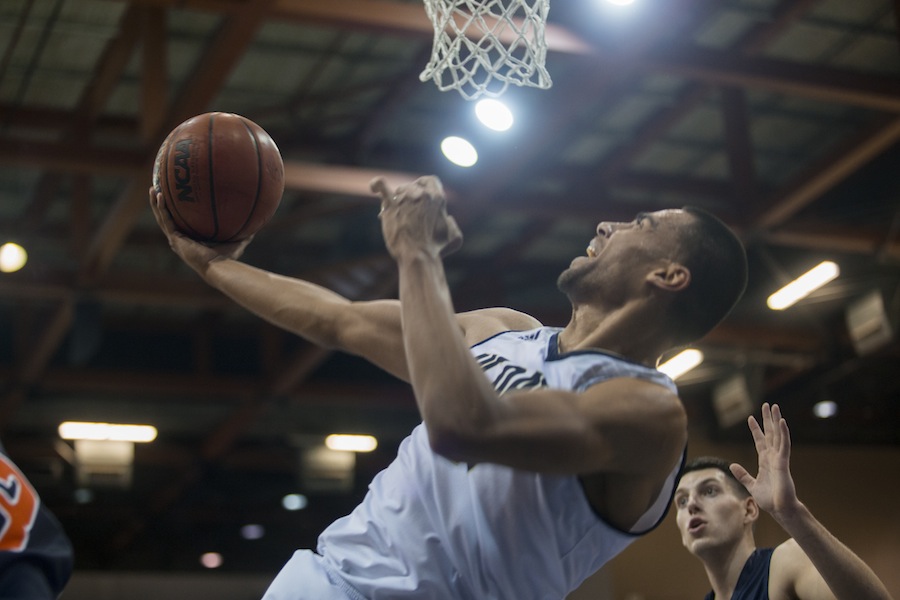 Men's basketball concludes homestand with 76-46 win.
Flailing arms were abundant during the UC Davis men's basketball game against Fresno Pacific University on Monday night, as were impressive slam dunks from junior transfer guard Lawrence White. The Aggies took down the Sunbirds 76-46 despite 22 turnovers, 13 steals and eight blocks from Fresno Pacific.
It was a frustrating night for the Aggies, as each pass they made was seemingly met with a Sunbird to intercept or cause a scene.
The Sunbirds committed a whopping 23 fouls against the Aggies, who went on to make 20 of 26 free throws. Early in the game, junior guard Darius Graham responded with a celebratory dance after he was fouled, hitting the whip and pointing to his teammates on the sideline.
The eager, ball-stripping Sunbirds caused a great deal of fury for the Aggies, notably in senior forward Josh Fox, who mumbled under his breath and pounded the air as he was robbed of several points due to Fresno Pacific defense.
"I just had tunnel vision, I was being a little too aggressive… not letting the game come to me," Fox said. "The second half I kind of switched it up a little bit, [and] just started running through our system and our system brings us good luck."
Despite being the emotional guy that he is, Fox tried to hold himself to a higher standard.
"I know what the right play is, but sometimes I make the wrong play so I just get mad at myself," Fox said in explanation of how his game is affected by the disappointment of missing makeable shots. "But then, I don't let that dictate how I play the rest of the game."
Fox went on to lead UC Davis with 21 points, two shy of his career high and only missing one of eight free throws. His presence on the court helped freshman guard Silar Schneider, who got a lot of playing time during the game.
"Since day one, these guys [have given] me confidence, and I try to give it right back," Schneider said, looking toward his teammate.
Schneider managed to balance his .363 field goal average with a .600 three-pointer average to put up 13 points and three assists for the game.
"I just look to be aggressive on the offensive end but smart as well; if the shot is there [then] I'm going to take it," Schneider said.
Junior forward Georgi Funtarov stepped on the court for the first time this season, along with sophomore guard Michael Onyebalu. Funtarov added three points and seven rebounds during his 11 minutes of play and was a key player in the exemplary defense the Aggies displayed.
Head Coach Jim Les was impressed with his team's ability to keep the Sunbirds in the shadows while they went on to a 20 point lead in the final 10 minutes of the game.
"One thing I really liked was the way we defended tonight," Les said. "We had five guys who were always engaged and took pride on the defensive end of the floor. If we continue to play like that, good things will happen."
Freshman forward Garrison Goode, featured on the Pavilion's game day pamphlet, made his first shot as an Aggie against Fresno Pacific with a breakaway layup. The bench stood as he made the break and swung their towels and cheered as he sank the layup.
"It's great to see that their hard work pays off," said Schneider, referring to Onyebalu, Funtarov, and Goode's performances.
"They sacrifice as much as we sacrificed," Fox said. "I've learned more with the culture of this team and you get more excited for the person next to you than yourself."
UC Davis will face Sacramento State Tuesday, Nov. 24 in their first away game of the season.
Les was proud of his team's weekend performance and improvement, and looks forward to the rivalry game.
"Defense travels; no matter how we shoot, if we are able to come up with key stops, we stand a chance in anyone's building."
Written by Veronica Vargo – sports@theaggie.org