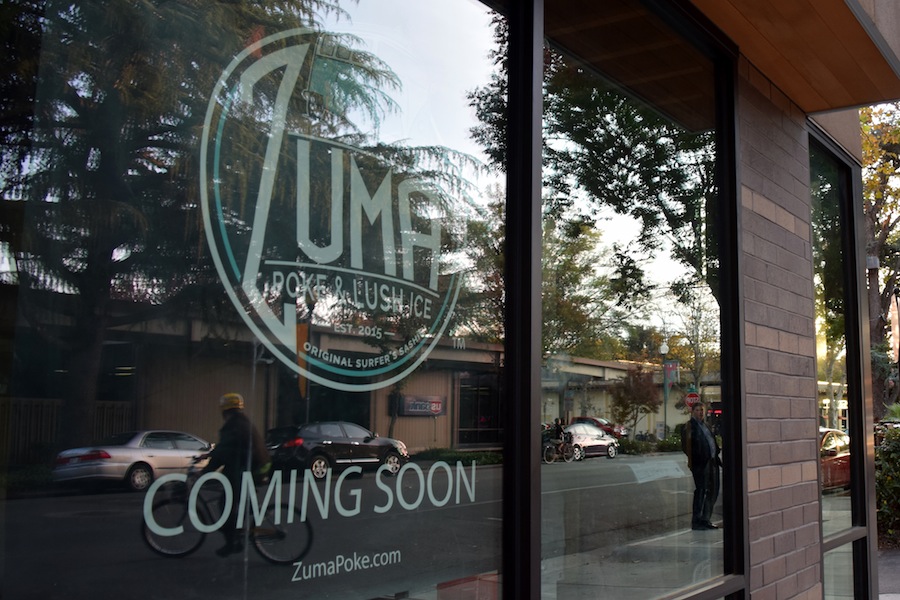 Surfing theme brings coastal vibes while serving poke dishes, Hawaiian Lush Ice.
Zuma Poke and Lush Ice, a Hawaiian restaurant, will open its doors to Davis residents this January, featuring traditional poke with a California twist and Lush Ice, a boozy Hawaiian ice drink.
In August 2015, the restaurant applied for a permit to sell alcoholic beverages and is currently waiting for city approval.
Although Zuma Poke and Lush Ice is a new restaurant that plans on serving alcohol, it is exempt from the current moratorium on bars and nightclubs since it is smaller than 2,500 feet.
The new restaurant will be located at 730 3rd St., next to Temple Coffee in Downtown Davis. It will serve poke tacos and nachos, build-your-own bowls, poke sampler plates and Lush Ice, Hawaiian ice made with soju, organic juices, fruit and fresh herbs.
"I've never tried anything similar before," said Eric Jones, a Davis resident. "But after looking at a few pictures of poke on Instagram I'm really excited for it to open."
Poke (pronounced POKE-AY) is a raw fish salad that can be made with cubed ahi tuna, rice, seaweed and sesame seeds. It can include a variety of toppings, such as avocado, cucumber, jalapeno, onions and asparagus, all marinated in soy sauce.
Zuma Poke and Lush Ice was named after Zuma Beach in Malibu, Calif., a popular surfing destination, and the restaurant will offer that tropical atmosphere.
The owner's vision is that Zuma Poke and Lush Ice will become a local hangout spot for people to gather, just like people do at Zuma Beach.
According to the restaurant's website, the rice will be sourced from co-owner Rachael Ryen's family-owned rice farms in Maxwell, Calif., located about an hour away from Davis.
"I really like the fact that they focus on sustainable, locally-grown and organic products," said Judy Lee, a Davis resident.
Other menu options will include sashimi, a dish of fresh fish sliced into thin pieces, and Hawaiian ice, which consists of fruit juice with either Korean soju or beer, but also offers non-alcoholic options.
Third-year neurobiology, physiology and behavior major Andrea Aguilar said poke restaurants have gained popularity in Los Angeles and she is looking forward to enjoying a poke bowl more locally.
"I'm really happy to see new restaurants coming to downtown with original ideas," Aguilar said. "I always like to try new things."
Written by: CARLA ARANGO – city@theaggie.org