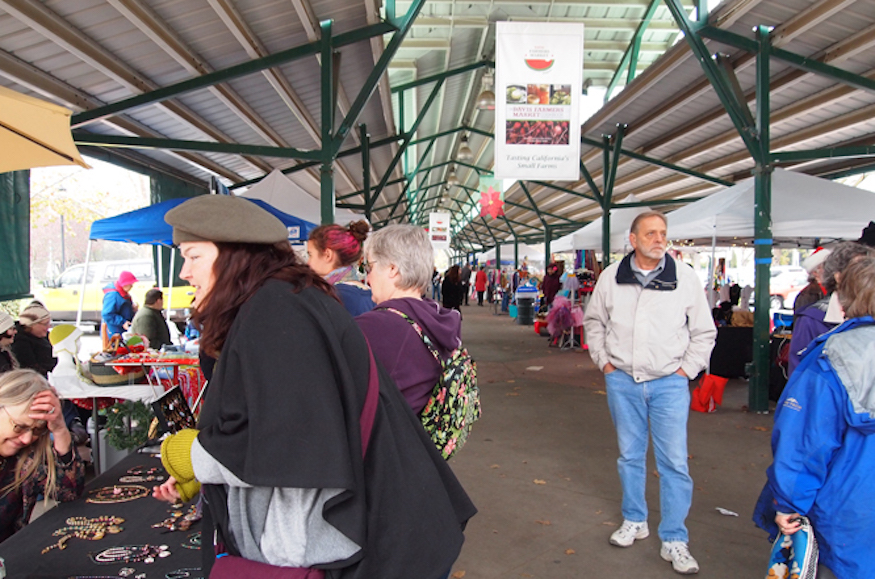 UC Davis Craft Center instructors hold crafts fair in Central Park.
Winter break is coming full speed ahead, and with the holiday season comes the often stressful process of gift shopping. The Square Tomatoes Craft Fair, held biweekly in Central Park on Sundays during the holiday season, provides a fun and friendly environment to purchase gifts for everyone on your list.
Sally Parker, a UC Davis craft center instructor, started the craft fair in 2012 as a place to sell her hand-crafted jewelry. She started her own fair in response to Davis Farmers Market's strict guidelines on selling crafts.
"In 2012, the farmer's market was very strict with their crafts," Parker said. "They did not allow jewelers to sell. So I invited people to start our own craft fair first at a parking lot near the Davis Co-op and now in Central Park to display what we do."
Parker enlisted UC Davis Craft Center instructors to help run the fair as well as sell their own crafts. One of these instructors is Jeff Geren, a mechanic and glass sculpture enthusiast who sells small glass turtle and elephant figurines.
Geren truly enjoys spending time at the craft center and being immersed in the artistic community of the center.
"Everyone is very laid back [at the craft center] and it's a friendly bunch. There's no negativity in art, which is fun part of it," Geren said. "I like hanging out with artists because they are just a fun group."
This relaxed atmosphere can also be seen at the craft fair, which has a pleasant, homey vibe complete with a jazz band and food vendors. This band, called the New Harmony Jazz Band, is one of Parker's favorite things about the monthly craft fair.
"The New Harmony Jazz band has nine players that sing and perform collections of classical American jazz," Parker said. "Every piece you can dance to and [the music] carries through the fair. It is fun to get up and move around."
Although the jazz band is a nice addition to the fair, the core of the event still lies in the high quality crafts that are sold by the vendors. The vendors sell a wide variety of goods, including jewelry, quilts, woodwork, succulents, finger-puppets, stuffed toys, knit items, glassware and much more.
Kent and Dianne Rosner sell their fused glass and knitted crafts together at the craft fair. They enjoy that the fair provides a different holiday shopping experience than the typical Black Friday frenzy.
"It's nice to see handmade crafts rather than [mass]-produced things," Dianne Rosner said.
For many vendors, the event is a fun, easy way to sell some of the crafts they have accumulated over the years.
"I do fused glass and you make so much of it that you got to get rid of it somehow and you can't keep giving it as gifts to everyone you know," Kent Rosner said. "[The Square Tomatoes Craft Fair] is a good outlet to sell off some of my stuff and reinvest the money back into the raw materials."
It costs between $20 to 25 to be a vendor, a cheap price in comparison to other craft fairs that can charge upwards of $200. Because of this, the prices of the goods sold at Square Tomatoes are cheaper and there are many bargains to be found. However, it is the atmosphere and charm of the vendors and their devotion to art that really makes the craft fair special.
"If you want to make good-looking art, you have to get through the ugly first. All the people at the craft center have gotten through the ugly. They have maintained their passion through the ugly stage and make excellent art," Geren said. "I had to go through many ugly turtles to get where I am today."
So if you're interested in finding some unique holiday gifts or just witnessing some beautiful craftsmanship, be sure to attend the Square Tomatoes Craft Fair every other Sunday in Central Park. The next two fairs will be held on Nov. 29 and Dec. 13. For more information, go to http://squaretomatoescrafts.com/.
WRITTEN BY: Megan Perry – arts@theaggie.org