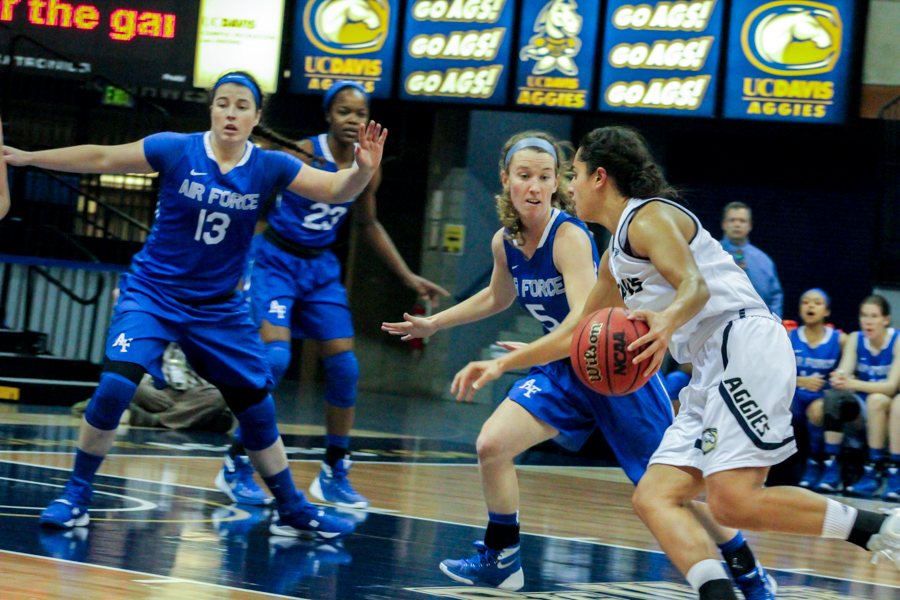 Women's basketball improves to 2-2 record with 66-40 win
UC Davis women's basketball took an early lead against the Air Force that only grew throughout the game as the Aggies went on to win 66-40, gaining their second win after beating San Diego State last Thursday.
"We spent a couple games where we really did focus a lot on our offense," said Head Coach Jennifer Gross. "We found in the first two games we were taking a little too much leeway with our transition and we didn't have enough structure to get into our stuff."
The Aggies worked on running in a more organized fashion against Air Force and were successful. However, despite the win, the Aggies still strive for consistency.
"We are taking okay shots, but we're not taking great shots," Gross said. "We value great shots. We've always had tremendous field goal percentage because of that, and I think that we are starting to get a lot more picky with our shot selection."
UC Davis' field goal percentage was at 39.3 percent by the end of the game as the Aggies made 22 of 56 attempts. A majority of their missed shots were layups and balls that hit off the rim.
Senior center Alyson Doherty celebrated her birthday during the game and lead the Aggies with 18 points and nine rebounds with a singing fan base beside the court. Doherty and senior forward Celia Marfone — who sank all of her shots taken — and sophomore forward Pele Gianotti each put up double points, with 18, 11 and 11, respectively, while freshman forward Morgan Bertsch followed closely with nine.
Sophomore guard Rachel Nagel added seven points and four rebounds with a spectacular three-pointer that caught nothing but net at the sound of the buzzer for the end of the third quarter.
The Falcon's defense was a tough opponent for UC Davis. Although the Aggies had a 23-point lead by the end of the third quarter, the Falcons still pressured key players into committing multiple fouls and to miss several layups.
The Aggies accumulated 19 fouls; Gianotti alone committed four fouls as sophomore guard Dani Nafekh, Marfone, and Bertsch added three each.
"It was really frustrating for me to come into the game getting two really quick fouls and then having to sit on the bench until I went in again for 20 seconds and then I got another one," Bertsch said. "But it was really important to me because it really taught me to keep my head in the game and not let it get to me and I think it's a step forward in learning how to deal with different situations. I think that I was able to come back in the third quarter and give it my all."
The energy of the game was commented on by both Bertsch and Gross as they complimented the team's ability to maintain 40 minutes of high effort and energy, only faltering a minute or two throughout the game. This, compared to the previous home game against the University of the Pacific where the Aggies were drained going into the second half, is a significant improvement.
In addition to the win, senior forward Heidi Johnson played a total of 16 minutes, a little over what her average per game was last season. Johnson added five rebounds, four points and three assists.
The Aggies will spend the Thanksgiving holiday away, improving their shot selection against Portland State this Friday, Nov. 27 with a 2-2 record, while the Falcons add another loss to their record, going home 0-5.
Written by: VERONICA VARGO – sports@theaggie.org